Four Easy-Peasy DIY gifts for children by children
As we enter the season of gifting, I have been searching for gifts that can be made from items that are up-cycled from things around the house, or that easily made from inexpensive parts from the craft store. I chose to share these four from the gagillion ideas on the internet because children can help make these gifts.  We made all of the gifts pictured below, and *all* the Sweet Peas were able to help either prep them, or assemble them with supervision.
Here are my top four finds that we will be sharing this season:
Shape crayons
This is my favorite idea – how genius to make something out of all the broken crayons that the children do not like to use when they color.
Find the tutorial HERE
We got our molds for $.99 at IKEA. Be aware that once you use them to make crayons you will probably not be able to use them for anything else. I thought about lining them with olive oil to protect the silicone a little bit, however, since it was my first time making crayons I didn't want to run the risk of ruining the gifts we were making.
We used our curious chef kitchen knives so the Sweet Peas could help break down the crayons. Puma and Charger helped cut the crayons, and Charger and Otter created the color blends by filling the molds.
Hand Kites
This is an idea that we got from our preschool curriculum. It consists of wrapping long ribbons around rings.  I couldn't find the wooden rings I wanted in time to order them for our party on Sunday, so I used metal rings, and rings I made out of gold pipe cleaners. Ordering information for 3" wooden rings HERE and 3" metal rings HERE.
I am a bit of a ribbon fiend, so I broke into my ribbon stash to make the hand kites we gave away at our Open House on Sunday.  To make ours, I used five cuts of 1-yard ribbons to make each hand kite.  I folded the ribbon in half and put it behind the ring.  The fold made a loop, and then we threaded the ends through the loop and pulled tight.  Some were Christmas themed and others were made from my favorite color: pink!!
The 3" ring is big enough so that it *is not* a choking hazard, and it is big enough to be worn around a wrist or an ankle. We have used them to dance along with music, wave to make different shapes, or playing follow the leader with different arm movements.  When made with the wooden rings, they naturally become a teether for curious little mouths.
The Sweet Peas were able to help cut the ribbon, and they helped create the ribbon combinations.  They could also help loop the ribbon around the ring – Puma has made these several times when we use them in our preschool playdates.
Hair Bows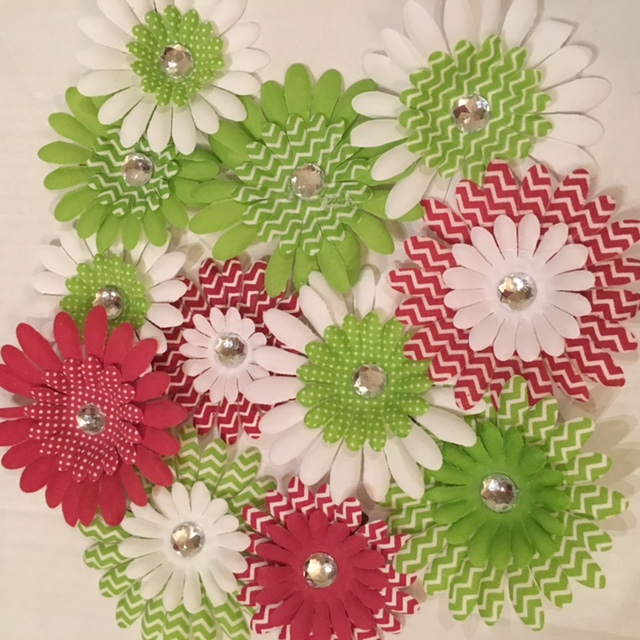 SUPPLIES:
Alligator or Hair Clips ~ Beauty supply or big box store
Bows: make your own, or buy some bows from the wedding section at the craft store.
This becomes a little more economical if you can purchase the bows with a coupon from the newspaper or the Internet. The silk flowers we used for the bows pictured above were 50% off for the holidays – yeah!  Puma helped put these together with a glue gun – we had a lot of fun chatting it up while we were making the bows.
Toy Car with Possibility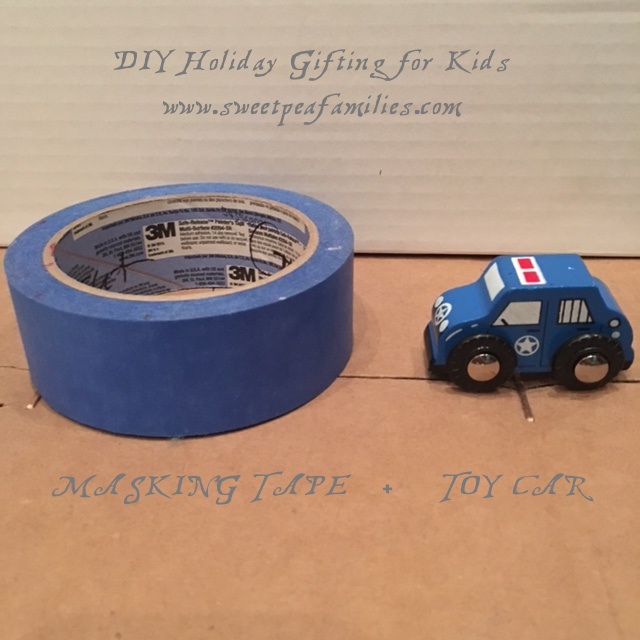 This is so clever!! All children seem to have a toy car around, so adding to their collection along with a roll of tape to create a roadway is genius!!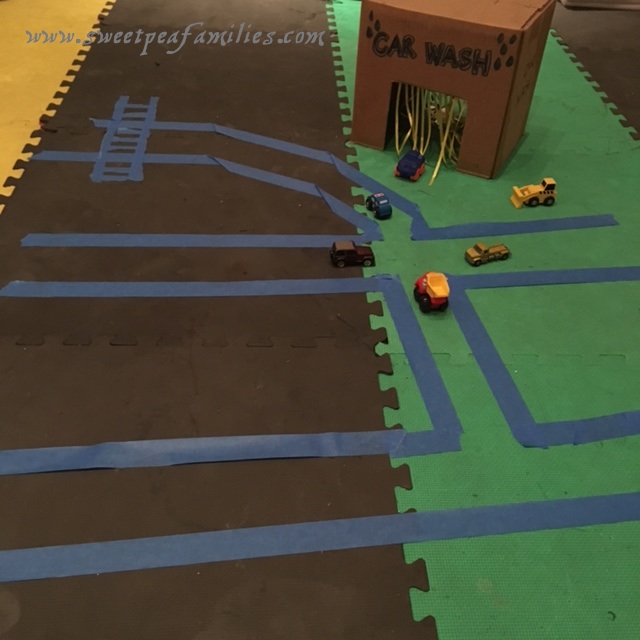 Find a printable card to go along with the car and the masking tape HERE from My Sister's Suitcase. It's a fun rhyme that explains how the car and the tape go together 🙂
The Sweet Peas can get involved from selecting the cars, cutting out the instructions, putting the gift pack together, to tying it all together with a ribbon since most of them are tying simple bows since they know how to tie their shoes.  Is the bow going to be as perfect as yours? Probably not…however, they have the pleasure of telling their friends, "I made this for you". That is priceless.
I hope this gives you some easy and inexpensive ideas so that your children can gift to all the friends on their list.  We handed out the first three gifts pictured today at our holiday open house – they were all well-received.  We will be making the car/tape combos to have on hand if we have other opportunities to exchange gifts this season.
Happy holidays to all of you!!  We have a two more play dates to share with you this year, and then we will be taking a computer break until we start blogging again in 2016. Wishing you and yours a blessed holiday season <3 <3 <3