Playdate:  October 29, 2015
Theme: In honor of National Cookie Month
— Welcome song in English (emphasizes printed name recognition as Sweet Peas find their card in a line-up and place it on our Name Ledge)
— Welcome song in Spanish (reinforces names as Sweet Peas sing to their peers)
— Discussion of theme: we pulled out a book from our library, "Things People Do", that showed all the different working parts of a bakery and ingredients used in baking.
— Storytime: "The Clever Baker", a story from Scotland from The Lion Storyteller Bedtime Book.
— Unsquiggle activity: went along with our story this time! Four groups acted out different parts of the story
— Poem/Song before we break for Centers: Patty Cake, Patty Cake Baker's Man was planned – so excited to get into centers we skipped this!!
STORY TIME
Discussion time: The book on the left is Thing People Do by Anne Civardi and Stphen Cartwright. We opened up to the bakery page and talked about the things the children saw in the pictures.  Night Owl also thought to bring in one of his castle books from Usborne Publishing to show what a bakery looked like in medival times. It was neat to show the kids that the ingredients are pretty much the same, as is the process of baking.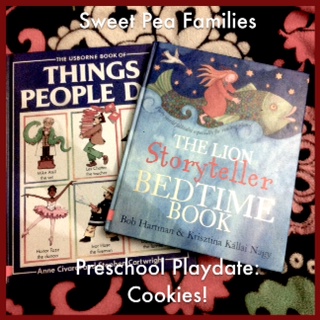 Story time: We read "The Clever Baker – A Story from Scotland" from The Lion Storyteller Bedtime Book by Bob Hartma and Krisztina Kállai Nagy.  In the back of the book are suggestions for group storytelling, so I applied them to our group. We divided the group into four parts: noisy bakers, dogs, cats, and babies. As their parts were read out in the story, the group made their sound – it was such a fun storytime this week!!
LITERACY CENTER
The cookie letters are from Kidsparkz.com.  I looked up 3-letter words and picked a couple of pairs that started and ended with the same letters and changed vowels.
Note: I am really trying to emphasize those vowel sounds this season for our pre-readers!!  You can check back to see how our last few themes have incorporated the vowel concept.
Level 1: Match the letter pictures and identify sounds: A, C, P, T, U
Level 2: Match the letter pictures to the word cards
Level 3: Match letters to words and then have the child sound out the word.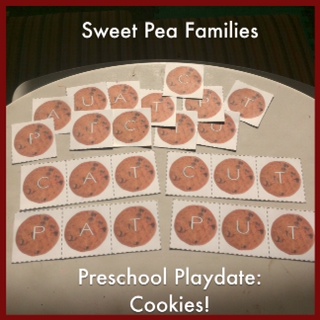 MATH CENTER
This was a perfect opportunity to pull out one of our Lakeshore Learning games that our Sweet Peas have enjoyed for years!
Level 1: Roll and match the cookies to the number on the die
Level 2: Keep score! And add up the cookies on the plate until you get up to or past number 10.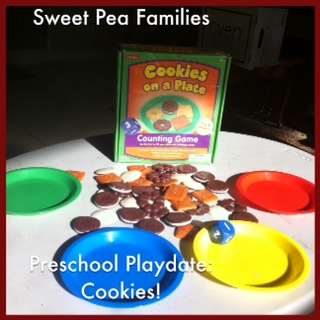 DISCOVERY TABLE
We did the first activity before we started storytime. Each of the children received a card as they arrived (activity cards from Kidsparkz.com). As we talked about the ingredients or the equipment used to make bread, the child would come pick the item that matched their card.
We filled three old medicine jars with spices for the children to smell: cinnamon, clover, and nutmeg.  I had thought of letting the children mix them into the playdough as they played…and then got busy with the Sweet Peas doing centers and forgot about pulling them out of the tray and moving them to the play center.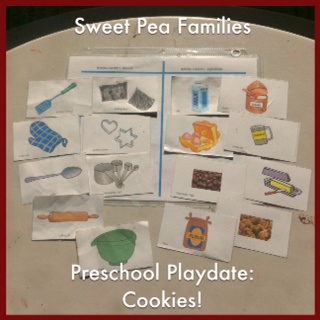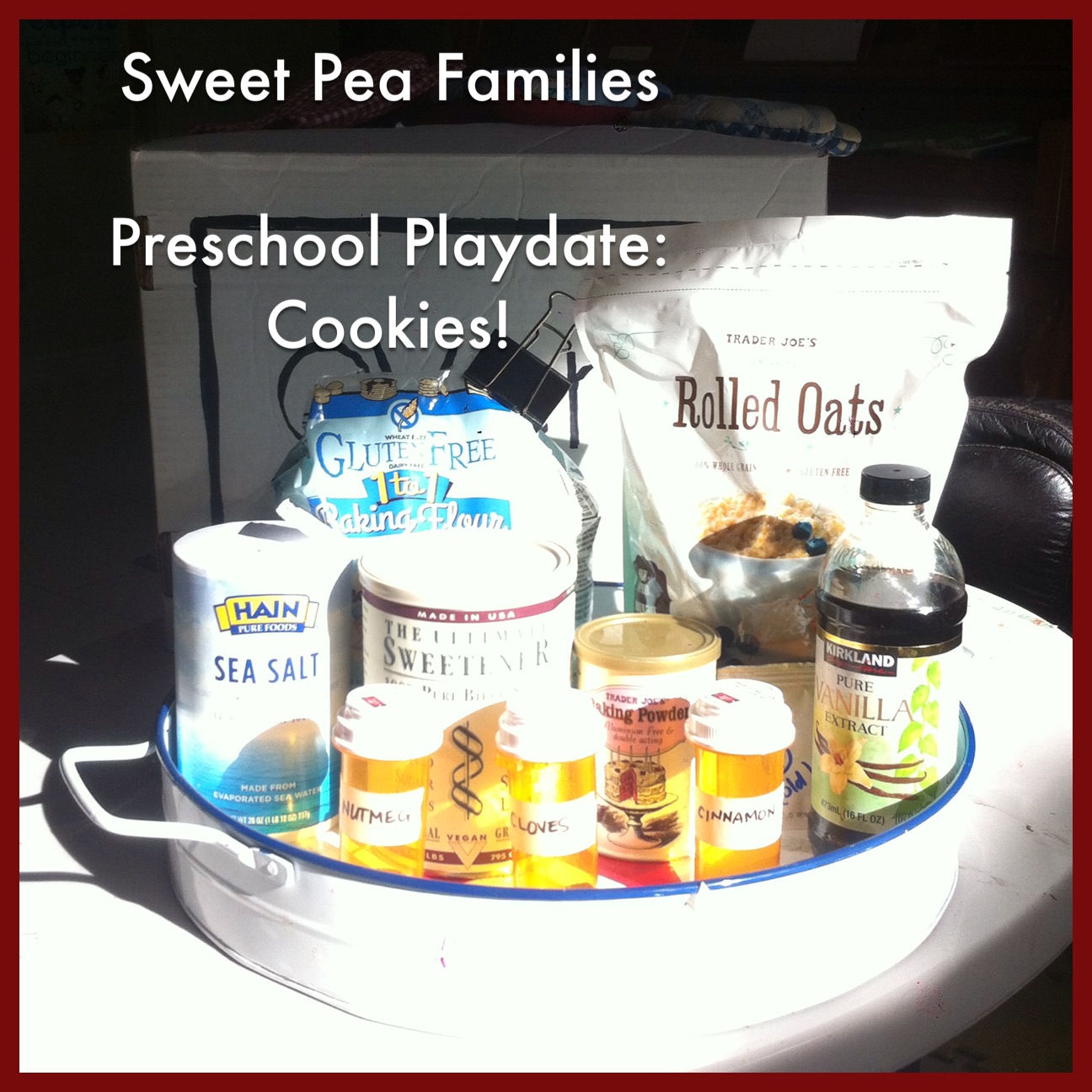 During playtime the children played with the equipment and play dough to "bake" their own cookies. Our "oven" is a banker's box with the lid adjusted to be an opening door.  It served as our supply holder for the first activity, and then as the "oven" during play time.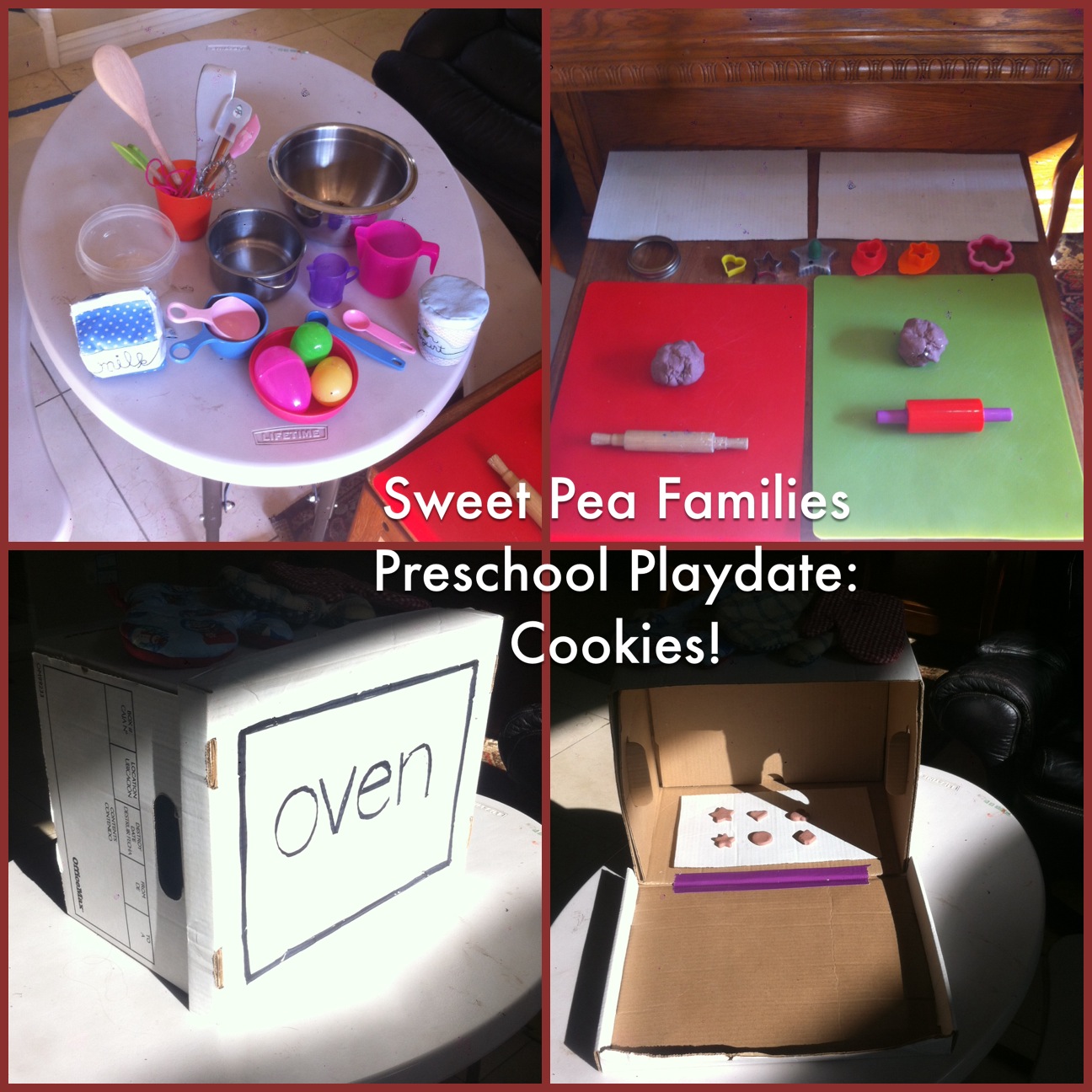 Our third "discovery" activity was meant to be a take-home…it kind of worked that way! Each family brought their favorite cookies to share.  The children were meant to take a goody bag home for treats in the car so the sugar high would be away from playdate….little hands snuck into the "cookie jar" though, and there was snacking at playdate as well 🙂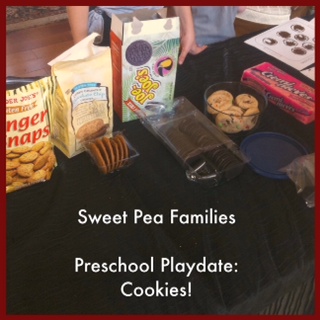 ARTS & CRAFTS ~ Make & Take
I created a simple "cookie sheet" using shapes in a Word document, then printed them out to use as our art paper for today's printing activity.  Using watered down tempra paint and lids in different shapes and sizes, the Sweet Peas dipped into the paint and printed cookies on their cookie sheets.  We invited to decorate them at home once the paint dried.  You can see that Otter drew designs around her cookies instead of on them. It always warms my heart to see the Sweet Peas make an art project their own with their unique interpretation of the guidelines.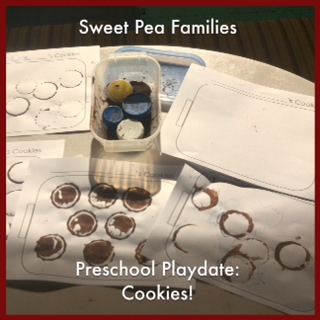 As I was poking around the internet to find cookie images, I also found THIS website with a fun cookie craft.  If we had more time, I definitely would like to do this.  I think we are going to save it for our year-end celebration when we have more time for play.
We close with a good-bye song where children are welcome to give hugs.  It helps to set a formal end to the time together so that parents have a clear reason to insist that it's time to go if they have somewhere to be afterwards.  Otherwise, the kiddos and parents that don't have to leave stay and play until the music teacher for our older Sweet Peas arrives.
I hope you and your Sweet Peas have lots of fun if you are inspired to have your own COOKIE DAY.  Have a great week!