Play date: November 10, 2016
Theme inspired by the USA recognition of Native American Month
— Welcome song in English (emphasizes printed name recognition as Sweet Peas find their card in a line-up and place it on our Name Ledge)
— Welcome song in Spanish (reinforces names as Sweet Peas sing to their peers)
— Discussion of theme: homes of different tribes http://www.native-languages.org/houses.htm
— Storytime
— Unsquiggle activity
— Poem/Song before we break for Centers
— Centers | Free play
— Closing
STORY TIME
My favorite thing about these two books is that they point out to the reader that there was no "discovery" of "America".  There was already a vibrant, rich and long-standing cultural traditions alive and well when Europeans landed on these shores.  One of the books has a great map that shows the regions in the United States and how the cultural traditions developed to suit their climate.
The other book has images that are better suited for adaptation for toddlers. By that I mean that it is easier for me to make up an abbreviated version of the page to suit their attention span!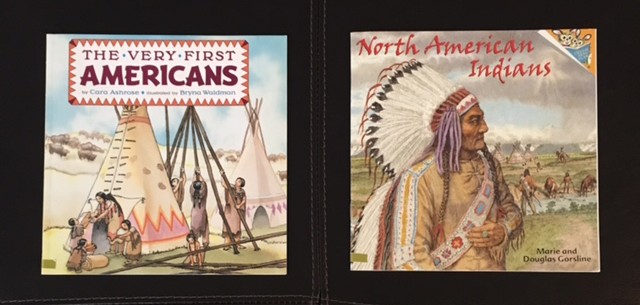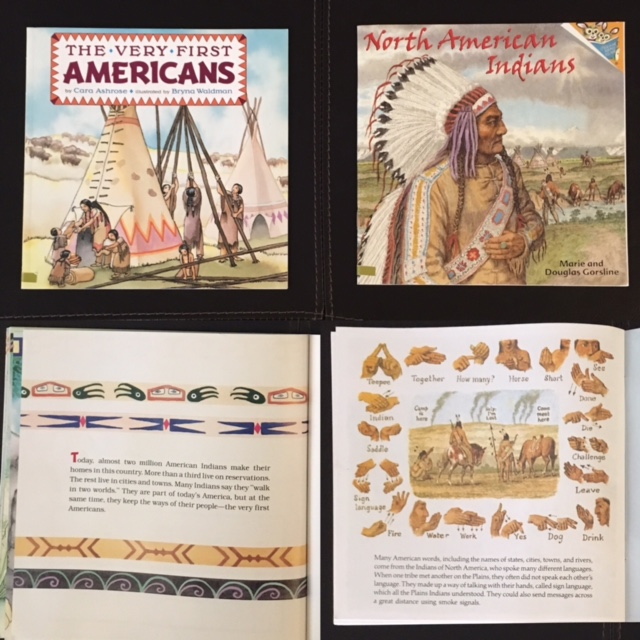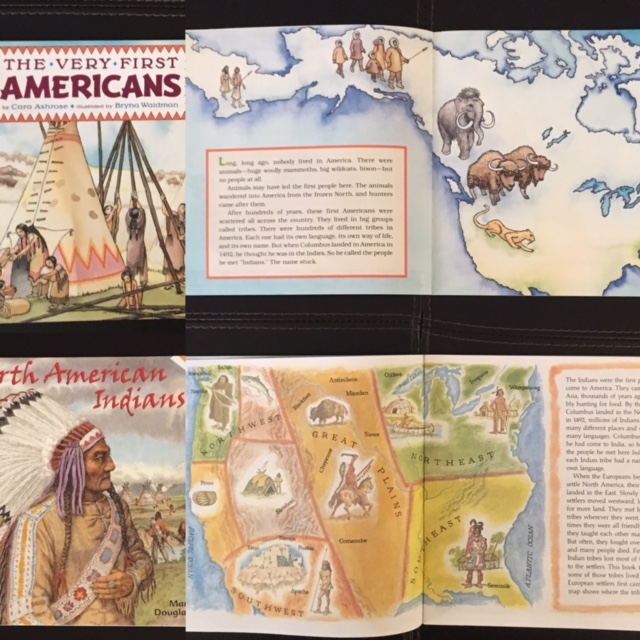 LITERACY CENTER
I adapted THIS idea from the Heidi Songs blog .
Since we were not focusing on Thanksgiving this year, I decided to use an image of a buffalo since that animal played such an integral part of Plains Indian culture.  The letters on the plate are the first letters of names of the children who attended playdate this day.  I have found that associating the letter with a person they know really helps them to remember the letter name other times, so I wanted to use letters that were familiar to them from our weekly circle time.
Get your own "Bison Clip Art" to adapt it any way you like for your group.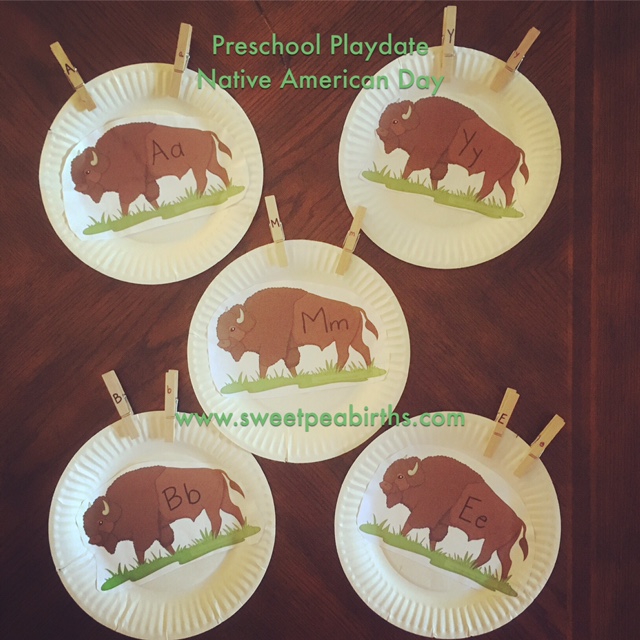 MATH CENTER
As it turns out, we had a blue box from Costco that was just the right size for the sweet peas to sit in and play "going fishing".  The fish are numbered, so there are lots of ways to play as they "caught" fish:
Level 1: Count how many fish they caught – there were up to 20 that could be snagged with the magnetic fishing poles.
Level 2: Separate the fish into groups – they are numbered 1-5, so potentially five different groups to make
Level 3: Add up the numbers on the back of the fish.  This makes the game challenging for the older children since the total sum could reach 50.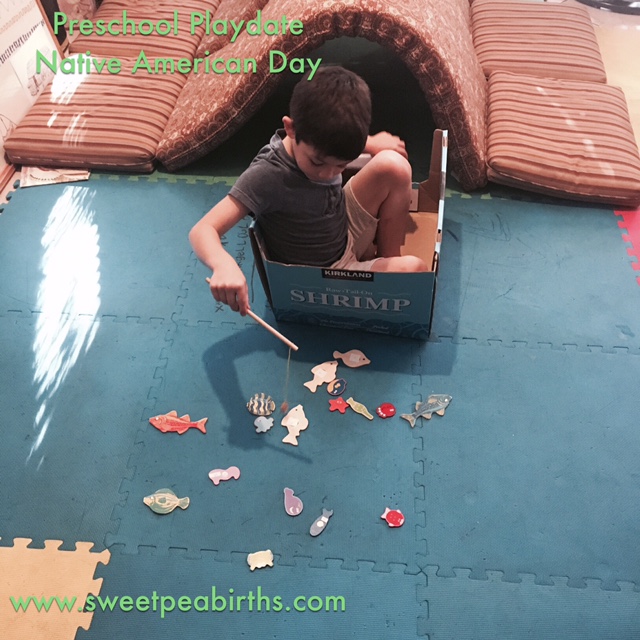 DISCOVERY TABLE
Weaving was a skill used across the country to create everything from baskets to blankets.  I thought that the sweet peas would enjoy trying it.  To make it easier for little hands, I used shoelaces.  They have a nice tip for chubby fingers to grab on to, and they are a little slicker than yarn.  The slickness makes it easier to pass the string up and over since it's not snagging on itself like yarn does.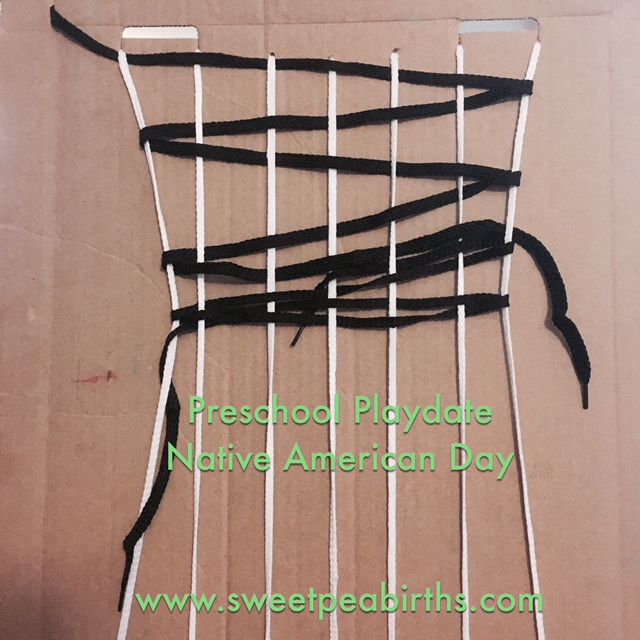 ARTS & CRAFTS ~ Make & Take
One of the art forms that our toddlers could attempt is drawing their own totem pole.  These were illustrated in the book I shared with the group.  HERE is the pattern that we shared on the craft table.  I also printed out THIS inspiration picture.  I asked the sweet peas to think about which animal they liked or related to, and they came up with their own totem pole creations.
This craft can be taken a step further by cutting out the finished drawing and pasting it to an empty paper towel tube so that it can be free-standing.  Since we are out of the habit of using paper towels, I could only share this idea with the parents for them to do at home.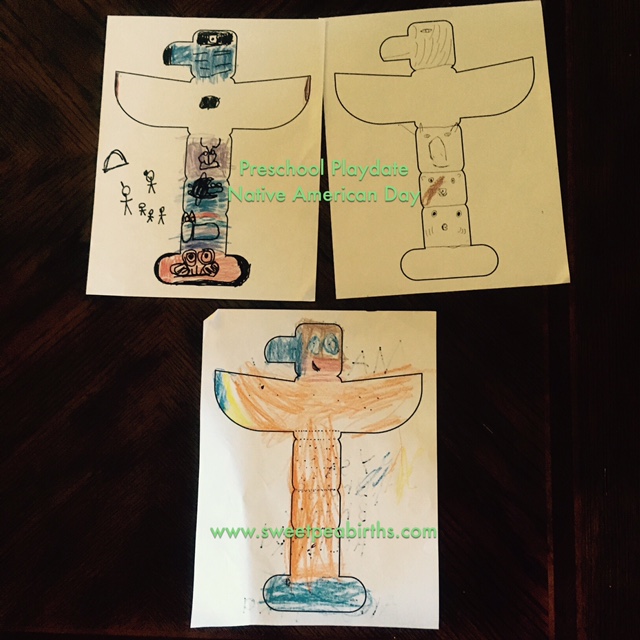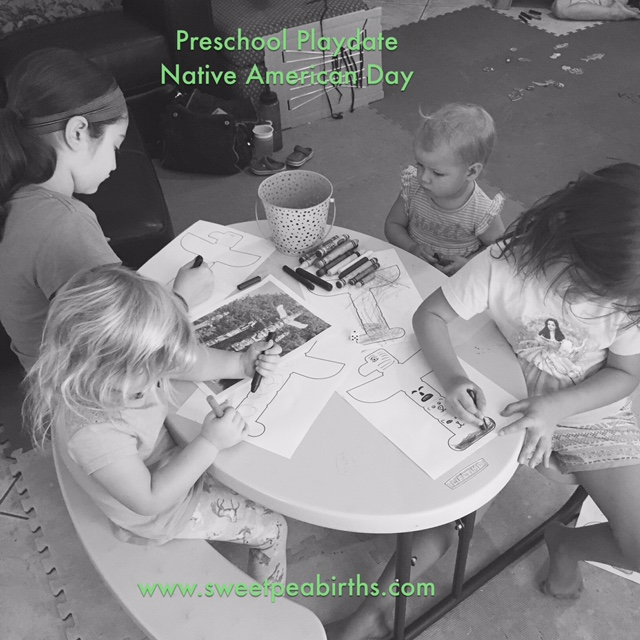 IMAGINATIVE PLAY
Very organically, our children transformed our schoolroom into their own Indian Village.  They created a longhouse out of some pillows we have in our bedroom.  They also used blankets to create other home structures.  They had their fishing area set up complete with boat storage.  Other things they incorporated into their playtime: left-over buffalo plates without letters on them, and "eggs" from our kitchen play area.
Charger set up a hunt for buffalo by setting up buffalo plates around the house.  He had the kiddos throw a bean bag at the plates to knock them over (clever little man also had them count their yield!).  Someone else was tasked with fishing.  And then they grabbed the eggs from the "prairie chicken nests" and brought everything back to our craft table to make a feast.
It also let us talk about sustainability.  The Native American tradition is one of living in harmony with the environment, taking only what was needed and leaving the rest alone.  We could have the conversation about how many buffalo a group of six would need, and how practically every single piece of meat, bone and tissue was put to use.  We took out one of the "First Americans" books again and read that page in detail.
It was really neat to see the sweet peas enjoy the elements of the different activities in their own way.  Watching them assimilate the lessons through play once again validated why this kind of time to be creative and play is so important for children.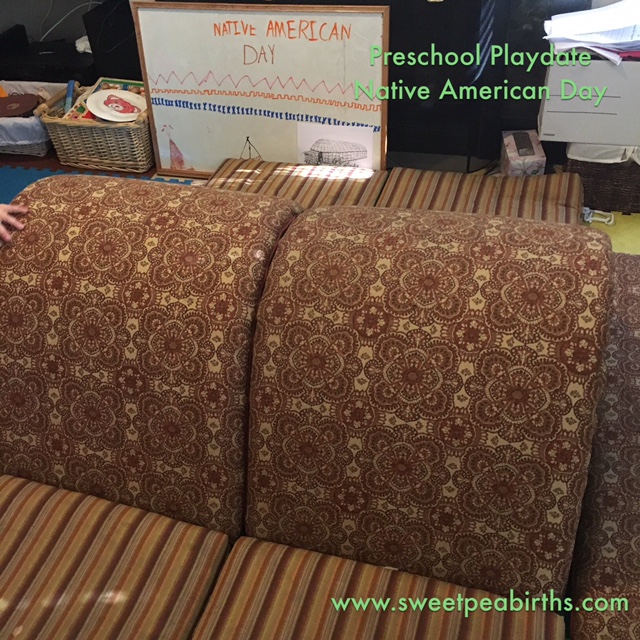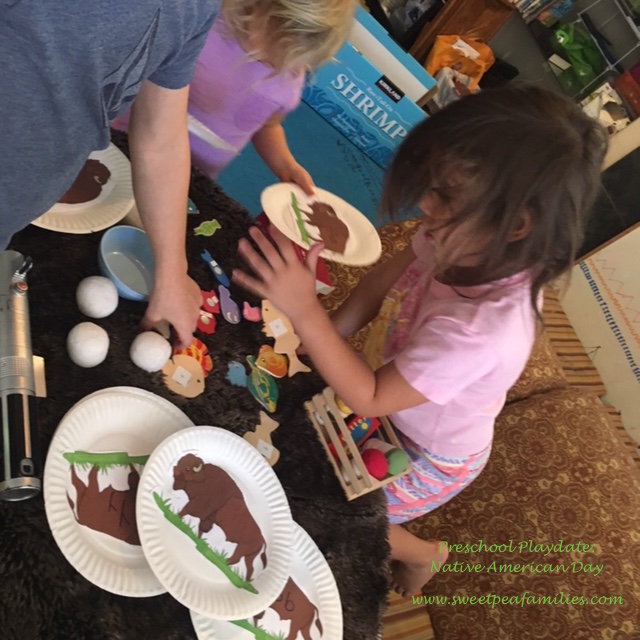 We finish our Preschool Playdate with a sharing time: each child that wants to share gets to say what (s)he enjoyed the most about the morning.  Playtime was definitely the crowd favorite today, as was the fishing game.
To close out our time together we sing a good-bye song where children are welcome to give hugs.  It helps to set a formal end to the time together so that parents have a clear reason to insist that it's time to go if they have somewhere to be afterwards.
Thank you for checking out our Native American Playdate.  We have one more to share with you this season.  Today we are doing Children's Day in honor of the Universal Children's Day on November 20th….all the details will be up in next week's post.
One more thing in case you are interested…Here are some Thanksgiving ideas to share with your Sweet Pea at home. Check out this link:
http://www.pre-kpages.com/thanksgiving/