We have been on break from Preschool Playdates for Spring vacation.  We will start up our Playdate recaps again next week when I share all the fun we are having today as we celebrate Ireland.  This whole month is Irish-American Heritage month…so even if you are a little late to catch the St. Patrick's Day theme, you can celebrate the Irish all month long.
Last week, I showed you how we did gluten-free at Disney California Adventure Park.  Today I am going to share the second part of our California trip in Carlsbad, CA.
We have a Lego problem at our house…as I imagine happens to many families who have children that are constantly playing with these little building blocks, they hardly ever turn down the opportunity to play with Legos.  A whole park full of Legos and Lego-themed activities?? YES, PLEASE!!  Every year we go, at least one child asks when we are going to move in…
Anyway, I digress.  Here was another park that went above and beyond to assuage my anxieties over the phone before we visited the first time.  After a successful first trip, by which I mean we could feed our children in the park without having anyone get sick, we have made it a regular stop on our visits to Southern California.
The third year we went back, we were also able to stay and enjoy the Legoland Hotel.  They have the same policy as the Disney parks: the head chef will come out and talk to us.  They listen to what our food allergies are, take us on the tour of the buffet to show us what is and isn't safe for our family, and then they can also prepare gluten-free items that are not out on the buffet.  For breakfast, the extra gluten-free items are muffins and gluten-free bread; for dinner it is macaroni-and-cheese and brownies.
Even with the items that are prepared in the kitchen, there is plenty to eat out on the buffet.  We get up early enough that I was able to take pictures of breakfast choices…dinner is too crazy, and I am too self-conscious to run around with my phone snapping photos when it's busy.  Since there are no photos, I'll tell you that at dinner there are plenty of gluten-free protein, grain, and vegetable items to choose from – you will not leave hungry anytime you eat at the hotel buffet.
It just so happens that one of our favorite areas to hang out also has all the gluten-free food available restaurants we like.  Castle Hill is home to Castle Burgers, where they will do gluten-free hamburger buns, Knight's Smokehouse BBQ that has salads and GF meats and sides, and Granny's Apple Fries, hands-down our favorite snack pretty much anywhere on earth.
(See a map of the resort HERE)
Although we have never eaten there, there is a salad and sandwich restaurant where we might be able to eat at Pirate Shores.  We are usually in that area at the end of the day getting wet, so it has never been on our lunch stop.  The other place we have gotten food that is safe and yummy is at Wok N' Bowl Raman, which used to be part of Duplo Funtown. That part of the park has been redesigned and updated to be the Lego Friends Heartlake City.
Although we couldn't stay as long as we usually do this year (only one day of apple fries – boo hoo!), we had an awesome time at the park and at the hotel. They do offer different hotel pricing for peak times and off-times, so go if you can swing it!! The themed rooms are amazing (we may or may not have gotten a sneak peek at the new Friends room – squee!), the play area is every Lego aficionados dream – parent and child alike can be found building to their heart's content.
So here is a visual tour of some of the food we enjoyed while we were on our Legoland California trip.
BREAKFAST
SNACKS IN THE PARK
http://Gluten-free gummy fruit snacks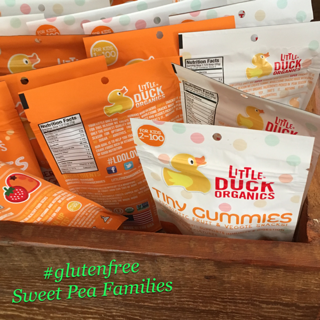 LUNCH
DINNER