Playdate: November 17, 2016
Theme: Universal Children's Day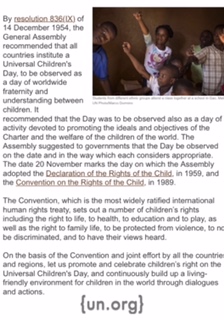 — Welcome song in English (emphasizes printed name recognition as Sweet Peas find their card in a line-up and place it on our Name Ledge)
— Welcome song in Spanish (reinforces names as Sweet Peas sing to their peers)
— Discussion of theme: Who are the people in our family?
— Storytime: Two books today!
— Centers | Free play
— Closing
STORY TIME
We used two books this session.
"La familia"
The first one we flipped through and "read" toddler-style…basically that means showing them the pictures, summarizing the text, and asking them what they see in the page.
"World Babies"
This one was perfect for toddlers – simple text, lots of great pictures of babies around the world.  We could look at their hats (refer back to Hat Day), see how they were dressed compared to how we dress in the desert, and then we also looked at the ones we saw being worn in carriers.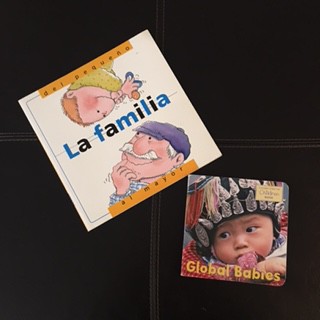 LITERACY CENTER
Some of the families took this home because the sticker station attracted most of the todders' attention! This is a great "All About Me" pamphlet that I picked up to use with our children – we have so many that it was time to share!
However you find this format, it's such a great way to capture a snapshot of your child's interests at the time.  Ideally, I would remember to do this every year; at around the same time would be even better 🙂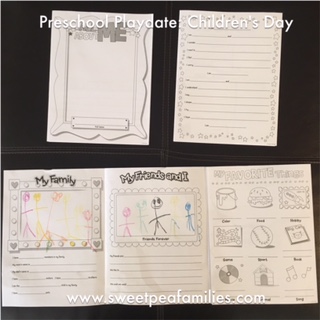 MATH CENTER
I got this idea from Preschool Plan-It.  It was actually quite opening to go through our ads and put this activity together.  The size and age bias is really clear when you look at print advertisements.  We did our best to represent people of all colors and size in our activity, age was much harder.
The tag sheet by itself served as our introductory tool…we asked all the guests what names they had for the people in their family…what did they call their aunt? uncle? grandparents? Everyone had different "titles" for those people based on their heritage.
For the center, we put out the other pieces and the children had to match the picture to the correct category on the tag board.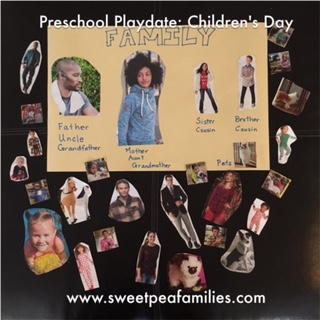 DISCOVERY TABLE
This happened after playdate at the park!! We took out sand toys and bubbles for the children to enjoy at the park.
ARTS & CRAFTS ~ Make & Take
This was a bigger hit than I ever could have imagined.  Leave it to the sweet peas to make it amazing!! The kiddos had such a great time creating "faces" out of the plates, stickers, yarn, and googley eyes that I set out on the floor.
Here are their creations…and the "heart" ears…all the credit goes to a very clever three-year-old!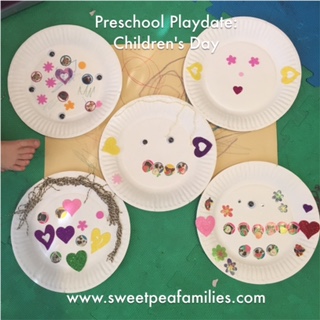 We finish our Preschool Playdate with a sharing time: each child that wants to share gets to say what (s)he enjoyed the most about the morning.  We close with a good-bye song where children are welcome to give hugs.  It helps to set a formal end to the time together so that parents have a clear reason to insist that it's time to go if they have somewhere to be afterwards.
This concludes our playdate series for 2016.  Thank you for joining us to see our weekly preschool themes!! You can click back through the archives to see other play ideas we have shared since September, and there are more many themes on the blog if you click under "Toddlers". As I was typing this, I realized that we are in our third year of hosting playdates for our students! Fun times.  I started keeping track in the Spring of 2014, so I hope that you will find some fun ideas on the blog to share with your Sweet Peas.
We have a fun idea in the works for the blog in 2017…I hope you will check back with us to see our new series that we are preparing for you!!
Blessings,
Krystyna