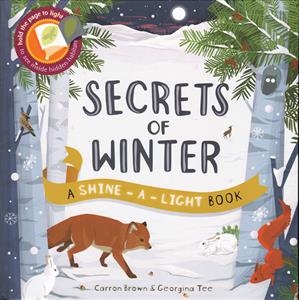 Secrets of Winter
Written by Carron Brown
Illustrated by Bee Johnson
by Kane Miller EDC Publishing
We didn't have a playdate to post yesterday since we took the week off for Thanksgiving last Thursday.  So today, I'm sharing a sneak-peek into yesterday's WINTER playdate.
My inspiration for this playdate was the changing of season this month.  I had the perfect book to share, Secrets of Winter by Carron Brown & Georgina Tee. This book was new in our library this school year – I purchased it from my friend Tina, who is a rep for Usborne Books.
The story introduces the idea of exploring through a winter evening.  The pictures alternate between full color and black&white, which seemed to keep the children's attention. There is the added intrigue of seeing an additional image revealed when you shine a light through the page!
There is no need to trim the story as the storyteller. The story moves along with 2-3 sentences and/or statements per page.  It also shows a large variety of animals and how they manage through the winter weather, so there are fun animal facts being acquired along with the visual enjoyment of the book.
Our guests and my own Sweet Peas thoroughly enjoyed the book! Their ages ranged from 2 years to 11 years old. From the endpaper printed with delightful animal prints, to the hidden surprises revealed with a flashlight on every page, there are endless ways to enjoy this book.
In fact, the children liked it so much, I sat with my legs out in front of me in order to keep the circle wide enough for everyone to see! That is definitely a first, and always a welcome sight to see children enjoying a book so much that they are piling on top of each other to get closer.
You can purchase your own copy of Secrets of Winter, other books in the "Secrets of" series, or anything else Usborne has to offer by following THIS link to Tina's online store.  Any orders placed before 12/10/2015 will arrive in time for Christmas gifting.
Happy reading!! Stay tuned for next Thursday's installment of "Preschool Playdate" when I share all the activites we did to celebrate winter (hint: we had a snowball fight in Arizona!!).