Happy Thursday!
Here are the experiments we shared with our park play group last week…building on last week's fun and trying on some new elements for the Sweet Peas to ponder: Sink+Float, Taking Up Space, and Melting Point.
Our inspiration for these posts is this book by Usborne Books: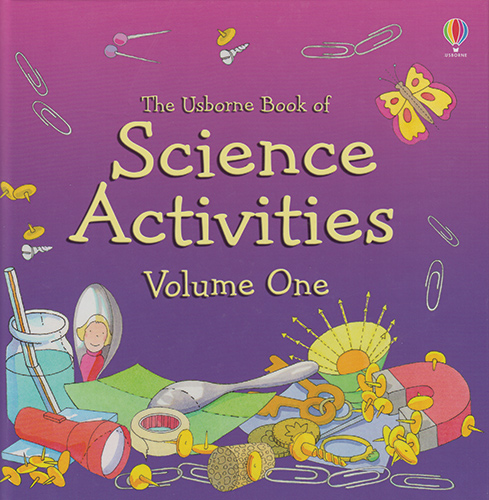 The mojority of the activities in the book can be done with things mosts of us keep around the house.
Experiment 1
Will ice float in water?
This is a great follow-up to last week's sink and float experiment. When a Sweet Pea reasons it out, it would seem that something heavy like ice should sink…surprise!! It floats!
One interesting correlation to explain is perfectly demonstrated in the winter. If ice was heavier as a solid, bodies of water would freeze from the bottom up, effectively freezing out all life every winter.  By floating, it creates a layer of insulation for the life below, that continues to swim freely throughout the winter months.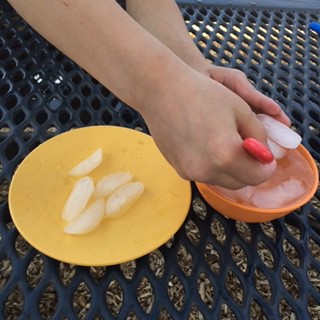 Experiment 2
Taking Up Space
Fill a container with water and put on the lid. Place it in the freezer and see what happens!  This experiment helps to illustrate the idea in experiment above.  Freezing water takes up more space because the molecules spread out, hence making it light enough to float in water.
As you can see in our experiment, it did not pop up the lid as much as we had hoped, it did however bump out the bottom of our container and created a very visible difference the Sweet Peas noticed right away.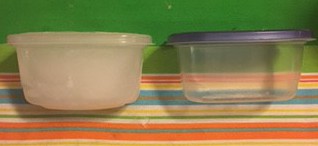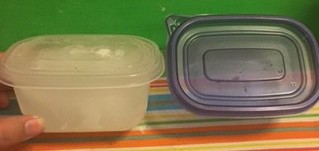 Experiment 3
Melting Ice
Prepare three containers: one with warm water, one with cool water, and one empty container.  Have your Sweet Peas guess what will happen to the ice they put into each container.
Careful with this one that the warm water isn't too hot if they splash it onto the counter or on themselves.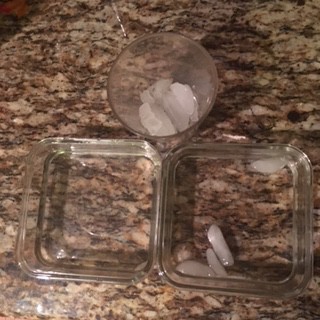 Experiment 4
Melting Without Heating – Salt
Sprinkle and ice cube with salt…compare it with a plain ice cube.  When the salt mixes with the ice, it lowers the freezing temperature. This salty ice will melt because it now requires a colder temperature to make it freeze.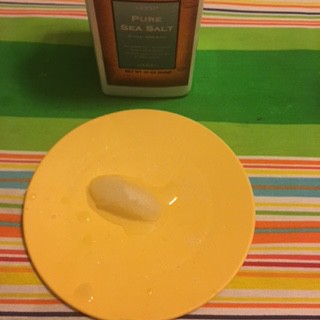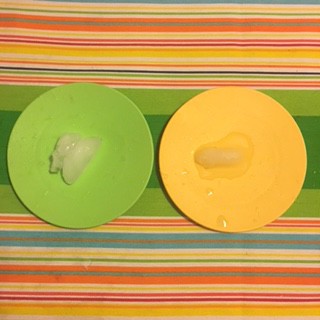 Experiment 5
Melting Without Heating – Pressure
Press a spoon into the ice.  You will see the ice melt underneath the area of pressure…if you look closely in the picture you can see the spoon-shaped divot in the ice because ice always melts when it is pressed.
Ask your sweet peas how this would affect their ability to walk on ice.  If they said it would be slippery, then they are correct! When we walk on ice, a thin layer of water forms between our shoe or boot and the patch of ice. This layer of water makes it hard for the soles of our shoe to grip the ground, so in effect Mother Nature is creating her own slip and slide!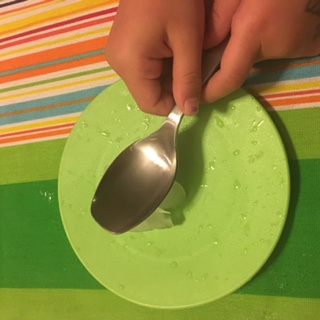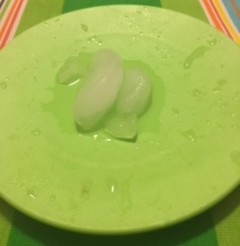 That is it for today's installment of Kitchen Science.  Enjoy trying these out with your Sweet Pea at home.  Leave me a comment and let me know how it goes for you and your crew!