THEME: First day of Fall
Play date: September 22, 2016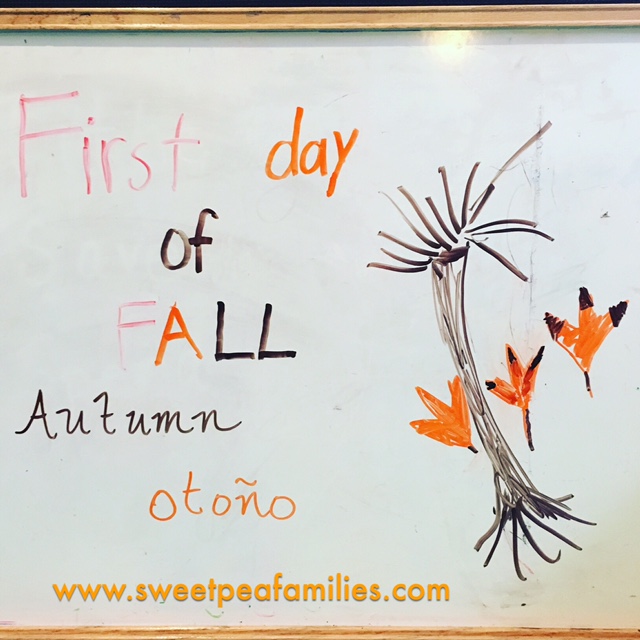 — Welcome song in English (emphasizes printed name recognition as Sweet Peas find their card in a line-up and place it on our Name Ledge)
— Welcome song in Spanish (reinforces names as Sweet Peas sing to their peers)
— Discussion of theme
— Storytime
— Unsquiggle activity
— Poem/Song before we break for Centers
STORY TIME
This is a treasure from a Scholastic book box I purchased early in our homeschool days.  I like this book because each page has a bold call out that can be read as an easy reader, and in regular font there is more detail for the child that is ready to read/learn more about the topic.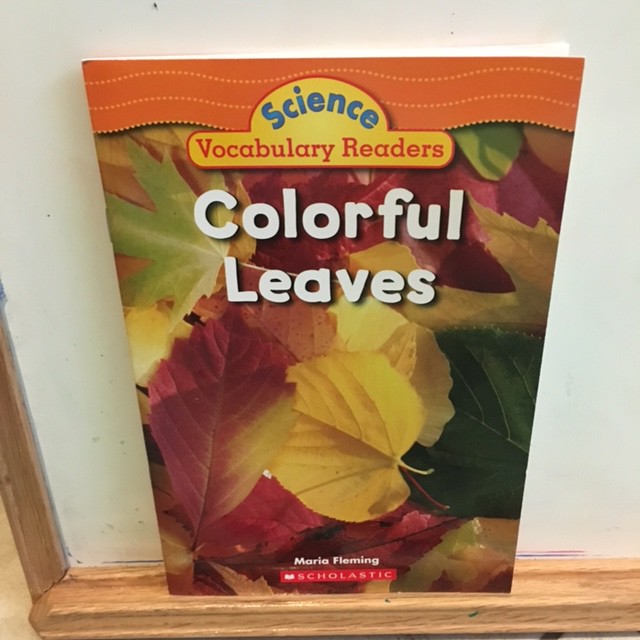 LITERACY CENTER
Letters:  F-A-L-L and A-U-T-U-M-N
Lots of opportunity for play and learning today:
Level 1: Talk about uppercase and lowercase letters. Have the child find the letter cards that match the words.
Level 2: Scramble the letters for one word and have the child line them up with the corresponding card.
Level 3: Scramble the letters for 2-3 of the words and have the child line them up with the corresponding cards.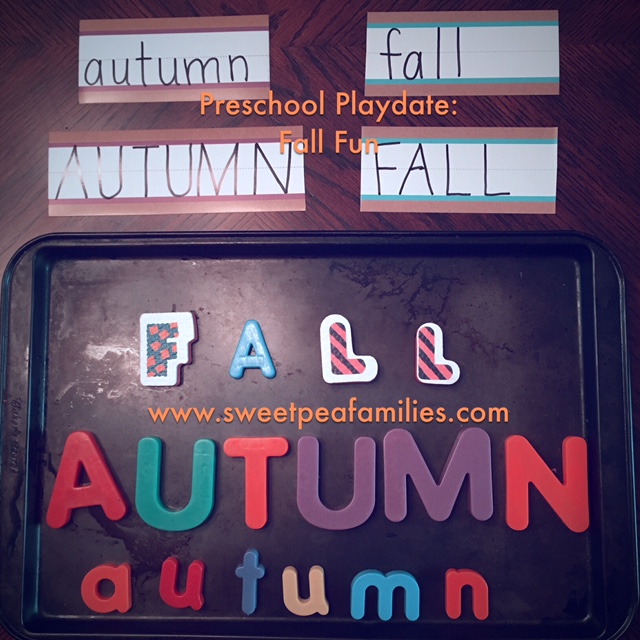 MATH CENTER
Magnet Leaves – Fishing for pairs 1-6
I was inspired to create this center by the magnet lessons I have been doing with Otter and Charger. They love "fishing" with their magnet fishing poles.  So I took some of our fabric leaves that could withstand the wear and tear of continual use and paired them with a number. I try to incorporate print as much as I can when we do centers, so aside from the number I also wrote the name of the number on the circle. One set is in English, the other is in Spanish.
With more time and/or if you have the storage space, you could make more pieces and some game boards that have a leaf outline on them and numbered leaves. Instead of lining them up in a row, they could be matched to the corresponding spot on a game board.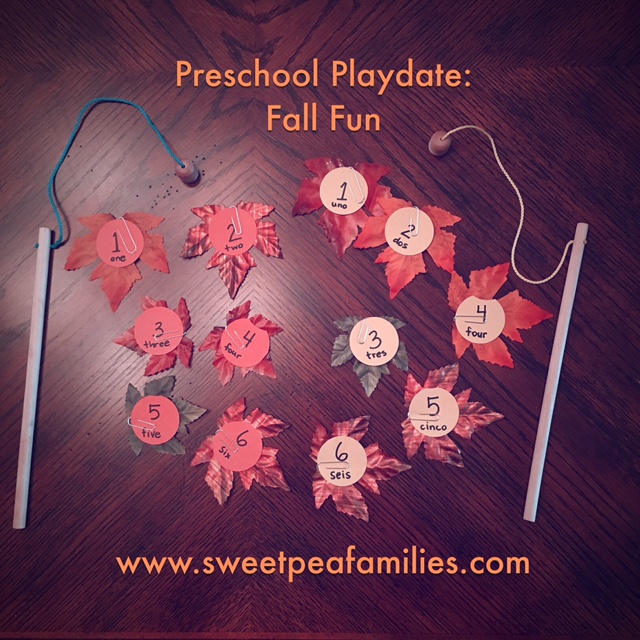 The other activity we did was half discovery, half math.  We hid ten "acorns" in the leaves.  Then we gave the children rakes to dig through and find as many acorns as they could find. They got to count the acorns and then hide them again for the next sweet pea.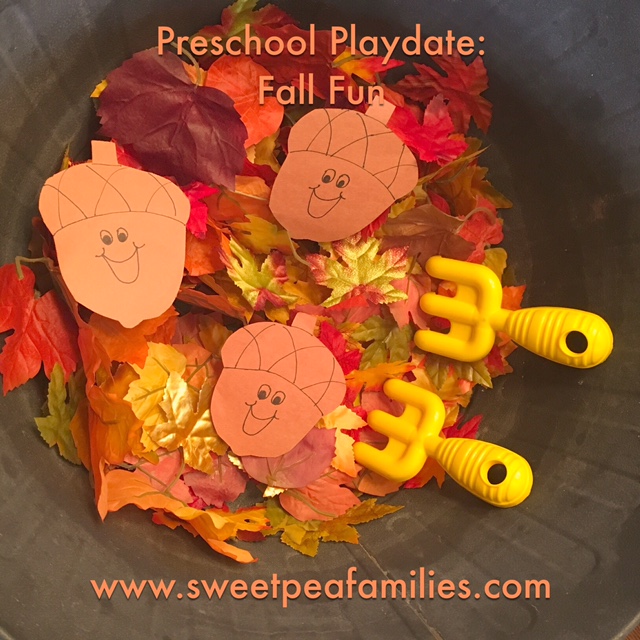 DISCOVERY TABLE
Leaf rubbing
We used the age-old and oft enjoyed crayon rubbing art idea to explore leaves. First you get the sensory experience of rubbing: it has a feel and a sound to it.  Then there is the magical aspect of creating art that "magically" appears.
What I noticed yesterday and pointed out to the older children was the difference between our desert plant leaves and those that are pictured in most books about leaves.  Our water-deprived desert leaves and small and/or long and thin, and many are spiky. Looking at the picture books that feature trees of the more temperate forest climates, we can see that those leaves are bigger and come in many more varieties. They could make the connection that the more water is available, the larger the leaf size.
Another reason I like this as a discovery table for toddlers is that once the papers are finished, we can look and talk about similarities and differences using their art instead of the more fragile leaves.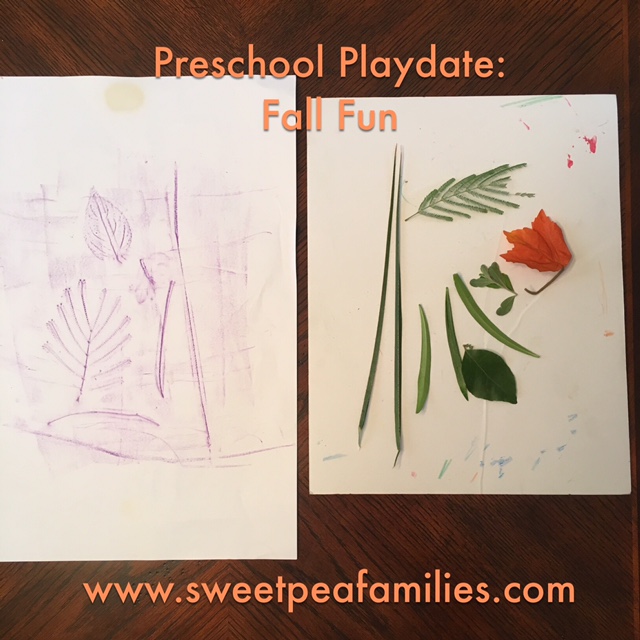 ARTS & CRAFTS ~ Make & Take
Leaf necklace idea is from Kiwi Crate
One of the things I love about doing crafts with young children is that it provides an opportunity for organic learning. "How many leaves do you want in your necklace?" " Can you count out "x" number of leaves?" "What color bead is going to be first?" "Which color would you like next?"
All this on top of the fact that you are working to improve their motor skills and hand-eye coordination, as well as inviting them to use their imagination. The different textures of the materials also help stimulate their senses…no wonder this is one of my favorite stations to pull together each week.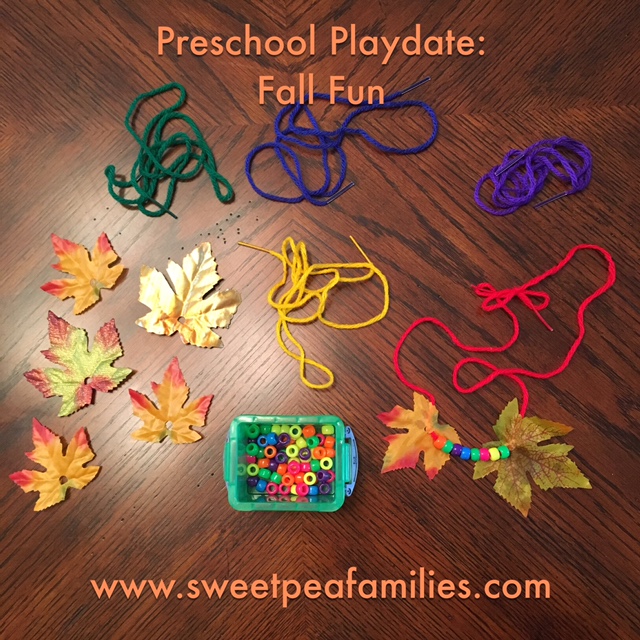 We finish our Preschool Playdate with a sharing time: each child that wants to share gets to say what (s)he enjoyed the most about the morning.  We close with a good-bye song where children are welcome to give hugs.  It helps to set a formal end to the time together so that parents have a clear reason to insist that it's time to go if they have somewhere to be afterwards