Preschool Playdate: Space Day
April 28, 2016
— Welcome song in English (emphasizes printed name recognition as Sweet Peas find their card in a line-up and place it on our Name Ledge)
— Welcome song in Spanish (reinforces names as Sweet Peas sing to their peers)
— Discussion of theme: looked at pictures from the HUBBLE telescope – planets, comets, asteroids and the Milky Way
— Storytime
— Unsquiggle activity
— Poem/Song before we break for Centers
STORY TIME
Stella Goes to the Moon by Simon Puttock, illustrated by Philip Hopman
A whimsical bedtime tale of a little girl's trip to the moon. We had the sweet peas check out the detail on her desk (lots of great science themed items!! and other toys) and find them throughout the other story pages.
The storyline lends itself to lots of acting out as you read along. Although it's set at a child's bedtime, not sure that it really works because it's not necessarily a "quiet" story.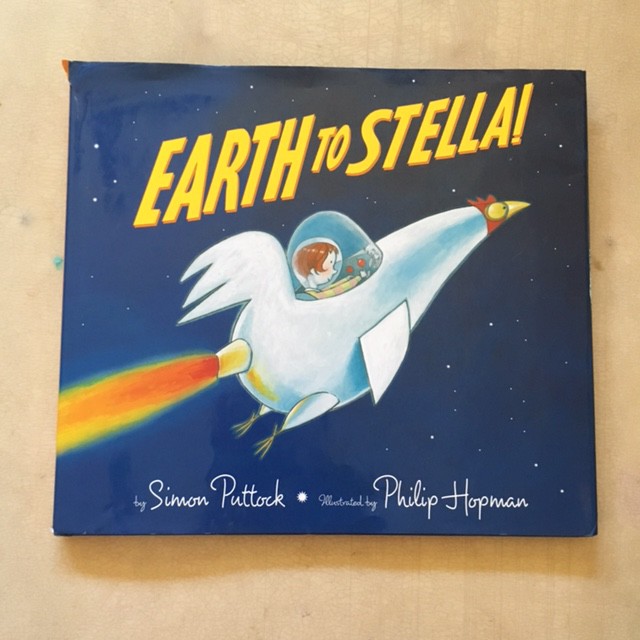 LITERACY CENTER
"S" Sound Box
Featuring the letter "S" for space…I like putting in other items so there is some "no" as well as lots of "yes" when they are doing the matching.
This sound box had a square, soap, strawberry, sock, sponge, sword, and shark!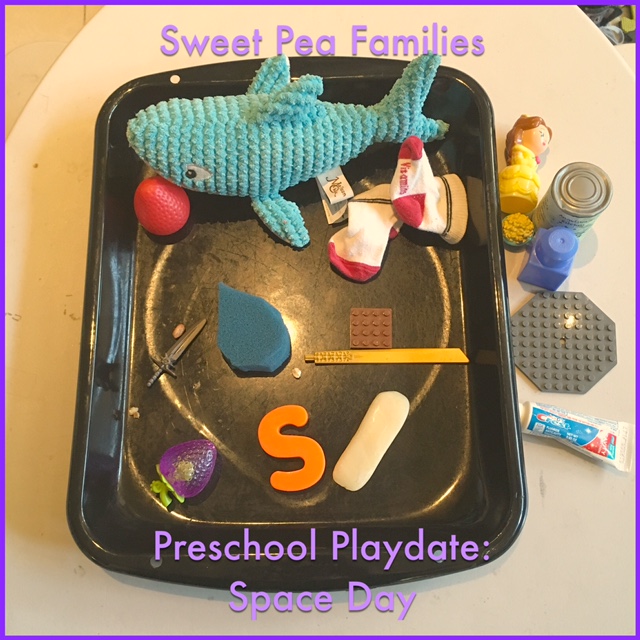 MATH CENTER
This was a fun number matching game from the DLTK Kids website. Charger noticed that the numbers were higher…our observant little guy said, "Mommy, you usually only go up to five – why are you doing six?" After all the practice, they are ready for more!! HERE is the place to print your own game 🙂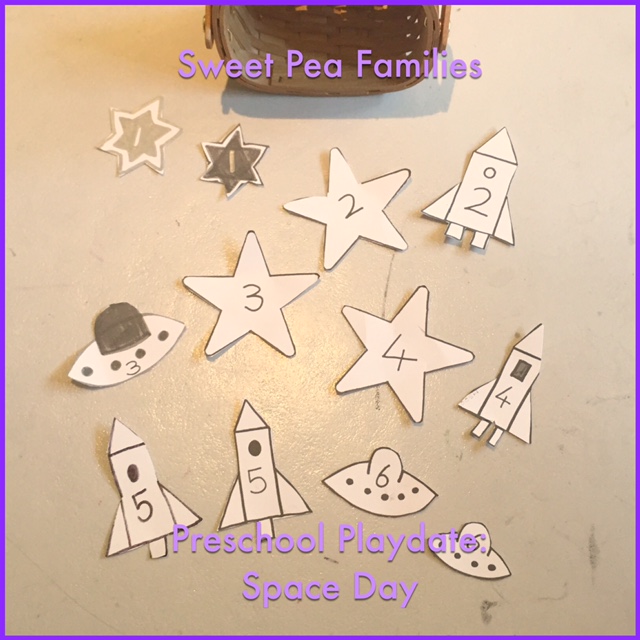 DISCOVERY TABLE
Space Play
I found a neat idea for planet play HERE and I had to make the color elements! I also found a different way to color the rice HERE which makes me happy because I don't have to buy a powdered sugar drink to make it anymore. Three ingredients: rice, food coloring and vinegar!! The use of chick peas added a different texture and opportunity for play…some of the sweet peas said they were stars (and even called them red giants!) while others said they were planets…like Mars. I love it when the kiddos are already knowledgeable about our topic!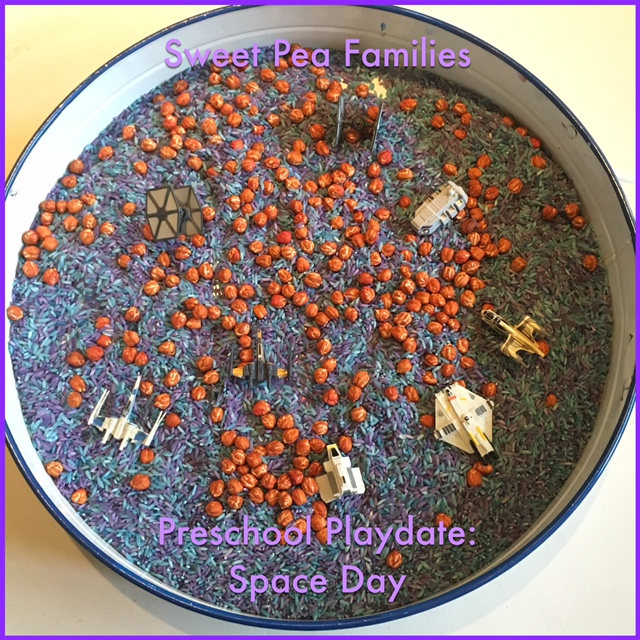 Alien Play dough
We brought this idea back from last year's Space Day. The book we read last year had a storyline where the little girl makes friends with an alien on her space travels. Even though this year's book didn't include an alien, the kiddos had fun creating them!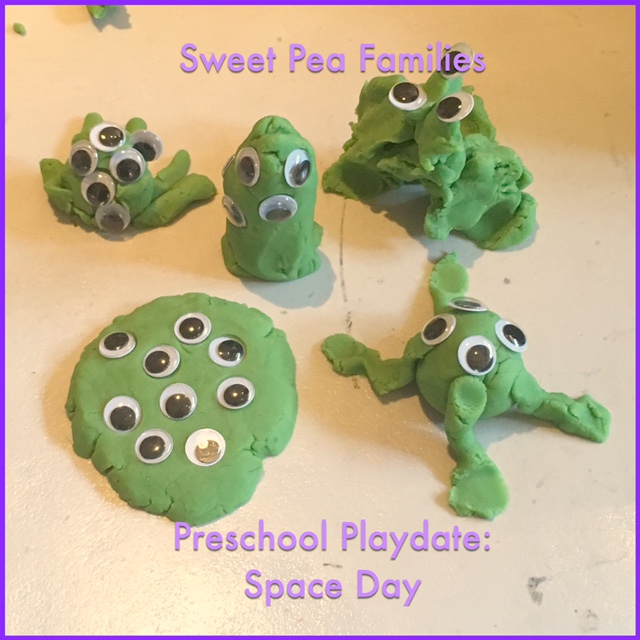 ARTS & CRAFTS ~ Make & Take
The astronaut craft was another idea from the DLTK Kids website. We used a toilet paper roll as the base – the rest of the pieces are a printable that you can get HERE.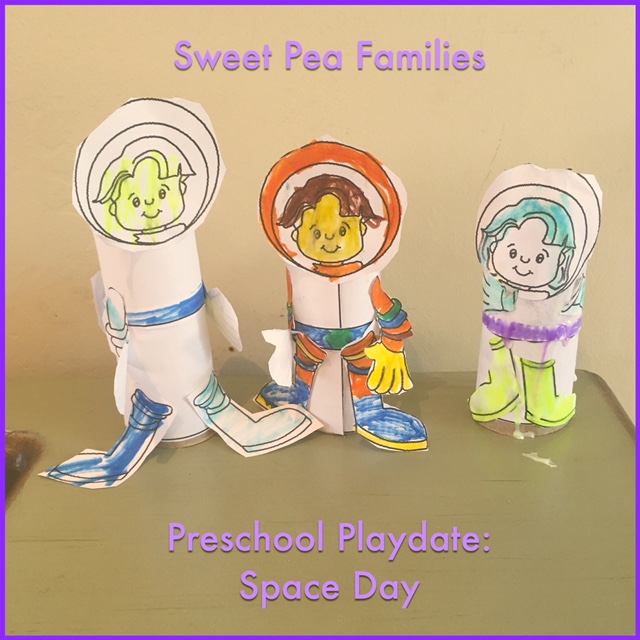 Fun fact: all astronauts have a band on their space suit of a different color so that they can be identified once they are in. The visors on the helmet are not really see-through since the visor has to protect them from the sun's rays and is dark from the outside.
We finish our Preschool Playdate with a sharing time: each child that wants to share gets to say what (s)he enjoyed the most about the morning.  We close with a good-bye song where children are welcome to give hugs.  It helps to set a formal end to the time together so that parents have a clear reason to insist that it's time to go if they have somewhere to be afterwards. This week making the astronaut and the "S" Sound box were the big winners 🙂