Playdate: March 31, 2016
Theme inspired by Learn About Butterflies Day
— Welcome song in English (emphasizes printed name recognition as Sweet Peas find their card in a line-up and place it on our Name Ledge)
— Welcome song in Spanish (reinforces names as Sweet Peas sing to their peers)
— Discussion of theme
— Storytime
— Unsquiggle activity
— Poem/Song before we break for Centers
STORY TIME
Here is a sweet story that follows a caterpillar through the spring and metamorphosis. It's a pop-up book with a puffy caterpillar that weaves through the center of the pages…and then a pretty pop-up butterfly on the last page.
LITERACY CENTER
I found some images of butterfly gardens on the internet, and then printed up THIS butterfly life cycle. I printed up a list of position and direction words as a reference list for the parents.
My favorite way to use this is to take turns with your sweet pea. You ask them to place one of the figures around the picture, and then have them tell you where to put the figure. It helps teach them the concept of how things relate to one another…read more about that HERE.  I find it an important idea for them to be able to learn things such as reading and math…it's important to understand how letters and numbers relate to each other according to their position to each other.
MATH CENTER
I created this center using playing cards from a Hungry Caterpillar Game.
Level 1: Match the number on the card to the number on the reference picture.
Level 2: Start teaching your sweet pea about the days of the week.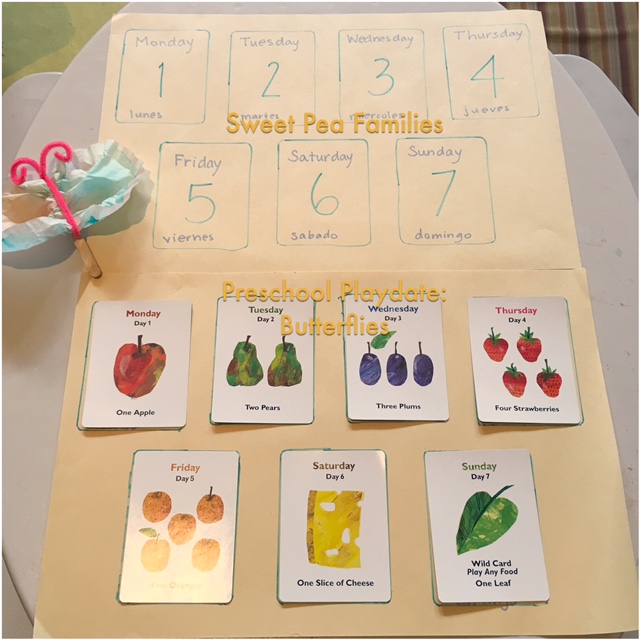 DISCOVERY TABLE
This incorporated two ideas – the line of symmetry and color blending.  The sweet peas put dabs of red and yellow paint on one side of the paper, then folded it in half to transfer the paint.  Where the colors blended, they got to see that red+yellow=orange. I love 2-for-1 activities 🙂  This one might count as 3-for-1 since it could also be a craft!!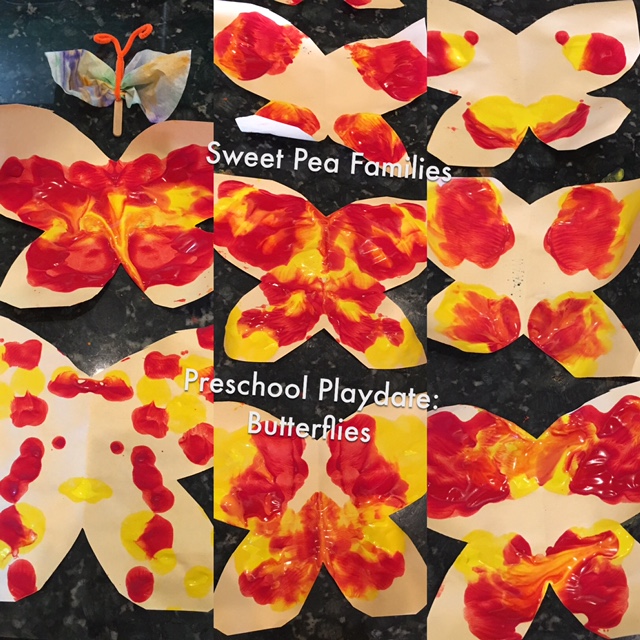 ARTS & CRAFTS ~ Make & Take
This was the "official" craft activity.  We used water-soluble markers to draw on coffee filters. Then i let the sweet peas drop water on the filter by using water trapped in a straw by air pressure (mini-science lesson built in!).  Once they dried, we attached them to the popsicile stick prepared the night before.  The pipe cleaner is glued on with hot glue; it serves as the body when you twist it at the top, and then turn the ends into the antenna.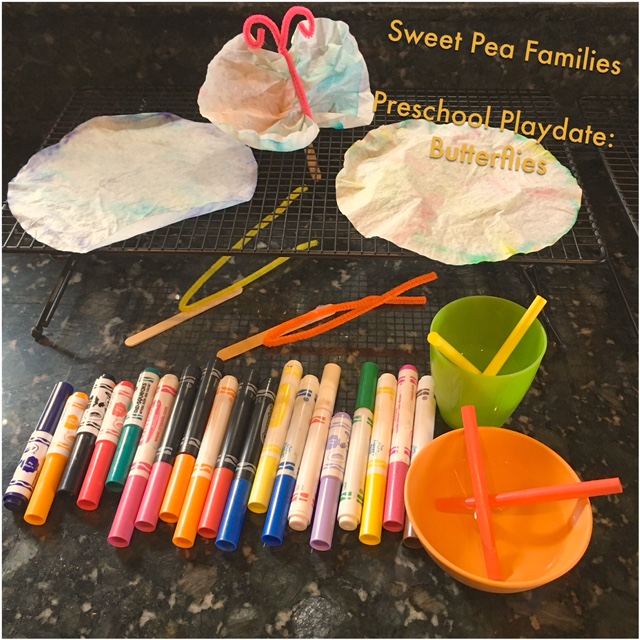 This activity works best with fresh markers that are full of ink. Ours were a little dry and not enough color transferred to the coffee filter – the butterflies were more colorful when I brought out new markers.
We finish our Preschool Playdate with a sharing time: each child that wants to share gets to say what (s)he enjoyed the most about the morning.  We close with a good-bye song where children are welcome to give hugs.  It helps to set a formal end to the time together so that parents have a clear reason to insist that it's time to go if they have somewhere to be afterwards
Next week: check out the activities we enjoyed on April 7th in honor of World Health Day.