Theme: Earth Day
Inspiration: International Celebration of Earth Day on April 22
— Welcome song in English (emphasizes printed name recognition as Sweet Peas find their card in a line-up and place it on our Name Ledge)
— Welcome song in Spanish (reinforces names as Sweet Peas sing to their peers)
— Discussion of theme: why do we need to take care of our planet
— Storytime: I am the Earth
STORY TIME
This book was gifted to our children – what a perfect share for Earth Day! From the I Am Foundation website:
"I Am The Earth: Positive Affirmations for Loving Our Planet is dedicated to our children and future generations, to enable them to become great stewards of this planet. This book builds an awareness of valuing, appreciating, and taking care of our beautiful world. For every I Am The Earth book you order from The I AM Foundation for donation, we plant a tree via The Arbor Day Foundation. "
LITERACY CENTER
I found today's activities on THIS blog – the mama offered several ideas for Earth Day in her free printable pack.
Level 1: for the younger set I printed out tracing pages – they love writing with the dry erase markers!!
Level 2: I printed out the Letter Sound Matching. I wrote in the words in one set, and left the other as it was with the pictures on the left and the letters on the right.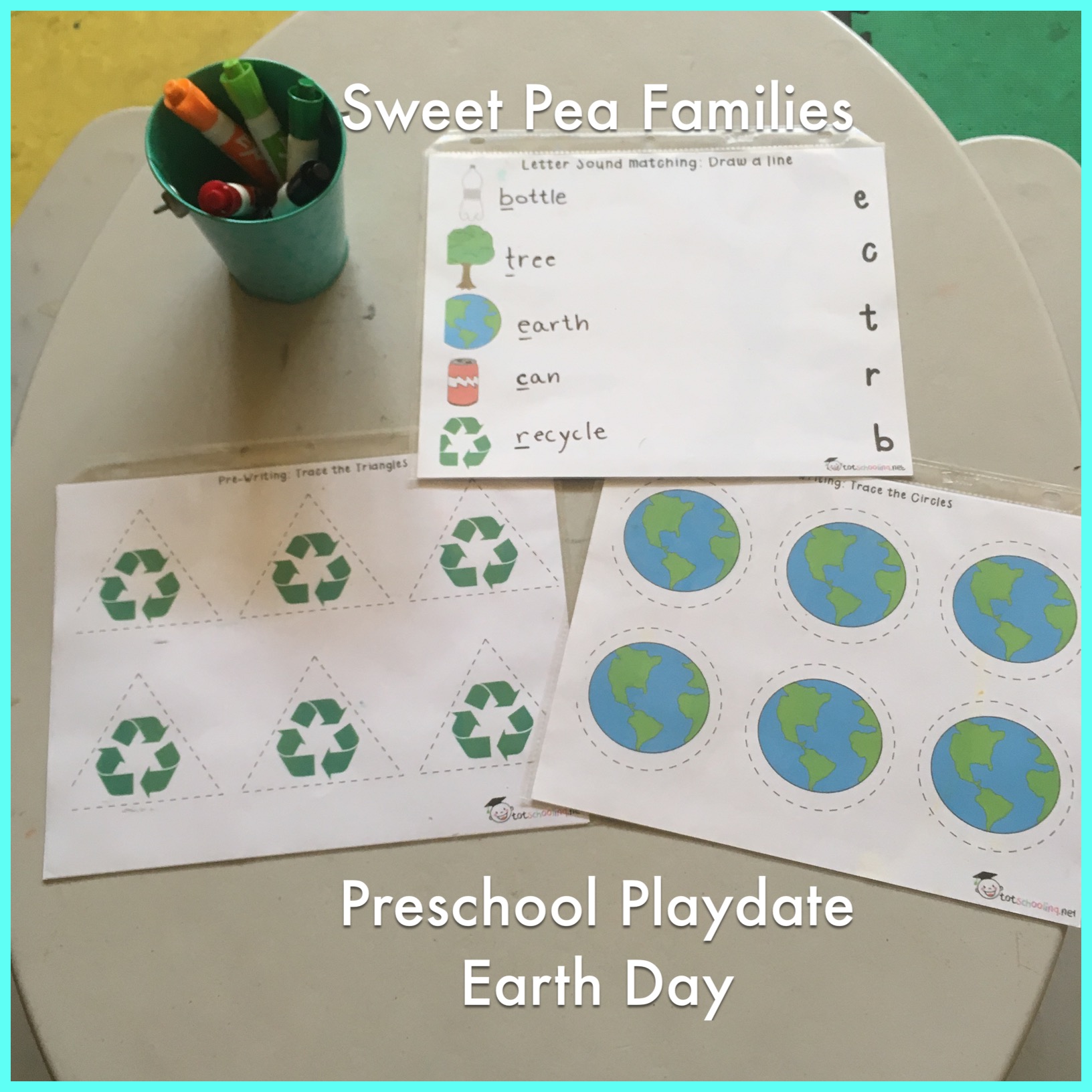 MATH CENTER
Today's activity was also printed from THIS same blog as the literacy activities. Since the matching numbers would have taken up a whole page for just five numbers, I used our left-over cardboard from our Arts+Crafts activity to make the matching numbers.
Level 1: Match the number cards
Level 2: Write in the correct numbers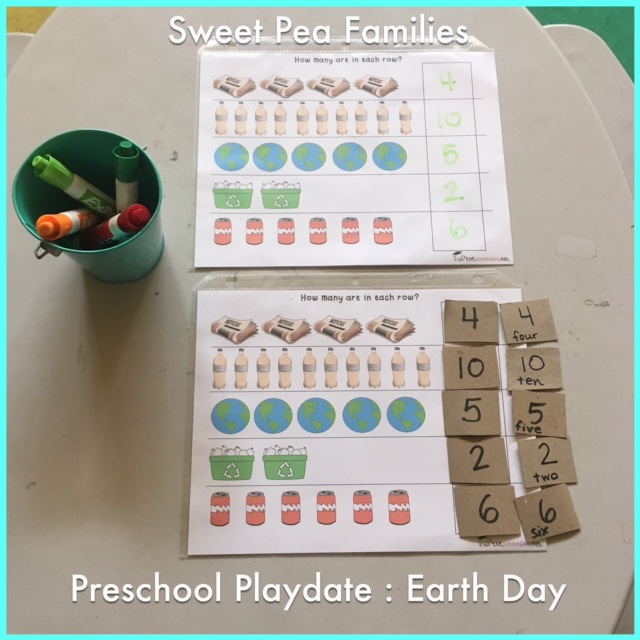 DISCOVERY TABLE
This was a sensory/math activity. I used leftover green and blue eggs from Easter and split peas to go along with the blue/green earth day theme. This gross motor skills activity was inspired by THIS image.
In addition to the egg match for the numbers, I also pulled out our bumblebee clothespins that we made during our A.A. Milne playdate to have the kiddos talk about the importance of bees to the ecosystem, and have them pick up the flowers with the clothespins to work on fine motor skills.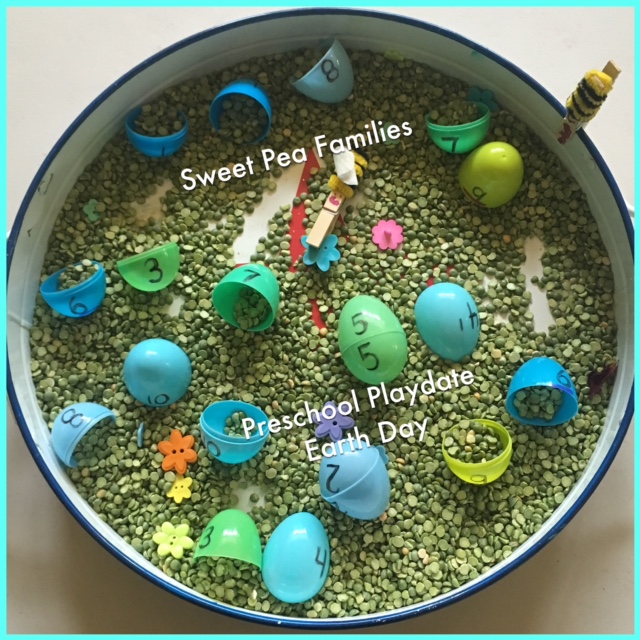 The second sensory activity today was planting a bean seed. The kiddos got to pack the dirt, plant their seed, cover it, and then water the seed. We can't wait to hear how their seeds sprouted this week!!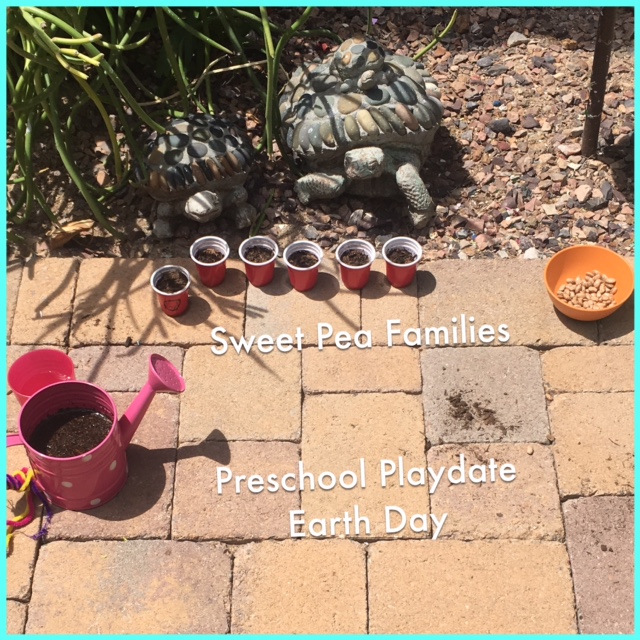 ARTS & CRAFTS ~ Make & Take
This was a two-part craft!! As the children arrived, we had them paint their blue earth. Once we broke for centers, we mixed the shaving cream+glue+food coloring concoction we learned to make for our Black History Month playdate and this time, we turned the cream green so that the kiddos could make green land on top of the blue water and create their own planet Earth.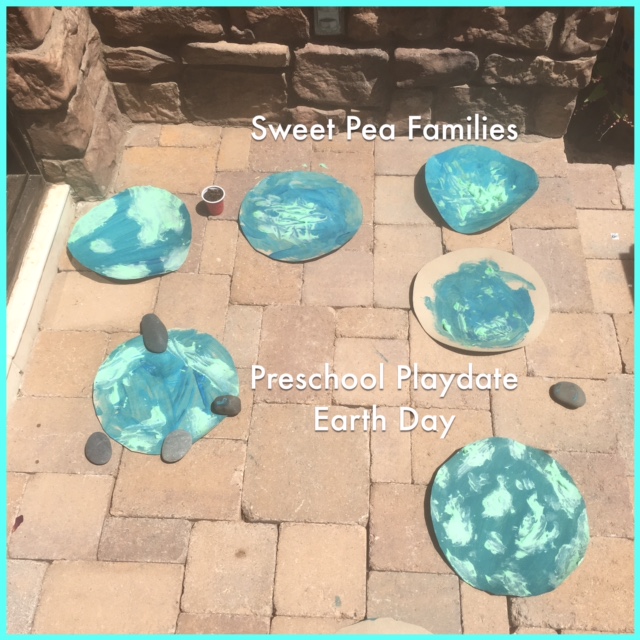 We finish our Preschool Playdate with a sharing time: each child that wants to share gets to say what (s)he enjoyed the most about the morning.  We close with a good-bye song where children are welcome to give hugs.  It helps to set a formal end to the time together so that parents have a clear reason to insist that it's time to go if they have somewhere to be afterwards.
I hope you and your sweet peas had a fun time celebrating Earth Day! Join us next Thursday when we share our Space Exploration playdate!