Theme: Make A Friend Day
Date: February 11, 2016
— Welcome song in English (emphasizes printed name recognition as Sweet Peas find their card in a line-up and place it on our Name Ledge)
— Welcome song in Spanish (reinforces names as Sweet Peas sing to their peers)
— Discussion of theme: Friendship and Making Friends
— Storytime
— Unsquiggle activity: Modeling Puppet Center
STORY TIME
AH – thank you Frozen fever…and zulilly!! We got a few of the books on super-secret sale, and this one was perfect for today's theme.  In the book, it shows several of the different friendships that happen in the movie, and there is even a page where two of the characters get along sometimes, and other times they do not.  It was a great point to emphasize in another activity we enjoyed for this theme.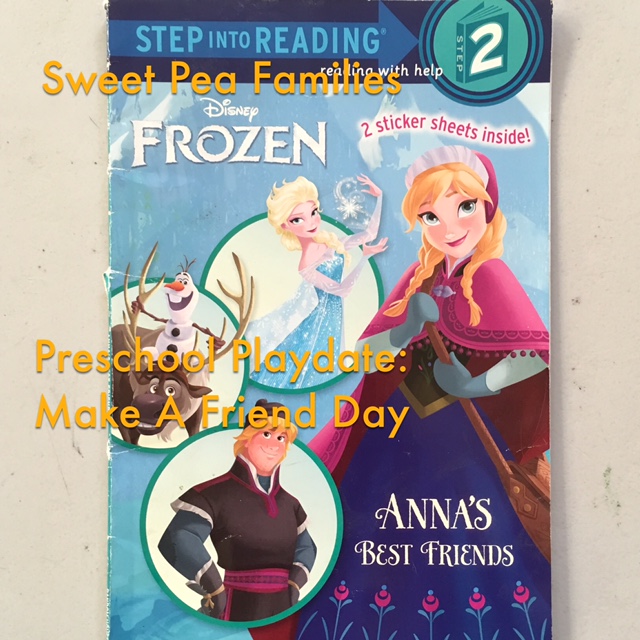 LITERACY CENTER
We continue with our "sound box" theme.  Here are all the different things the children found that started with the letter "F":
fabric, fan, fire truck, fish, flower, french fires, fried egg, fur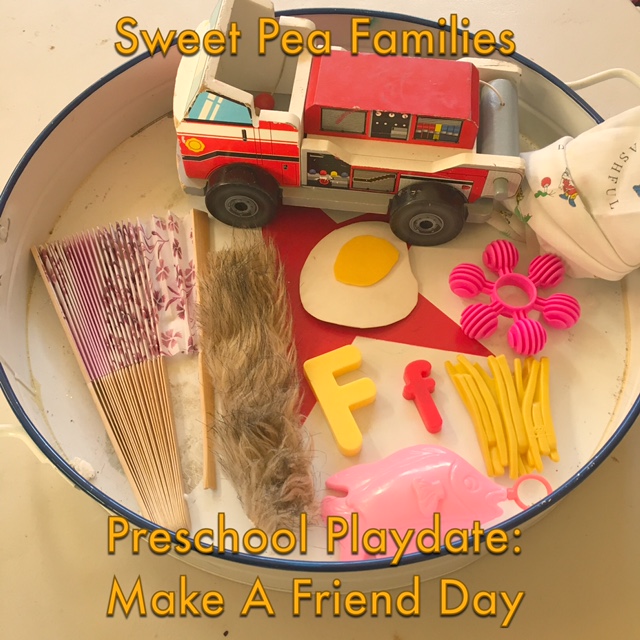 MATH CENTER
This was a counting and/or matching game. I made a concerted effort to represent children of all colors in these cards.  An article I read recently has made me more mindful about the images I am presenting to the children.  So I prepared these cards showing children participating in all different kinds of play, making friends and being friends.
The children could count and match to the corresponding numbered card, and also with the foam number.  The cards can also be used as a "memory" game, matching the correct number of children together.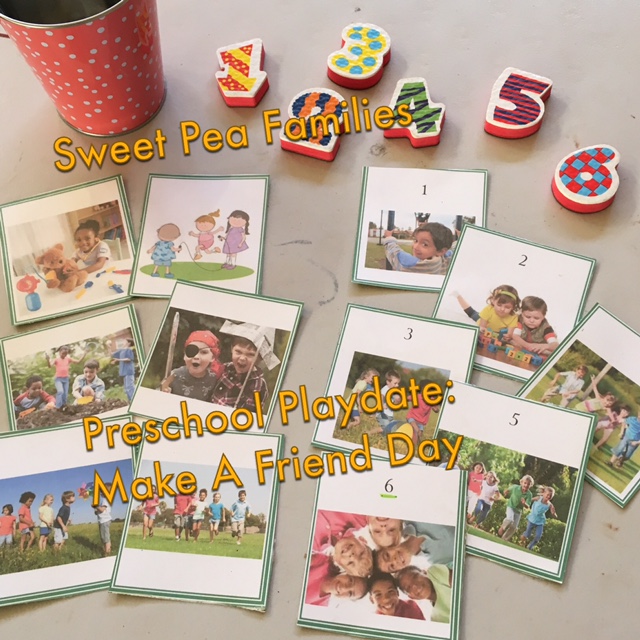 Foam numbers by ALEX
Activity inspired by Preschool Plan-It
DISCOVERY TABLE
This was a fun one!! I covered our Discovery Table in butcher paper and laid out a grid, some ink, and a magnifying glass.  Each Sweet Pea that wanted to could leave their fingerprint.  Then the other Sweet Peas could take turns looking at each other's fingerprints under the magnifying glass.  I had to move this table into more sunlight so that the kiddos could see some detail.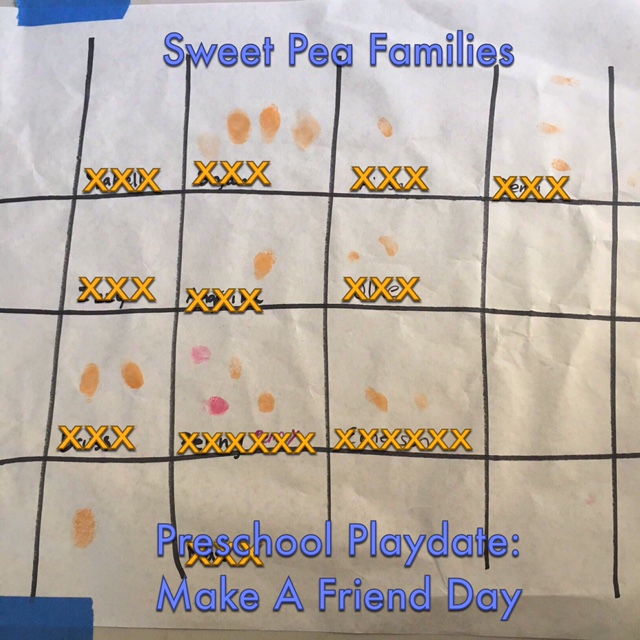 Activity inspired by Preschool Plan-It
Here is another activity we did: Puppet Show!! I printed up little cards of different scenarios that might come up, when it would be good to try to use words to work things out.  The Sweet Peas each got to pick a puppet and a scenario card with them to help model respectful behavior.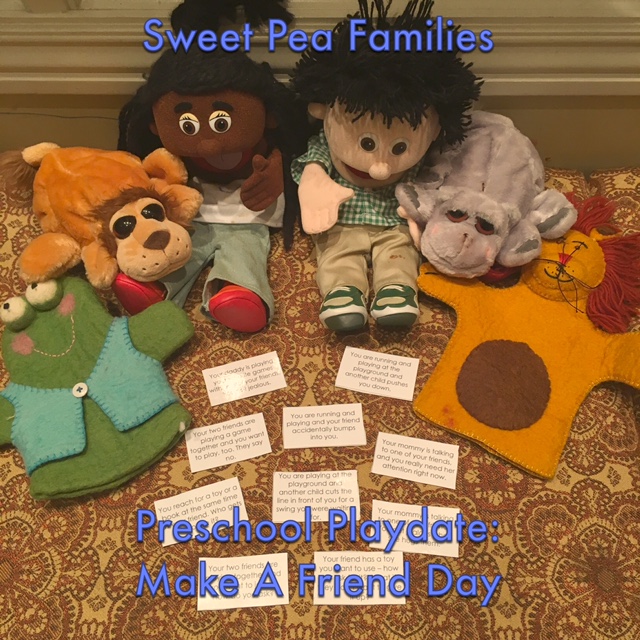 ARTS & CRAFTS ~ Make & Take
This was a little crazy to execute, and absolutely worth it when everyone got to take one home!! I tried to keep it simply by only putting out two colors of ink that were pretty similar.  This "circle of friends" will be a keepsake to treasure when we pull out old artwork and reflect on how much our Sweet Peas have grown.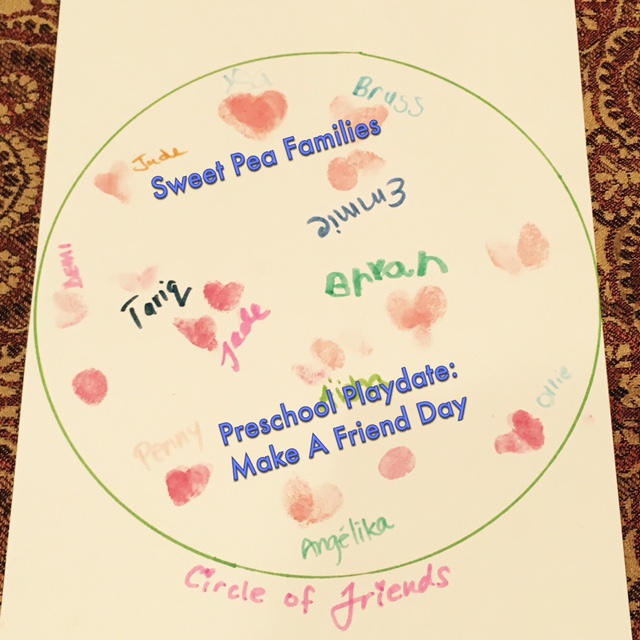 Activity inspired by Preschool Plan-It
We finish our Preschool Playdate with a sharing time: each child that wants to share gets to say what (s)he enjoyed the most about the morning.  We close with a good-bye song where children are welcome to give hugs.  It helps to set a formal end to the time together so that parents have a clear reason to insist that it's time to go if they have somewhere to be afterwards.