Play date: February 18, 2016
Inspiration: Black History Month
— Welcome song in English (emphasizes printed name recognition as Sweet Peas find their card in a line-up and place it on our Name Ledge)
— Welcome song in Spanish (reinforces names as Sweet Peas sing to their peers)
— Discussion of theme: we talked about how even today, people are talking about excluding people due to the color of their skin or their religion:
— Storytime: Our Children Can Soar by Michelle Cook
STORY TIME
This is my second year sharing this book – still can't read it without having my voice crack. I can't help but think of what it must have been like for these tremendous people who had the courage to face discrimination, hatred, and even violence to assert their basic humanity, and the right to equitable treatment under the law and from their fellow human.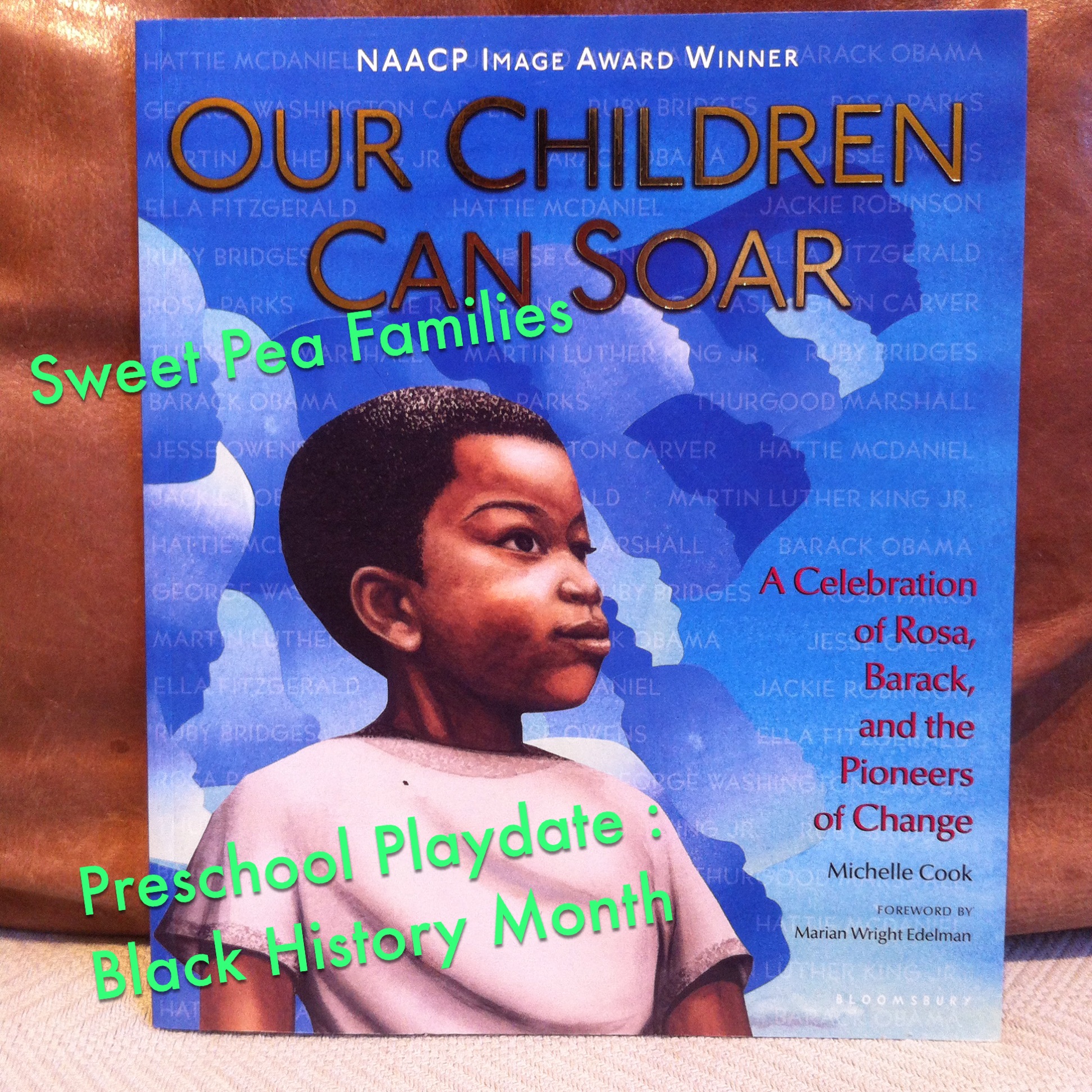 LITERACY CENTER
This year I chose for all the cards to tie to the characters in the book.  We split the cards and the letters between two tables so the kiddos could do two letter stations and explore a little more about the historical figures mentioned in the book.  I also highlighted the first letter of the name that they were looking to match to make it a little easier to locate the letter.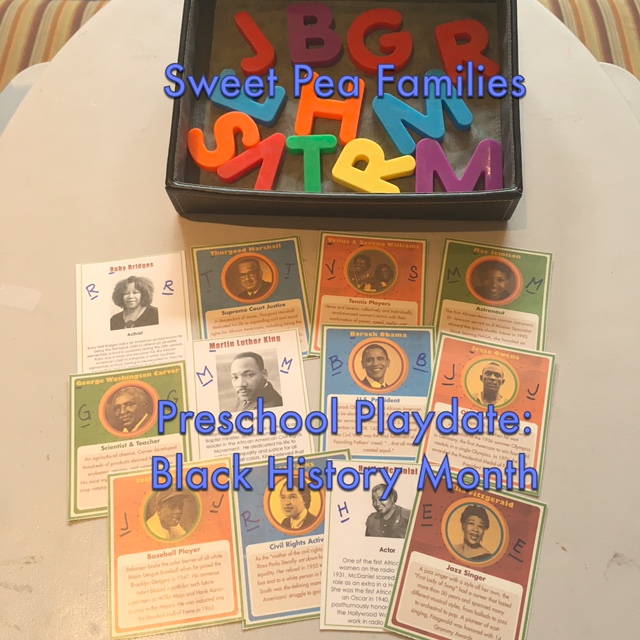 MATH CENTER
This was a neat find – the inventor of the golf tee is from one of the towns I lived in as a child – Oswego, New York!! This idea is from Preschool Plan-it: using golf tees in styrofoam, and then having the kiddos balance pom-poms on the top.  The Sweet Peas got to practice counting as well as fine motor skills if they used the tweezers.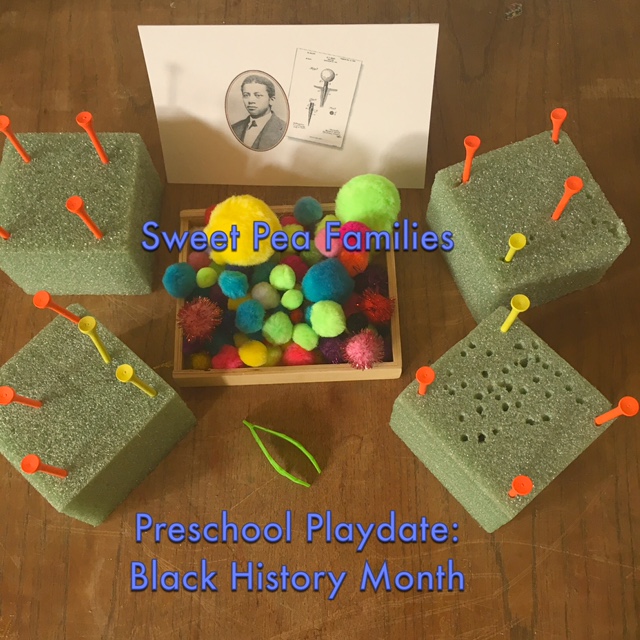 DISCOVERY TABLE
This little chemistry experiment was an homage to the great African-American chemist, George Washington Carver.  We didn't use peanuts or sweet potatoes, but we did use a vegetable: red cabbage.  Red cabbage can be used to test for acids.  After soaking in boiling water, it turns to water purple.  If any acid is mixed into the solution, it will turn varying shades of pink.
The Sweet Peas had fun guessing which items would turn the water pink, testing their hypothesis, and then finding out what in fact, is and isn't acid.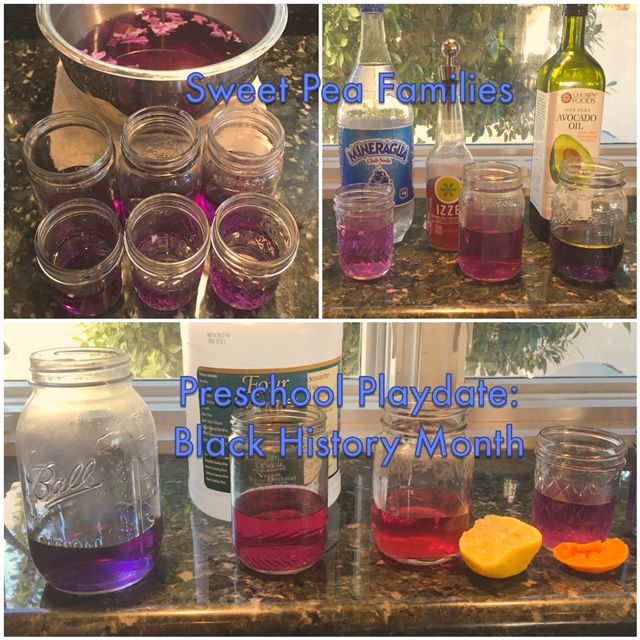 ARTS & CRAFTS ~ Make & Take
This is another inspiration from Preschool Plan-it: mixing shaving cream and glue so that the art work is permanent.  It actually has a really cool spongy texture.  Mixing the glue, shaving cream, and food coloring was a fun activity in and of itself!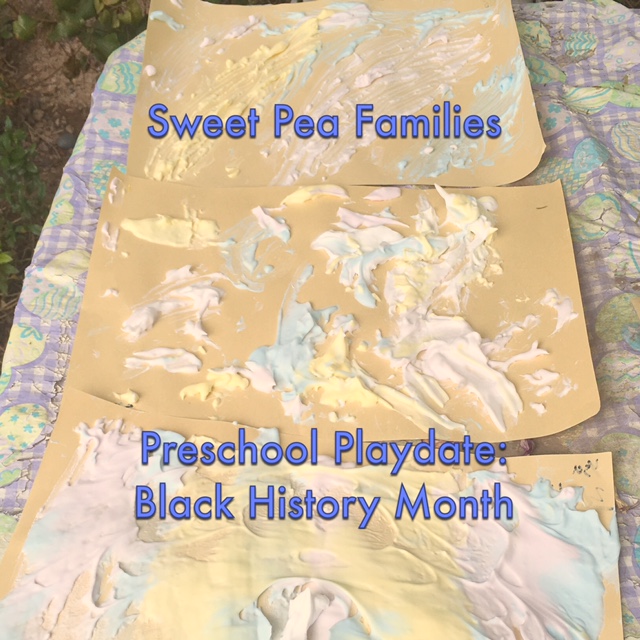 We finish our Preschool Playdate with a sharing time: each child that wants to share gets to say what (s)he enjoyed the most about the morning.  This morning, there were three popular centers: the math, the art, and the discovery centers were all mentioned with equal enthusiasm.
We close with a good-bye song where children are welcome to give hugs.  It helps to set a formal end to the time together so that parents have a clear reason to insist that it's time to go if they have somewhere to be afterwards.
Join us next week for a peek into our carnival-inspired playdate!!