Puma was born in the wee hours of the morning, eleven years ago today.  It has been quite the ride.  As the day started yesterday, I thought about the fact that we were already in labor with her on the 24th, and how we had to wait 24+ hours to find out if we were having a boy or a girl.
It also made me reflect on the many lessons I have learned as a mother over the last few years. I am not going to write them all down…here are some highlights.
Everything is better with sleep. We first learned this in her birth journey.  We had to make some decisions for her birth that we wouldn't have had to face if I had given into the exhaustion and slept. The lesson has remained with me since that day. If either myself or the Sweet Peas are not "ourselves", then it's off for a nap-time or an early bedtime.  The household is much gentler when we are all rested.
Tears and fun do not go together. Whether it's playing a game, reading a book, trying out a new concept in school…if someone is crying (including me!), then it's not the right time for whatever we are doing.  Sometimes we need to refer back to No.1. Other times, especially when it's school-related, it means that I need to check my gut and see if maybe the Sweet Pea isn't ready for the concept, or if I need to get creative and present it in a different way.  If I pay attention, then the day turns around quickly.
Anger is an unmet need. Our chiropractor, Dr. Ross, gave me words to express this little nugget of wisdom!  Inevitably, our Sweet Peas forget that I am not a mind-reader.  Or that I can't hear more than one thing at a time…when they are all talking to me I will miss something, and then down the line someone is angry or upset…because I didn't hear them!  When I see that one of the children is angry or upset, then I get right down to their eye-level and ask them, "What did you think was going to happen?  Can I help make it better?"
Find time for connection.  As parents, we have a running "to-do" list. I can become focused on it to the point of forgetting to spend meaningful time with our Sweet Peas.  It helped me to realize that what I think of as "time" and their concept of "time" are two completely different things.  Five to ten minutes of undivided attention means the world to them.  Whether it's asking them to bring me their favorite book, or telling them I can play dolls…Legos…kitchen…cars….with them until the timer rings; that time when I am on the floor with them means the whole world to them, and it only takes me a fraction of the day.  After all, I had them with intention, and they are the most important "work" of my life.  When I flip my perspective, it makes me realize how the rest of what I do is mundane and time with them IS the most important time I will spend in the day.
Parent individually. Each child requires you to be a unique mother. Each one has a different "love language". Recognize, honor and respect their individuality. They need something different, and you one size does not fit all, even within our own family. Along the same tangent, if I spend my time trying to mother "better than ___", everyone loses. Don't look forward, don't look back, resist the temptation to look around – look down.  What does the little person in front of you that moment need from you right now? Then give it to them with your whole heart. I have found that nothing is as rewarding as the spontaneous hug or kiss because I am there. Present.
Peaceful Mama rocks motherhood. This mama is well-rested, centered, joyful, and handles the upsets of the day with panache.  Crazy Mama is just how she sounds…CRAY CRAY!! She yells at the smallest provocation, she's generally loud, and nobody likes her; least of all, me.  I took some time to reflect and some personal coaching I did with Blue Russ helped me realize that at the crux of all the yelling was lack of sleep.  When I get more sleep, things are automagically better.  To enhance the peacefulness, I start off my morning with a meditation and a prayer for the day's intentions…those are the keys for Peaceful Mama to reign.  Finally, I top it off with flower essences and chocolate every day.  Magic happens!! The daily upsets of life happen, and a reasonable woman shows up to deal with them…even when yelling might be construed as appropriate.  Now, in my fantasy world, Peaceful Mama shows up every day.  Realistically, she shows up about 80-90% of the time, which is better than it used to be.
Ask for forgiveness – it matters.  For the days when Crazy Mama shows up, the most compassionate thing to do is own up to it.  I owe it to my Sweet Peas to acknowledge that I messed up and that it is my fault, not theirs.  It gives us a chance to re-set and do better for the rest of the day.  By being humble, it also shows them that humility is not to be feared.  They learn that sometimes we need to be forgiven, and that respect is earned, not given or demanded.  All these lessons are ones I hope they will remember as they grow in their own personhood and forge lasting relationships in their own lives.
Ask for help – it makes a difference.  To borrow an idea from Pam England, we have this myth in our culture that women need to do everything, do it well, and do it with a smile on their face.  It is one of the most dangerous myths we embrace, for it is asking the impossible.  Here's an example that also reflects back to the idea of teaching humility: when I know I haven't gotten enough sleep, I confess it to the Sweet Peas as soon as we are all up in the morning. I state up front that I am going to need help that day, and that I will also need to take a nap at some point during the day. Then we proceed through the day, with them helping instead of me just doing for them all day long.  They take on more than their usual chores. I hang up the myth of having to be Super-Mom. We all have a real day, and chances are that if I take care, Peaceful Mama can still show up through all the tiredness.
A shift in expectations can make all the difference in the world.  I just heard a great phrase from one of the grandmas that I have had the pleasure of meeting through our birth work.  She shared this nugget with me, "Every time we brought a baby home, our expectations went down another notch."  Brilliant!!! Have you seen THIS meme from The Perfect Mess blog?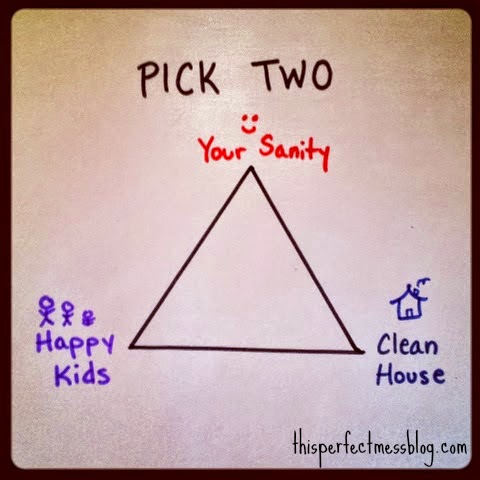 Such a great thing to keep in mind. Back to that super-woman myth…we only hurt ourselves and continue the myth with our children by trying to do everything all the time.
It's impossible.
Even the people who look like they have it all together have skeletons in their closet.  Trust me. There is a messy room, drawer, life skill…something that they are really good at hiding.  Which brings me to the next lesson…
Be yourself. Be comfortable in your own skin, in your own priorities, and live your life the way you were meant to live it. That is the best lesson I feel I can teach our children – not perfection, not super-ness…just realness – living, learning, loving and growing every day.  As you can see, there are lots of links out to lots of people and resources in this post…they teach me and I am grateful for their lessons. There are countless other people who make up my tribe who I haven't linked to, which brings me to…
Find your tribe. Once you know who you are and which "hats" you want to wear, this becomes more apparent.  Who are the people that nourish you? Who are the people who accept you as you are, who you don't have to put your "face" on for?  Spend time with them. Build each other up. Encourage each other. Life's journey is much easier when you are traveling with people, instead of comparing notes and one-upping. So. Much. Easier.
So, happy birth-day to our original Sweet Pea. She is a wonder to behold – I cannot wait to see where her life journey leads.
Which lessons have you learned as a parent?