Play date: January 21, 2016
Theme inspired by A.A. Milne's birthday (January 18, 1882)
— Welcome song in English (emphasizes printed name recognition as Sweet Peas find their card in a line-up and place it on our Name Ledge)
— Welcome song in Spanish (reinforces names as Sweet Peas sing to their peers)
— Discussion of theme: talked about the characters in the series
— Storytime: Tigger's breakfast
— Unsquiggle activity: "take the ants out of your pants"
— Poem/Song before we break for Centers
Thank goodness for all our dollar store flash cards! I had purchased these when Puma was a preschooler because she adored Winnie-the-Pooh.  They came in handy today, after a good dusting off!
Today's craft and discovery table were inspired by the Sugar Aunts blog.  The take-home mask craft was printed from the Surburban Mom blog.
STORY TIME
We got these little books for Puma's first birthday party so that guests could share a little story time with their Sweet Peas.  I selected a story that recounts Tigger's search for the perfect breakfast. I emphasized that he tasted everything until he found the food that tasted just right to him.  We also had our stuffed animal friends help us tell the story!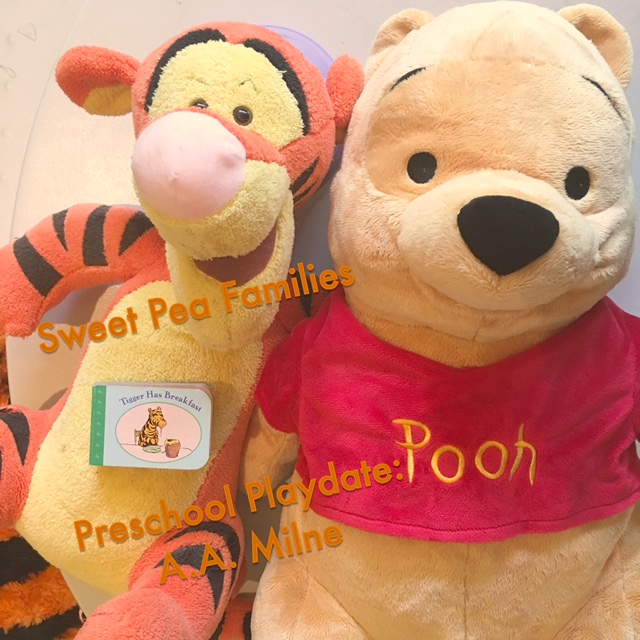 LITERACY CENTER
We had two options here – both games created out of the cards.
Activity 1: Word Match
It could be played as a memory game, or very simply as a "show and find the match" for the younger children. If they were playing the "show-match" version, I encouraged the parents to emphasize the first letter/sound as their child searched for the matching card.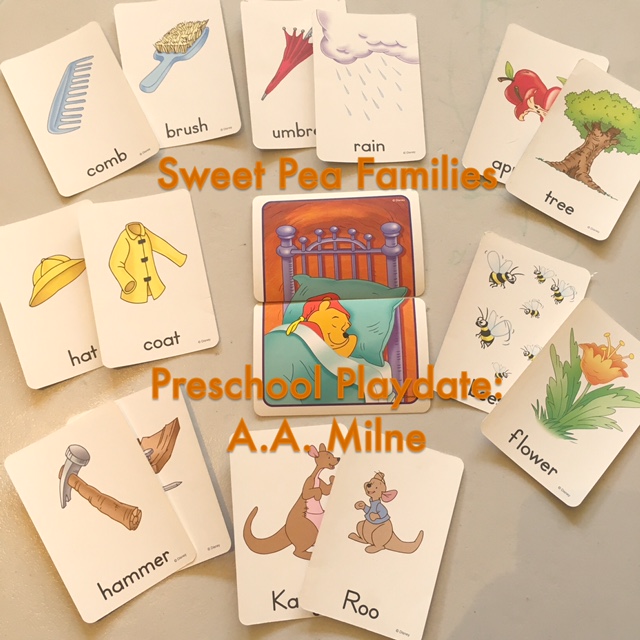 The second activity was for word correlation.  It was a self checking game – if they matched the words correctly, they would form a picture on the reverse side that incorporated the two words that they had matched.  This is a great game to reinforce the "go-together" concept, and also to do visual recognition once the items were shown on an illustration.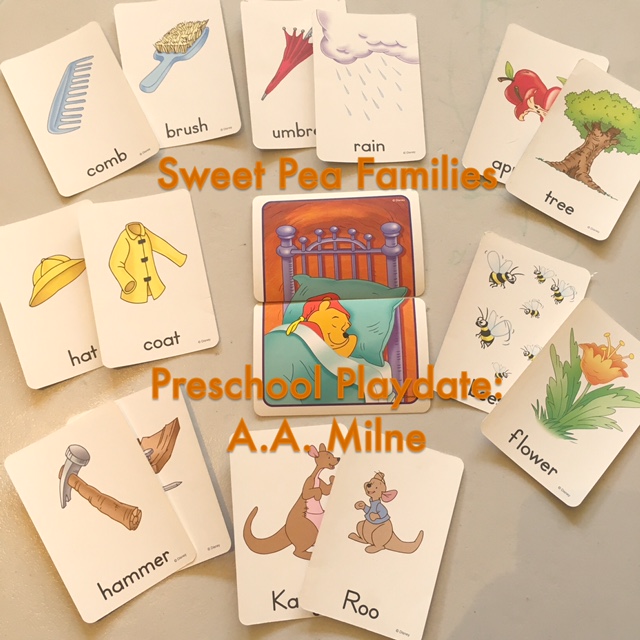 MATH CENTER
We had two card games for this center as well…
Activity one: Shape or Color Match
This could be played as a "show and find" or a memory game.  We added the same shapes in orange if the Sweet Peas wanted to play memory.  Otherwise, we stuck to the primary colors to reinforce the colors as well as the shapes for the younger Sweet Peas.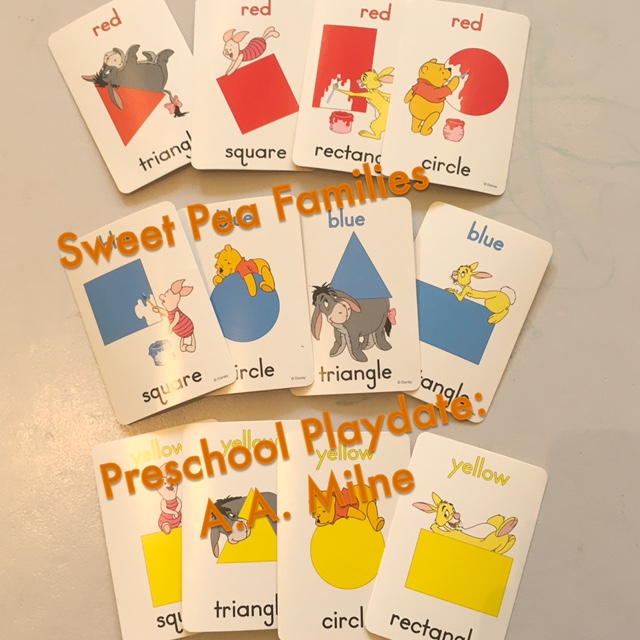 Activity 2:  Number Match
The Sweet Peas matched the number to the card with the corresponding number of pots. To further emphasize 1-to-1 correlation, they could pin the "honey bee" clothespins to the card to match the number of pots.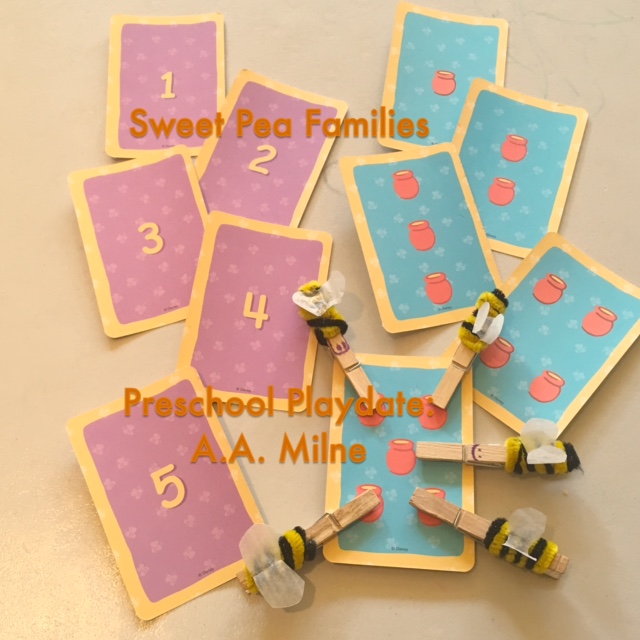 DISCOVERY TABLE
Another use for the "honey bee" clothespins! There are several ways to play:
Level 1: fine motor skills only – celebrate picking up a flower with the clothespin!
Level 2: Pick up flowers of a certain color
Level 3: Name a number to pick up of a certain color.  This could be done progressively: take out 1 pink, 2 yellow, 3 blue, etc.,
Level 3a: Name a size of flower to take out…you could also request a certain amount here, too.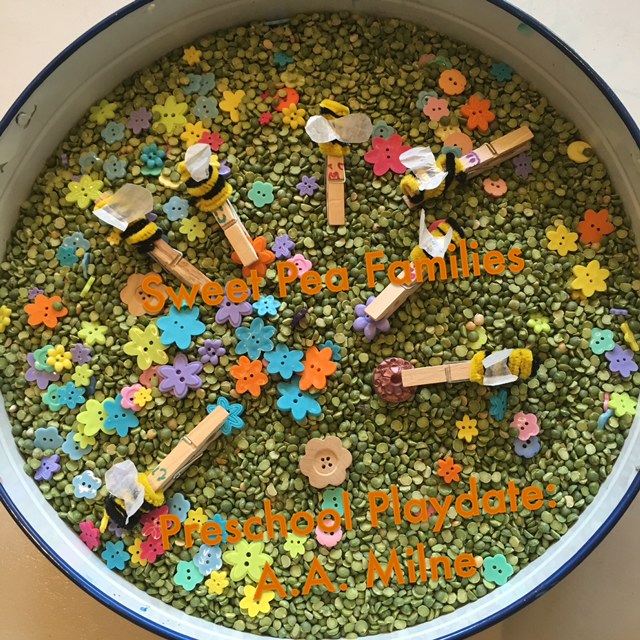 ARTS & CRAFTS ~ Make & Take
We made a couple of adjustments to the craft as suggested by Sugar Aunts.  We have lots of younger siblings that come to play date, so wiggly eyes were definitely out, and, there was absolutely no way we were going to plug in a hot glue gun for the wings…so we put out markers for the Sweet Peas to draw faces on their "bees", and we used tacky glue for the wax paper wings.  They ones we made as samples and for the centers all held up pretty well; here's wishing that they survived once the Sweet Peas took them home!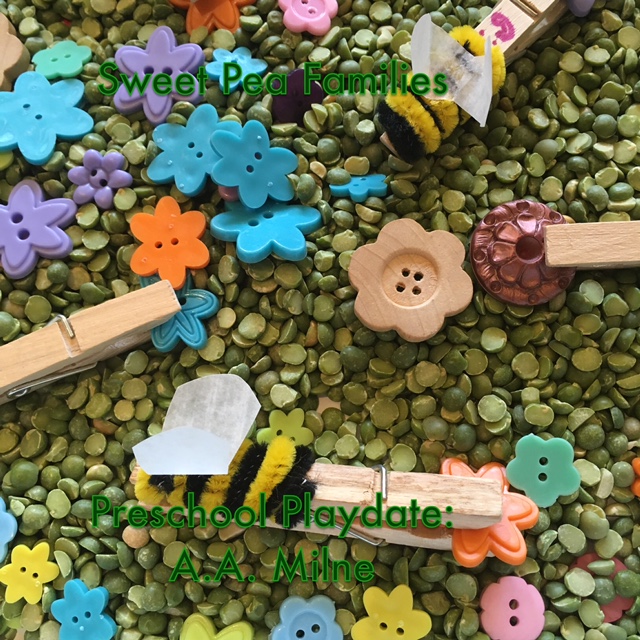 We finish our Preschool Playdate with a sharing time: each child that wants to share gets to say what (s)he enjoyed the most about the morning.  We close with a good-bye song where children are welcome to give hugs.  It helps to set a formal end to the time together so that parents have a clear reason to insist that it's time to go if they have somewhere to be afterwards.
Join us next week when we share all the fun we had today for our Australia theme!