Theme: Winter
Playdate: December 3, 2015
— Welcome song in English (emphasizes printed name recognition as Sweet Peas find their card in a line-up and place it on our Name Ledge)
— Welcome song in Spanish (reinforces names as Sweet Peas sing to their peers)
— Discussion of theme: I had a bucket full of winter clothes that we pulled out for the children to explore, and we talked about the characteristics of the winter season.
— Storytime: Secrets of Winter
— Poem/Song before we break for Centers: Snowman song
Today's songs and center ideas were from The Mailbox Superbook
STORY TIME
You can see my review for today's book HERE.  All the kiddos enjoyed this creative look through the forest during wintertime.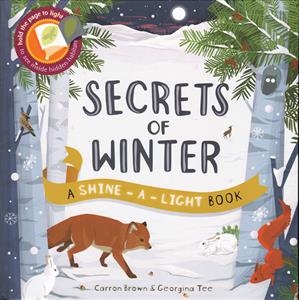 If you would like to order your own copy of this fantastic book, you can order one HERE.  Orders placed by December 10, 2015 will arrive for holiday gifting at the end of the month.
LITERACY CENTER
This was a print center today.  It also offered a fun opportunity for the children to explore negative space.  We put out different circle shapes for the children to create a snowy winter scene complete with a snowman. Along with the white chalk for the snow, I also put out wax crayons that show up well on the dark paper.
Level 1: Free expression with the chalk
Level 2: Parents hold the circle and the child traces
Level 3: The child holds the shape and traces the figure onto the paper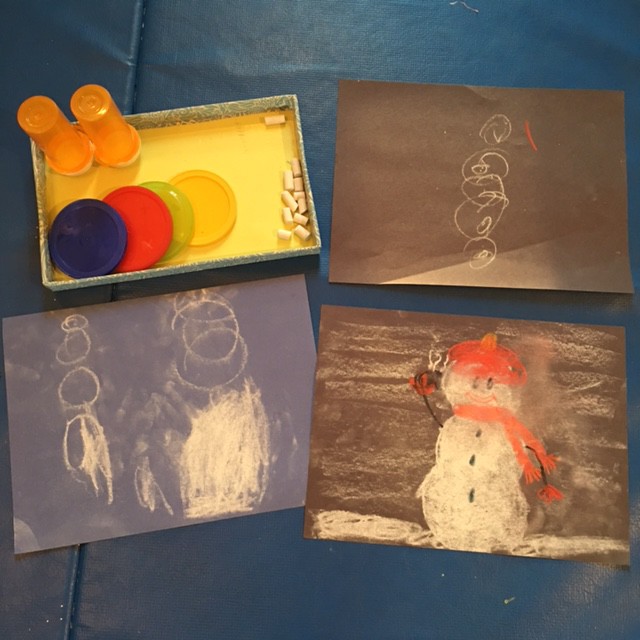 MATH CENTER
This is a favorite from when our children were learning numbers.  This printable is also from The Mailbox Superbook.  We added the numbers for more reinforcement of the written number and 1-to-1 correspondence.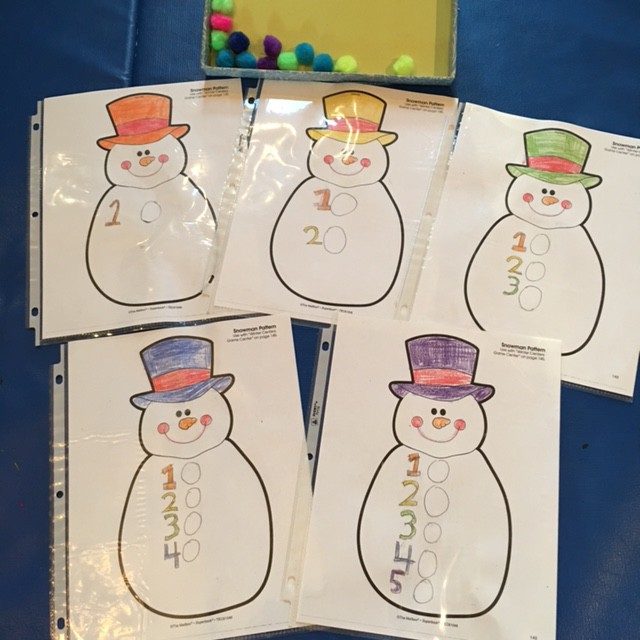 DISCOVERY CENTER
We have accumulated various winter outerwear through the years.  We put all of it out for the children to try on.  The first part of the center was a gross motor skill: shoveling the "snow" (cotton balls) into the bucket while they were dressed in the winter clothing.
After all the children finished the centers, we had an indoor snowball fight.  I had bought the larger snowballs from Hallmark a couple of years ago, and we added all the cotton balls to the center of the floor.  The kids were split into two groups and they had fun tossing the "snow" back and forth.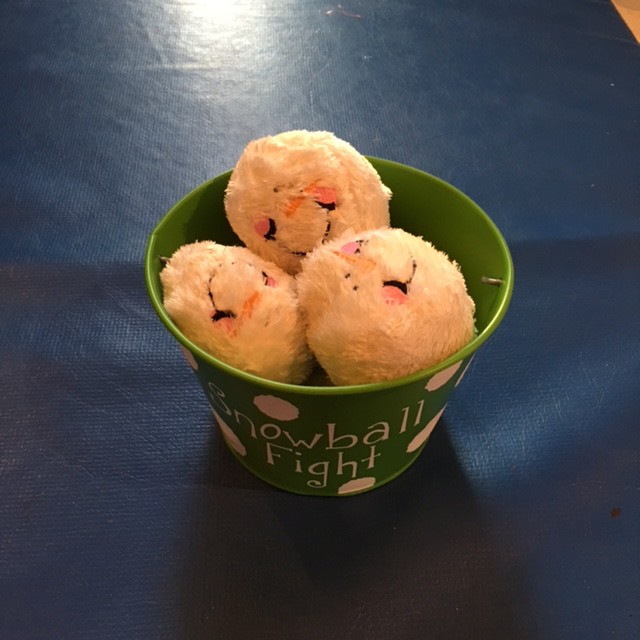 ARTS & CRAFTS ~ Make & Take
We kept this one simple since our group has so many different ages.  We used the doily, glue, and silver glitter.  The original idea called for gluing different craft items onto a doily, spraying the whole creation with glue, and then covering the whole craft with glitter.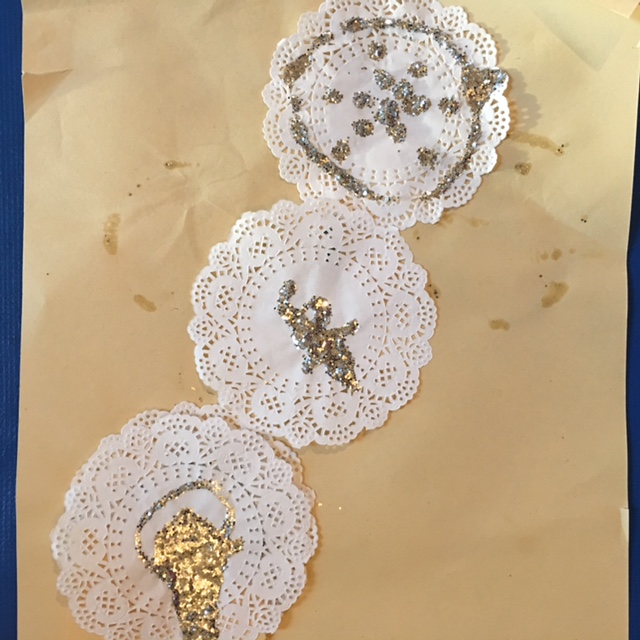 We finish our Preschool Playdate with a sharing time: each child that wants to share gets to say what (s)he enjoyed the most about the morning.  We close with a good-bye song where children are welcome to give hugs.  It helps to set a formal end to the time together so that parents have a clear reason to insist that it's time to go if they have somewhere to be afterwards.
Today's favorite activity was definitely the indoor snowball fight!!