I love it when our Sweet Peas get involved in the kitchen and meal planning.  Night Owl's reading skills have exploded over the last few months. I found myself sitting with him at the kitchen table on Saturday night, reading through Catherine McCord's Weelicious cookbook, definitely one of our favorites.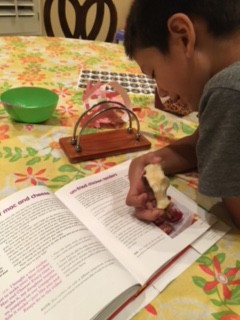 Next to a chicken finger recipe he wants to try, we found THIS gem of a recipe. At it's most basic, it's a four-ingredient dish, and it doesn't require any extra prep* outside of measuring the ingredients.
What's to love:
It's easy to make gluten-free and vegetarian by substituting ingredients
It takes 35 minutes from start to finish
Easy clean-up: the rice cooker container + 3 measuring cups
It's a crowd pleaser!
A child can prep it by themselves and proudly tell the family, "I made dinner!"
How we made it work for our family:
We used gluten-free pasta – the Trader Joe's penne pasta held up really well and also reheated well
We used a vegetable broth instead of the beef broth called for in the recipe
We cut the salt
We subbed whole milk for rice milk
We did actually use a real shredded cheese mix from Costco 🙂
Night Owl and I made it on Saturday evening, and served it with a side of 4-bean chili (another fave Weelicious recipe HERE) that I defrosted from the freezer. YUM!!!
I decided to try it again on Sunday to make sure it wasn't a fluke.  Yes, it's a legitimate win!! We are adding this to our roster of regulars.
As a bonus, I was able to steam broccoli to serve on the side in the steamer portion of the rice cooker while the mac+cheese recipe was cooking. It didn't get overly cooked since there is not a lot of water to convert to steam in the cooking process – most of it was absorbed by the pasta in the cooker.
I hope you and your Sweet Peas will enjoy this recipe as much as we did! Leave me a comment and let me know if you try it, and if you made any adjustments that worked for your family!
*P.S. We usually make our own vegetable broth…if you make your own broth, then that would be a prep step! Since I was too impatient to defrost a freezer bag of veggie broth, we used store-bought this time.  Next time we make this, I will pull a bag of broth out of the freezer in the morning 🙂