Play date: October 1, 2015
Fun little side-note…as I searched the internet for ideas for this playdate, I discovered that apparently some preschool teacher decided to serve apple juice in child-sized beer steins to celebrate Oktoberfest in her classroom…LOL. That is a direction we definitely did NOT go.
Anyway, my inspiration for our playdate came from a beautiful map book Charger was gifted this summer. The book is called "MAPS" by Aleksandra Mizielinska and Daniel Mizielinski. HERE is an image I found of the page online: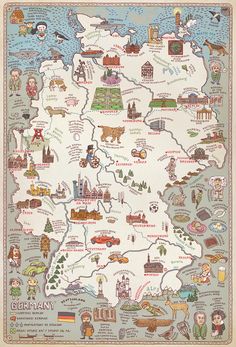 I went through and created categories from the images on the map to start brainstorming.  I also explored Enchanted Learning to see what kind of ideas they had, and voila! Our playdate was pulled together overnight.
— Welcome song in English (emphasizes printed name recognition as Sweet Peas find their card in a line-up and place it on our Name Ledge)
— Welcome song in Spanish (reinforces names as Sweet Peas sing to their peers)  Skipped this part last week since our group was so big and the discussion of the theme was a little longer.
— Discussion of theme: Used the MAPS book to point out different parts of Germany and German heritage/contributions to our modern culture.
Stories: Brothers Grimm, Hansel & Gretel, Snow White, Musicians of Bremen
Composers: Bach, Beethoven (I guess Handel not included since he is considered a British composer?)
Inventions: Printing Press – Johannes Gutenberg, Beach chairs, Aspirin – Felix Hoffman, Cuckoo Clock
Dogs: German Shepherd, Dachsund
Food: Gherkins, Pumpernickel, Roast pork, Dumplings, Breads (including rye, pretzels), Sauerkraut (pickled cabbage), Weisswurst (white sausage)
— Storytime – worked some unsquiggle in by handing out felt figures before story time and having the Sweet Peas listen for their piece to be named. When they heard it, they brought their piece up and put it on the felt background.
— Unsquiggle activity Also skipped – it was time to get the Sweet Peas moving!!
— Poem/Song before we break for Centers: "Oh where, oh where has my little dog gone?" since we had talked about German Shepherds and Dachshunds during the theme discussion.
While the families arrived and during center time, I played classical music written by German composers in the background.
STORY TIME
I had the story of  The Musicians of Bremen in one of our schoolbooks from last year. There are more words than pictures, so I created images and felt pieces to use as I read.  I held up the cards to show the contribution of each animal to the band: "lute", "drum", "night music" and "music".  Before we started storytime, we handed out the felt pieces for the children to bring up and place on the felt background as they heard their piece named in the story.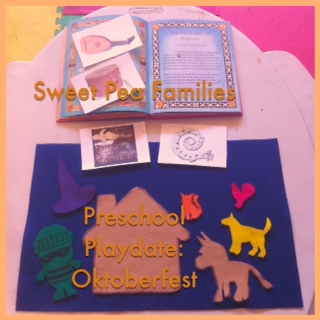 Look under the "Discovery Table" for image source list.
LITERACY CENTER
This was an edible center – yum! Always fun for preschool playdates 🙂
I cut out the capital letter of all the preschool age guests and their younger siblings. The Sweet Peas would then find the letter of their first name (or a friend or sibling), and then cover the letter in pretzels. Eating happened all along the way!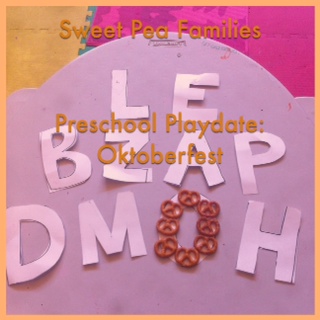 Find the original idea HERE on "The Educators' Spin On It"
MATH CENTER
Counting With The Dogs:  This is a center of my own creation that incorporated German dogs, dice, and patterning.
Level 1: Place correct amount of items onto a numbered plate
Level 1a: Roll 1 die and count out the items to match the face of the die
Level 2: Create a pattern and continue the sequence. When we play this, I create the first two patterns, and then invite the Sweet Pea to make one for me to figure out.
Level 3: Roll 2 dice, count out, and add
Image sources: links to image online
Bone ~ Dachshund ~ German Shepherd 
DISCOVERY TABLE
Part 1 of the Discovery Table disappeared before I got a picture of it.  We cooked some Weisswurst (white sausage) and served it with sauerkraut (pickled cabbage) so that the Sweet Peas (and the mamas!) could enjoy some German food.
Part 2 of the table was having the Sweet Peas play with the felt figures and retell the story if they are advanced communicators. If they are still acquiring verbal skills, you could ask them the order that the animals were introduced in the story, and then "what happened next" to prompt them.
Image sources: links to image online
Donkey ~ Hound ~ Cat ~ Rooster ~ House ~ Robber ~ Witch Hat 
ARTS & CRAFTS ~ Make & Take
This idea came from Enchanted Learning, an online teaching resource with *a ton* of ideas and activities.  HERE are the instructions, and here are the samples I made for the Sweet Peas: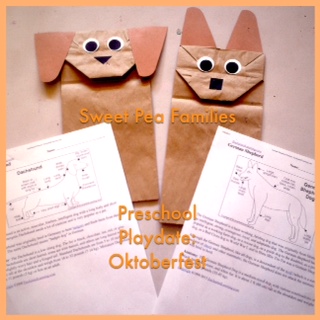 I prepared the eyes and cut out the ears and noses ahead of time. The Sweet Peas could place them however they wanted to on the paper bags. Ears up was a German Shepherd, ears down was a Dachshund; and the Sweet Peas pasted them every which way to come up with their own creations!
We finish our Preschool Playdate with a sharing time: each child that wants to share gets to say what (s)he enjoyed the most about the morning.  We close with a good-bye song where children are welcome to give hugs.  It helps to set a formal end to the time together so that parents have a clear reason to insist that it's time to go if they have somewhere to be afterwards.  Otherwise, the kiddos and parents that don't have to leave stay and play until the music teacher for our older Sweet Peas arrives.
Come back next Thursday to read all about the FIRE SAFETY play date that we had today since it is Fire Prevention Week in the USA this week.