This theme was inspired by the First Day of Fall on 9/23/15…playdate held on 9/24/15
— Welcome song in English (emphasizes printed name recognition as Sweet Peas find their card in a line-up and place it on our Name Ledge)
— Welcome song in Spanish (reinforces names as Sweet Peas sing to their peers)
— Discussion of theme – Colorful Leaves
— Unsquiggle activity: Vowel Song
— Storytime: A Leaf Blew In
— Poem/Song before we break for Centers: Otter made up a little song about falling leaves to the tune of "London Bridge" – awesome!!
The leaf and the acorn patterns seen in the centers are from The MailBox Superbook.
STORY TIME
We started the morning by reading the highlights out of the book, Colorful Leaves, by Maria Fleming. It introduced basic biology concepts and vocabulary: photosynthesis, cholorphyll, buds, veins, roots.
We used castanets to make the sound of leaves blowing slowly, and then increased speed as the wind blew harder, and then back down to slow again as the wind passed.
After that, we read When the Leaf Blew In, by Steve Metzger.  I invited the children to make the animal sounds as we read through the barnyard adventure.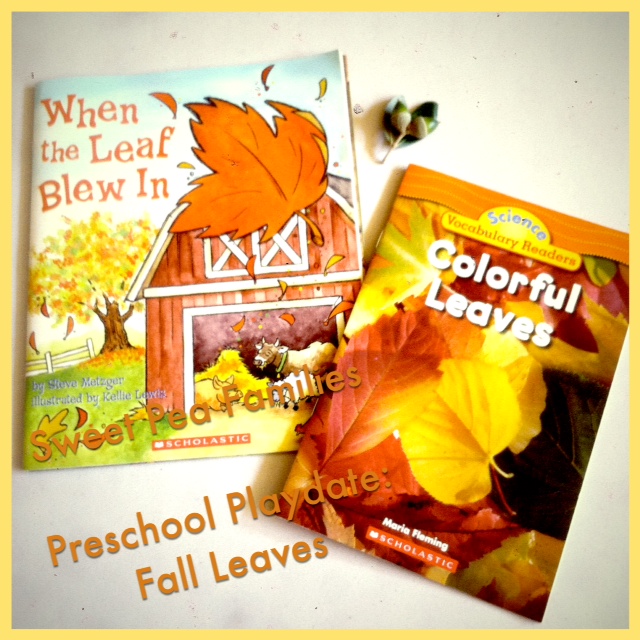 LITERACY CENTER
Two activities here~
Pre-writing: offered a pile of construction paper leaves and acorns for the Sweet Peas to write or draw on.
Phonics: Vowel identification and matching, along with sounding out the letters.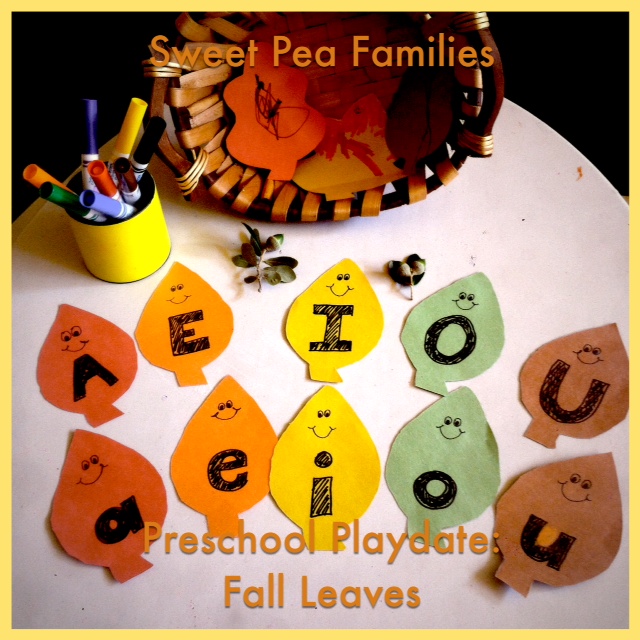 MATH CENTER
Reprising an activity from our Johnny Appleseed Day, I pulled out the apple number cards I had made. 1: they have leaves on them, 2: apples are harvested in the fall 🙂
Level 1: Count the apples
Level 2: Order the numbers on the back of the cards
Level 3: Play a "memory" match game with two sets of cards, and then order the numbers.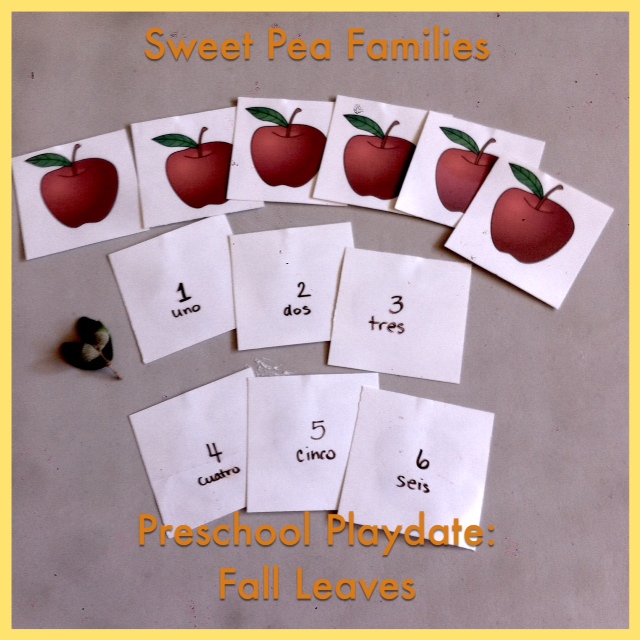 DISCOVERY TABLE
Activity 1: Acorn hunt!! The leaves were purchased at our local Tuesday Morning store. We filled our tub with the leaves and the acorn cut-outs.  The children had to rake through the leaves to find 10 happy acorns.
Activity 2: Play dough in red, orange, and yellow today! Pounding or rolling the dough in order to use the cookie cutters, or they could press the leaves and acorns into the dough to make impressions.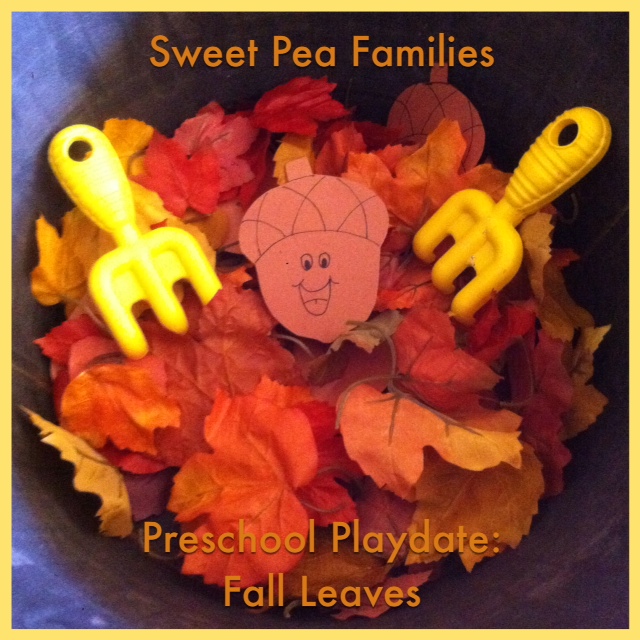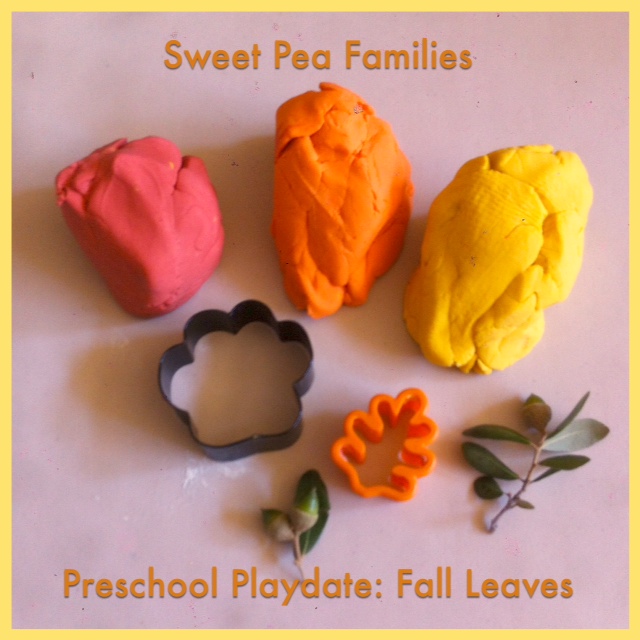 ARTS & CRAFTS ~ Make & Take
One of the topics in the Colorful Leaves book pointed out how leaves come in many different shapes.  These are some of the different shapes that I collected outside our home.  The children got to arrange them as they wanted to and then make a leaf rubbing to take home.
I saved all the leaves and pressed them between two boards and under a pile of cookbooks after the playdate.  The plan is to let them dry out and have the children observe the changes at the next session.