We held a pirate-themed playdate last week in honor of "Talk like a Pirate Day" that was celebrated on September 19th.
Getting the morning started:
— Welcome song in English (emphasizes printed name recognition as Sweet Peas find their card in a line-up and place it on our Name Ledge; peers learn each other's names)
— Welcome song in Spanish (reinforces names as Sweet Peas sing to their peers)
— Discussion of theme
— Storytime
— Unsquiggle activity
— Poem/Song before we break for Centers
I was so excited for the Sweet Peas to get into the activities that we had planned for the morning that we completely skipped over the story, the unsquiggle *and* the song last week.
We did use some bunting flags I had printed for Charger's birthday party two years ago to introduce pirate vernacular – it was fun to hear a roomful of toddlers making their best imitation of pirate-speak!
STORY TIME
How I became a Pirate is the story of a little boy who is captured by pirates and returned home as a hero.  Our family also enjoys the rhyming prose in Portside Pirates that relates a "day in the life" of a pirate crew.
Even though we skipped the read-aloud by accident in my excitement to start the centers, I did play the audiobook version of Portside Pirates that is set to music during play time.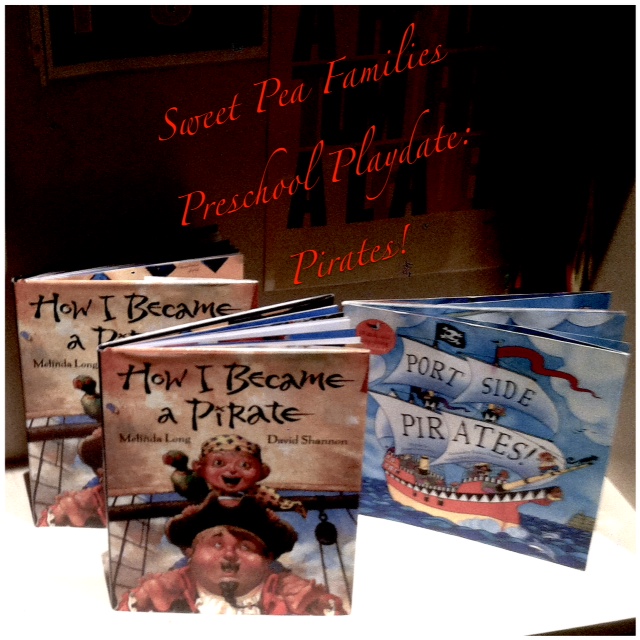 LITERACY CENTER
Level 1: Pre-writing activity: connecting the dotted lines to practice lines and curves
Level 2: Letter identification with the letter cards
Level 3: Identify the beginning sounds and/or reading three-letter words
GAME: "Memory" with pirate vocabulary picture cards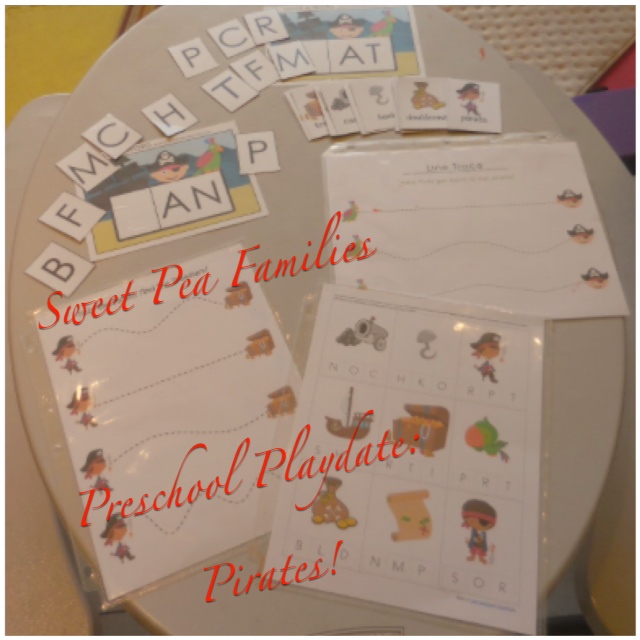 Sources:
Advanced Tracing; Beginning/Ending letter sounds worksheet
http://www.homeschoolcreations.net/2014/06/pirate-theme-early-learning-printables/
Basic Tracing; Word/Letter Match
http://learncreatelove.com/pirate-week-recap/
MATH CENTER
Level 1: Add jewels to the treasure chests or count out parrots flying over the pirates
Level 2: Order the treasure cards first (1-6) and then count out the "jewels".
Level 3: Order the parrot activity  cards first (1-15) and then count out the parrots.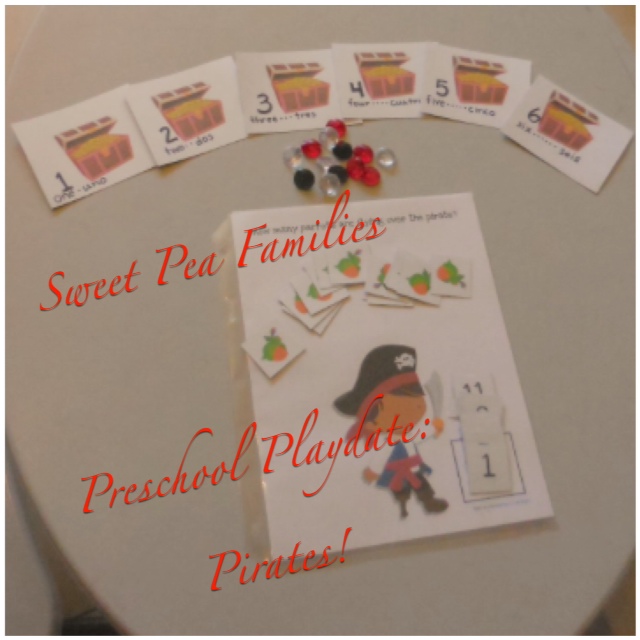 Sources:
Treasure Chest Clip Art
http://www.clipartlord.com/wp-content/uploads/2013/11/treasure-chest4.png
Parrot Counting Game
http://www.homeschoolcreations.net/2014/06/pirate-theme-early-learning-printables/
DISCOVERY TABLE
This was a prep-ahead activity.  The night before the playdate, the girls and I made these in the kitchen. There are only four ingredients: baking soda, water, gelatin, and food coloring.
We used ice cube trays that lend themselves nicely to a treasure chest shape.  Fill them half-way up with the mixture, add a treasure to the middle, and then fill to the top.
They popped out easily, and the Sweet Peas really enjoyed the experiment.  There was the initial sight and sound stimulation as the application of vinegar reacted with the baking soda.  There was a smell component with the vinegar, and then a kinesthetic component as the children dug into the goo to retrieve their treasure.
In order to add a little element of observation, we put vinegar in an empty glue container for more of a pouring effect, and also in a spray bottle.  We had two square pans; one child would use the glue bottle in one pan, the other would use the spray bottle in the other one.  Then they would switch so that they could each experience the "fast" and "slow" disolvement of the treasure chests.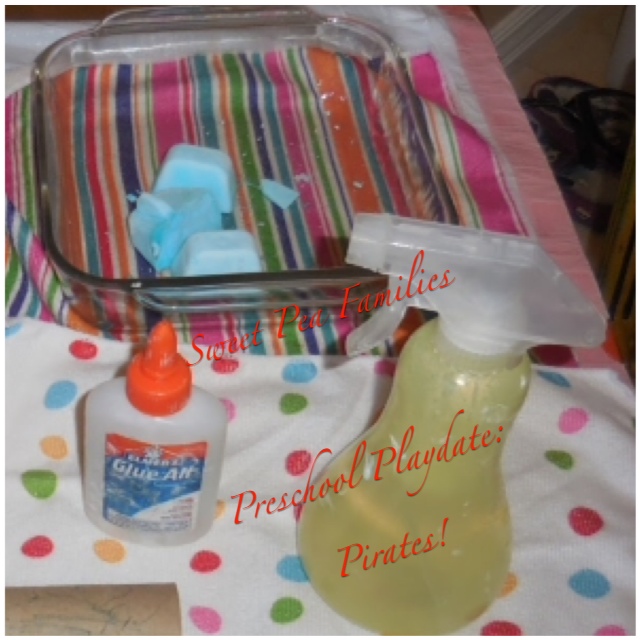 Source:
http://fun-a-day.com/pirate-science-fun-exploding-treasure-chests/
ARTS & CRAFTS ~ Make & Take
We did this in the kitchen so that any Sweet Peas who don't like getting their hands dirty could head straight to the sink to wash up afterwards.
Set up: poured paint into a divided plate with red, tan, and black.
First, I painted the tan section in the middle so that I wouldn't have to be neat with the center portion.  The red went on next, and the black went on last.  Several of the children commented that it tickled…I learned to warn them about that as we went along 🙂
Pictured below is the progression of the craft:
Top L: handprint from hand painted with three colors
Top R: finished sample pirate print
Bottom: Puma & Charger's interpretation of the craft – they didn't like the separated beard so they each took the pen we used to add detail to make the craft original and attractive to them.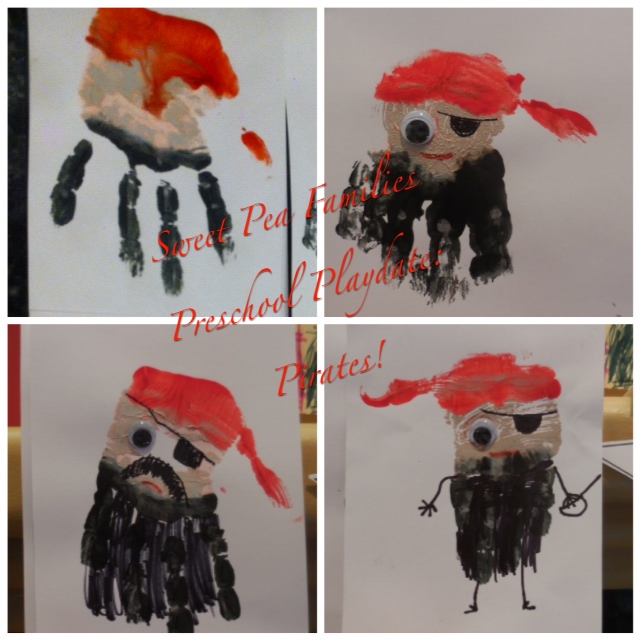 Source:
http://www.makinglearningfun.com/PirateFromHandPrint.htm
FREE PLAY:
I like to leave some time for the Sweet Peas to interact with everything we have set out without structure.  Sometimes they go back to a favorite game or activity; today it was full on pirate battle!! I set out the mats to be the "water' and pulled in some big boxes to serve as ships.  Everyone quickly abandoned ship and used the "water" as the battlefield for an epic encounter between the green and the blue team!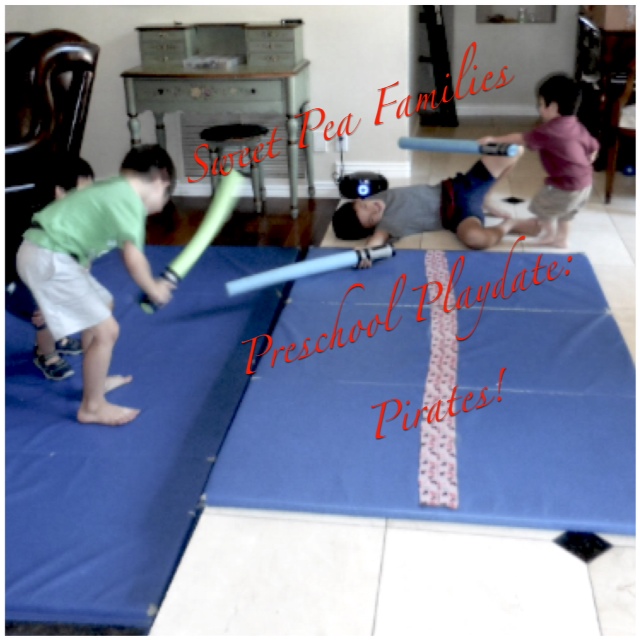 We finish our Preschool Playdate with a sharing time: each child that wants to share gets to say what (s)he enjoyed the most about the morning.  We close with a good-bye song where children are welcome to give hugs.  It helps to set a formal end to the time together so that parents have a clear reason to insist that it's time to go if they have somewhere to be afterwards.  Otherwise, the kiddos and parents that don't have to leave stay and play until the music teacher for our older Sweet Peas arrives.
As always, we had a fun playdate – we are blessed with an amazing SPB community to spend time with.  Stay tuned: my boys have requested a knight-themed playdate for next month!!