Held on April 23, 2015
The inspiration for this day was the fact that World Laboratory Day was observed on April 23, 2015.  I thought it would be fun to have the kids attend their own Science Lab and get a chance to be immersed in exploration and discovery for an hour.  I planned out this day by focusing an experiement on different aspects of science: measuring, magnets, animal kingdom, and weather.
As you will notice, most of our Sweet Peas made or contributed to the sign for their station. Puma was at the Water Cycle, Night Owl was at the magnets (I made this one before the kiddos all piped up that they wanted to make their own!), Charger did the Wind Power, and Otter contributed to the Mass sign.  It was cool to see how her lines were denser in some areas than others….she got the concept in her own toddler way!! Even our nanny got involved and ran an activity since I got carried away with the planning…once I got started, I was on a roll!
— Welcome song in English (emphasizes printed name recognition as Sweet Peas find their card in a line-up and place it on our Name Ledge)
— Welcome song in Spanish (reinforces names as Sweet Peas sing to their peers)
— Discussion of theme
— Storytime
— Unsquiggle activity
— Poem/Song before we break for Centers
STORY TIME
I found THIS slide show online that I printed to share with the children.  Big pictures, simple explanations, and lots of vocabulary!! Perfect for preschool!!
LITERACY CENTER
Here we explored the concept of feathers, fur, and scales.  It is an activity out of the Mailbox Superbook. The Sweet Peas identified the animal, and then sorted them into the correct category according to the type of skin covering the animal has.  We added a sensory component by having examples of the different kinds of skin coverings for the children to investigate and discuss.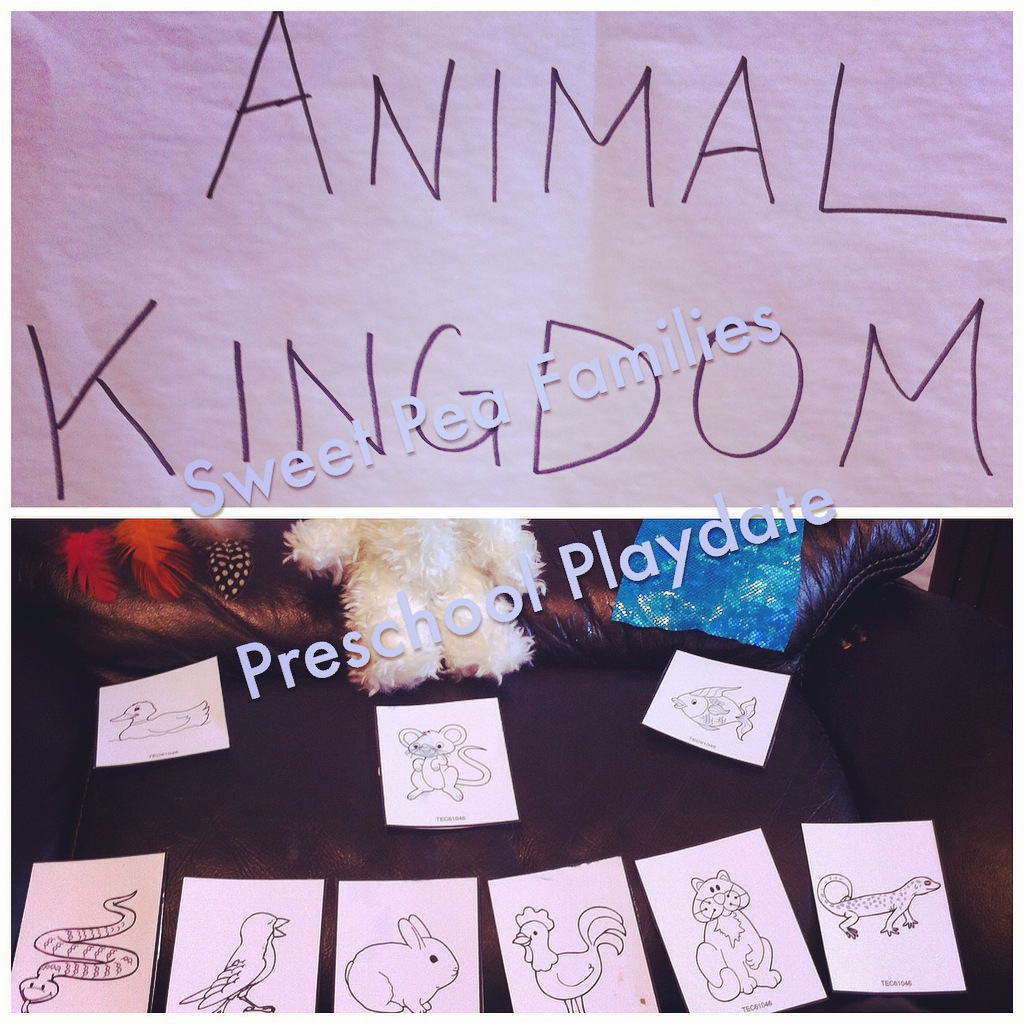 MATH CENTER
This center explored the mass of different items.  They measured different quantities into the scale basket, noticed whether or not the same amount of different items weighed the same,We also had them make a prediction about how much the half-full bean container and the full container of feathers would weigh, and which was greater.  This led to a conversation about how much air vs. mass were in the different things we weighed.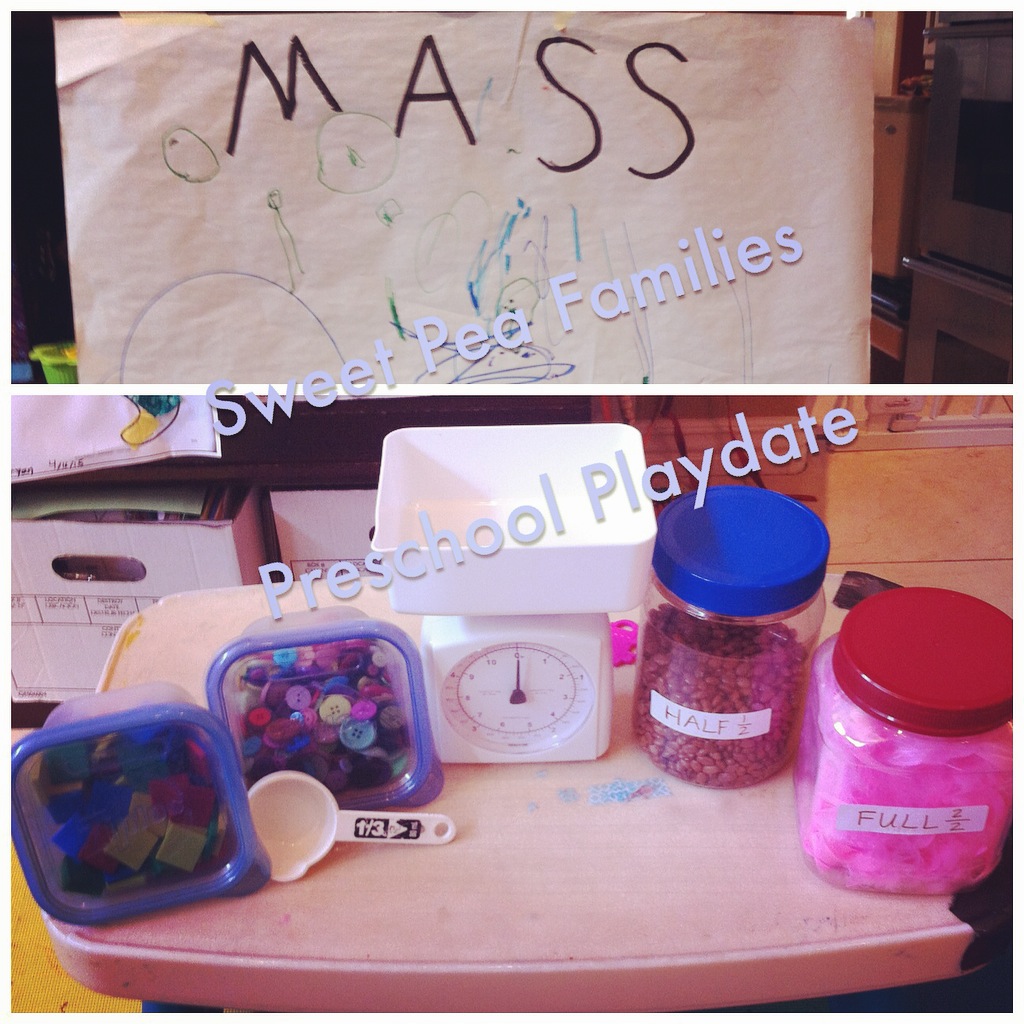 DISCOVERY TABLE
TABLE 1: Magnets
Sweet Peas got to play with magnetic fishing poles to see what was and wasn't magnetic.  Once they items were worted into two piles, we talked about the qualities of both sets.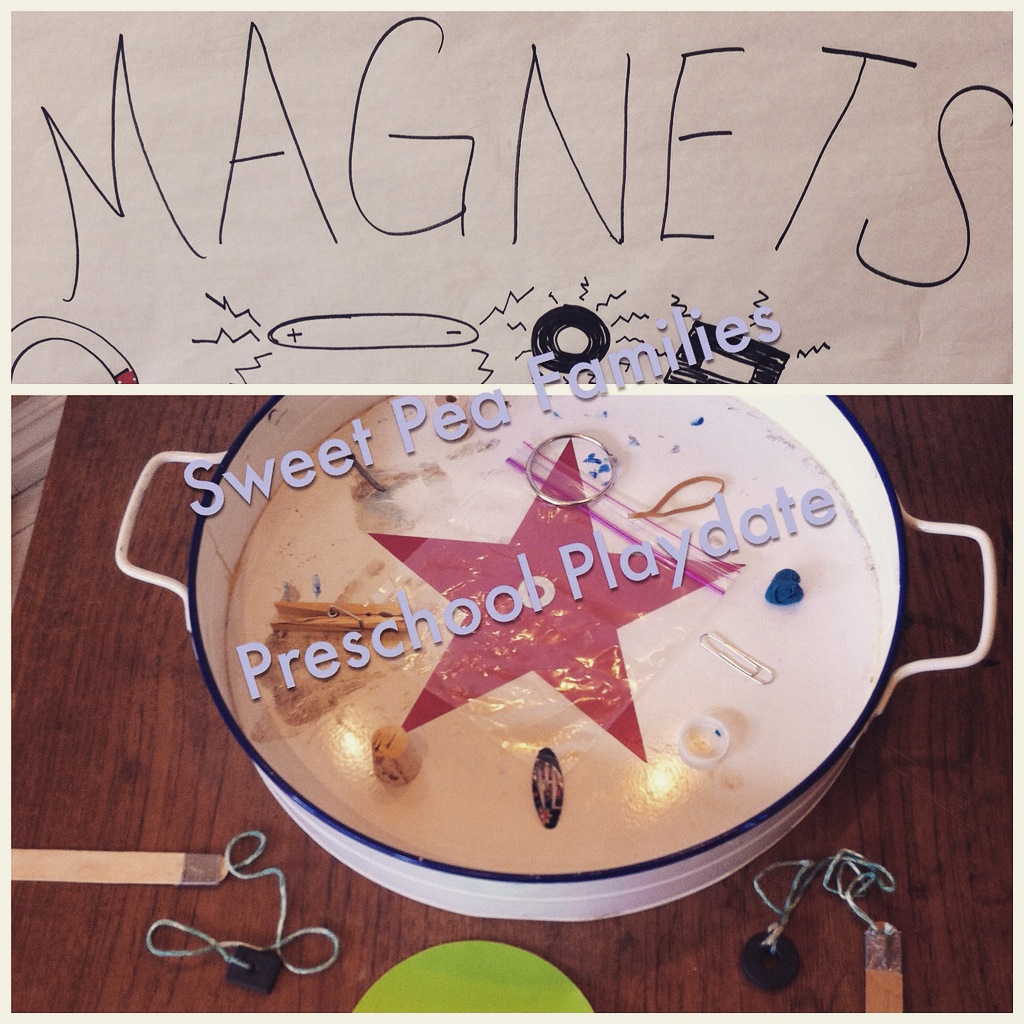 TABLE 2: The Water Cycle
This simple experiment using water and cotton balls allowed the Sweet Peas to physically experience how water droplets collect together to form clouds until they are too full to hold any more condensation, and then see how precipitation happens when the cloud is beyond capacity.  We introduced the words "evaporation", "condensation", and "precipitation".  It was neat to see everyone at this station have lightbulb moments.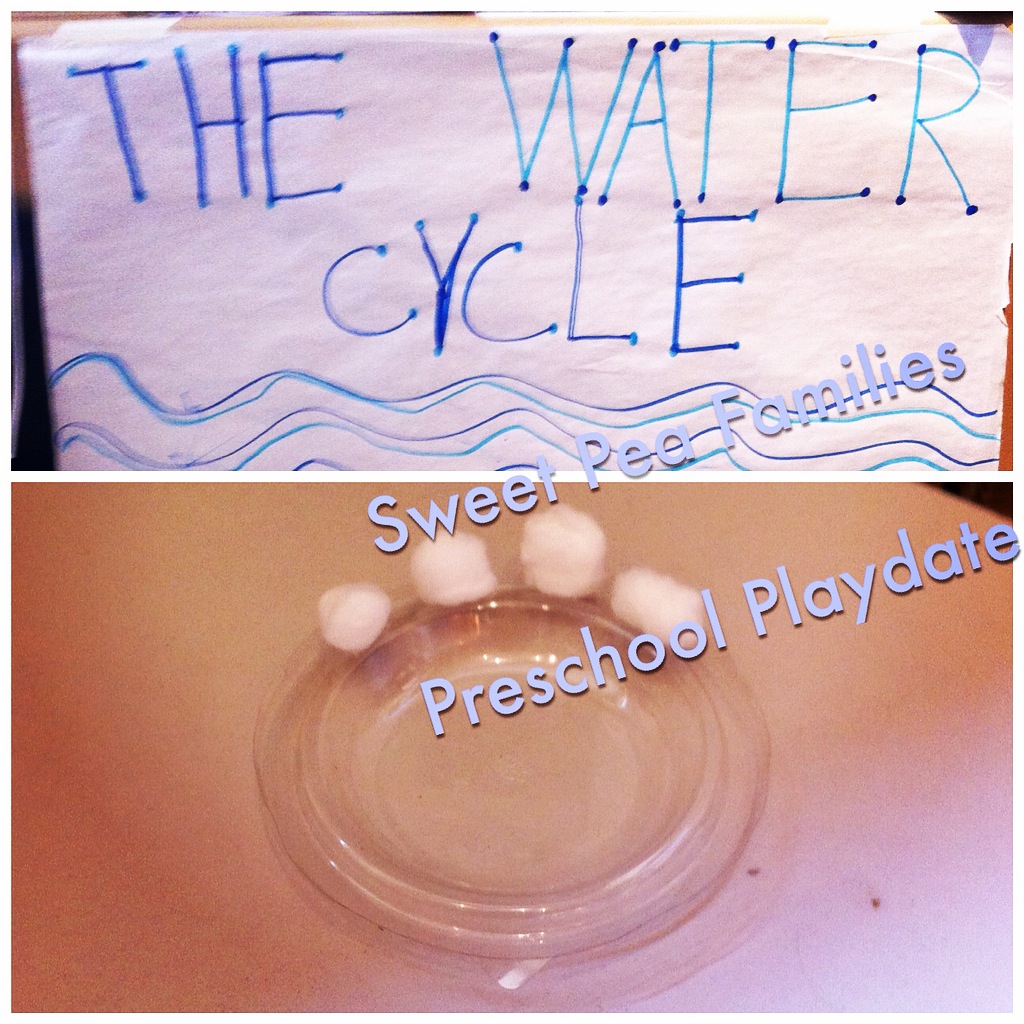 TABLE 3: Wind Power
The Sweet Peas got to experiement with the power of air at this station.  First they blew through the straws onto their palms to feel what they could do with their own lungs.  Then they got to experiment with blowing "wind" across our little "pond" to see how the boats moved.  They could blow along the bottom, the top, turn the sails and blow into the sails…another favorite since water and straws were involved.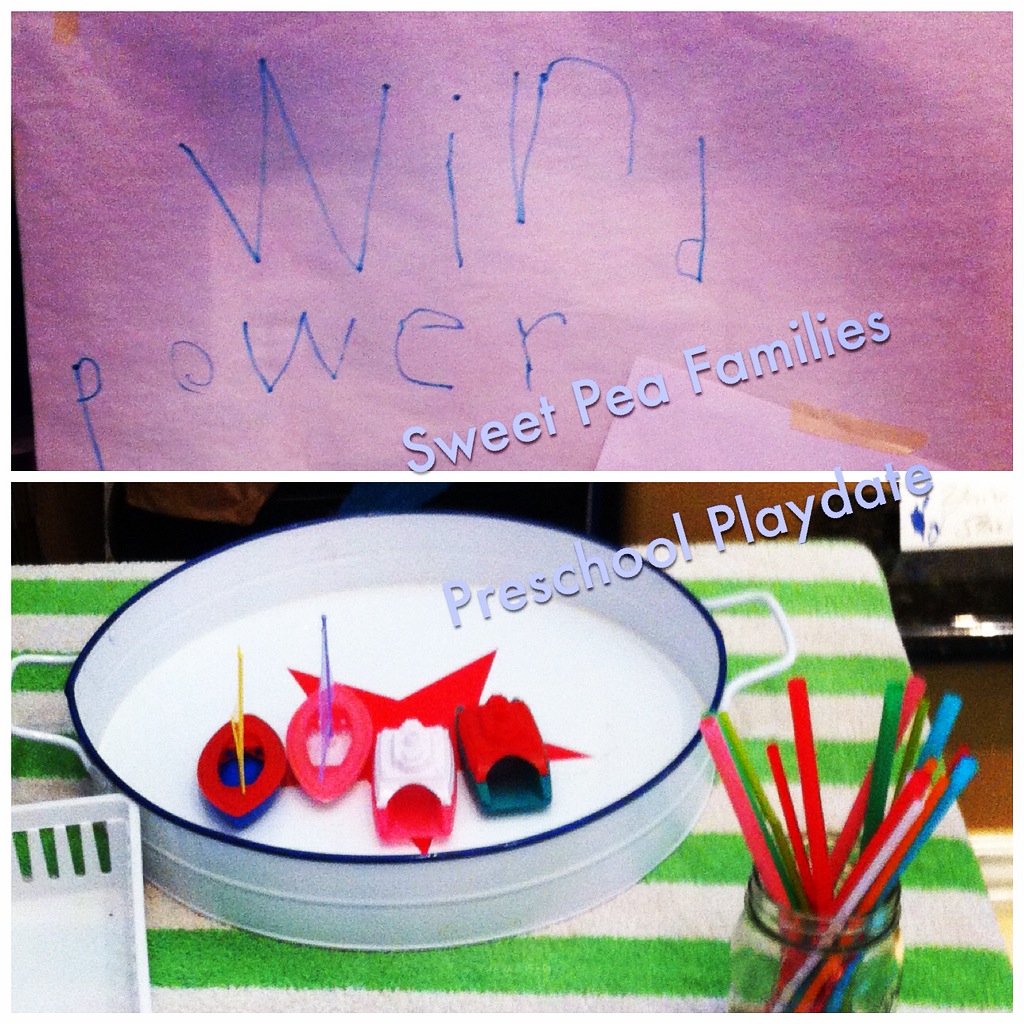 ARTS & CRAFTS ~ Make & Take
First the Sweet Peas colored a coffee filter with water-soluble markers.  Then we attached the filter accordian style to a prepared-ahead popsicle stick on which Puma had a hot-glued a pipe cleaner.  We twisted it at the top and formed antennae.  Once the "butterfly" was assembled, we used water that we trapped in the straws with our fingers to stain the wings.  The Sweet Peas got to experiement with how much water they could trap, how fast the flow was, and see how the colors blended and make predictions about the new colors that might result from the color blending.  Once the "wings" dried out, they had a take-home butterfly puppet.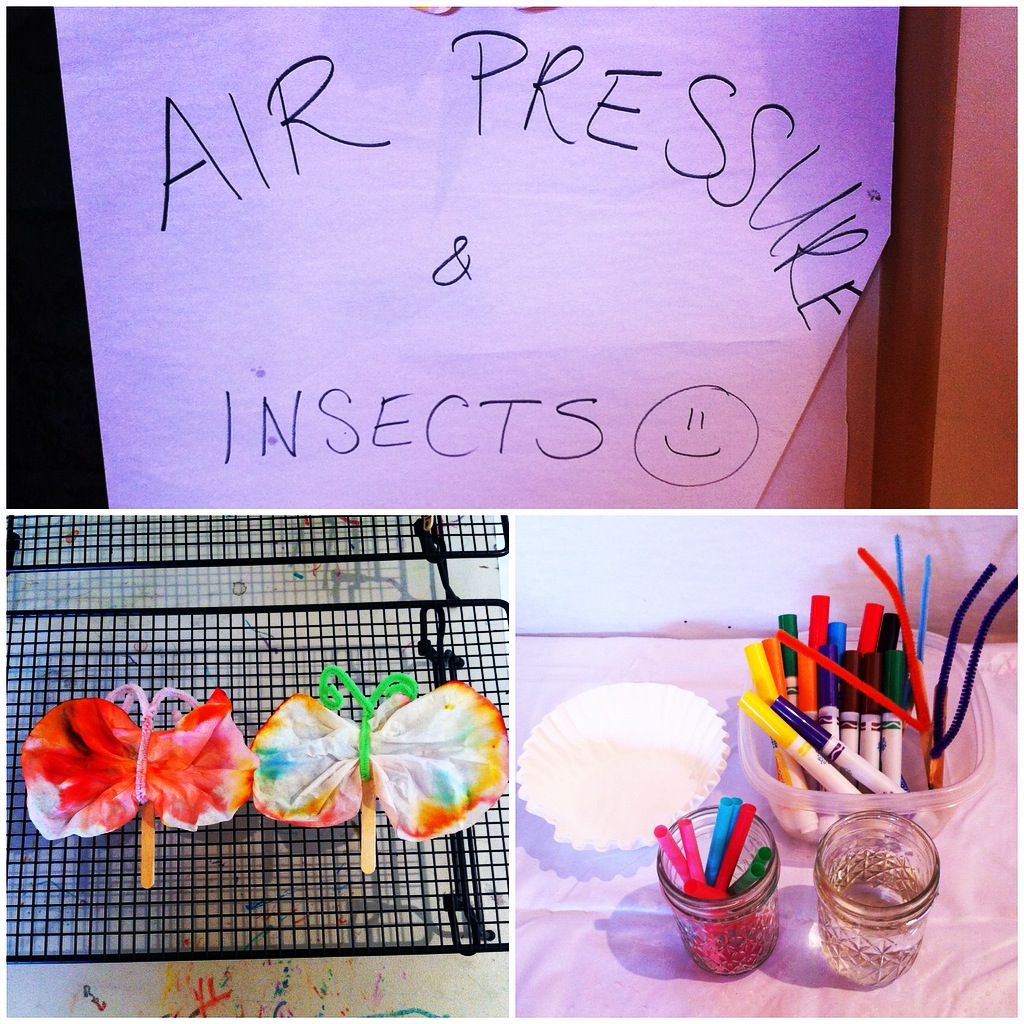 We finish our Preschool Playdate with a sharing time: each child that wants to share gets to say what (s)he enjoyed the most about the morning.  There were lots of different favorites on this day…even some of the moms mentioned stations where they learned something new – that was pretty cool!
We close with a good-bye song where children are welcome to give hugs.  It helps to set a formal end to the time together so that parents have a clear reason to insist that it's time to go if they have somewhere to be afterwards.  Otherwise, the kiddos and parents that don't have to leave right away will stay and play until the music teacher for our older Sweet Peas arrives.
I hpe you enjoyed our tour through Science Experiement day!! My intention was to show our friends that science doesn't have to be this daunting thing – every day things around the house can easily turn into an opportunity for discovery, and to awaken curiosity and exploration.