Preschool Playdate: Under the Sea
The inspiration from this theme came from a toy set!  I love the "Toob" toys, and finding this set on sale at a craft store led to a lot of fun on April 16, 2015.
Getting Started:
We start with the same order of circle time activities every week:
— Welcome song in English (emphasizes printed name recognition as Sweet Peas find their card in a line-up and place it on our Name Ledge)
— Welcome song in Spanish (reinforces names as Sweet Peas sing to their peers)
— Discussion of theme
— Storytime
— Unsquiggle activity
— Poem/Song before we break for Centers
STORY TIME
Double story-time again this week.  We started with a Richard Scarry Page to see if the Sweet Peas could identify the plastic boats.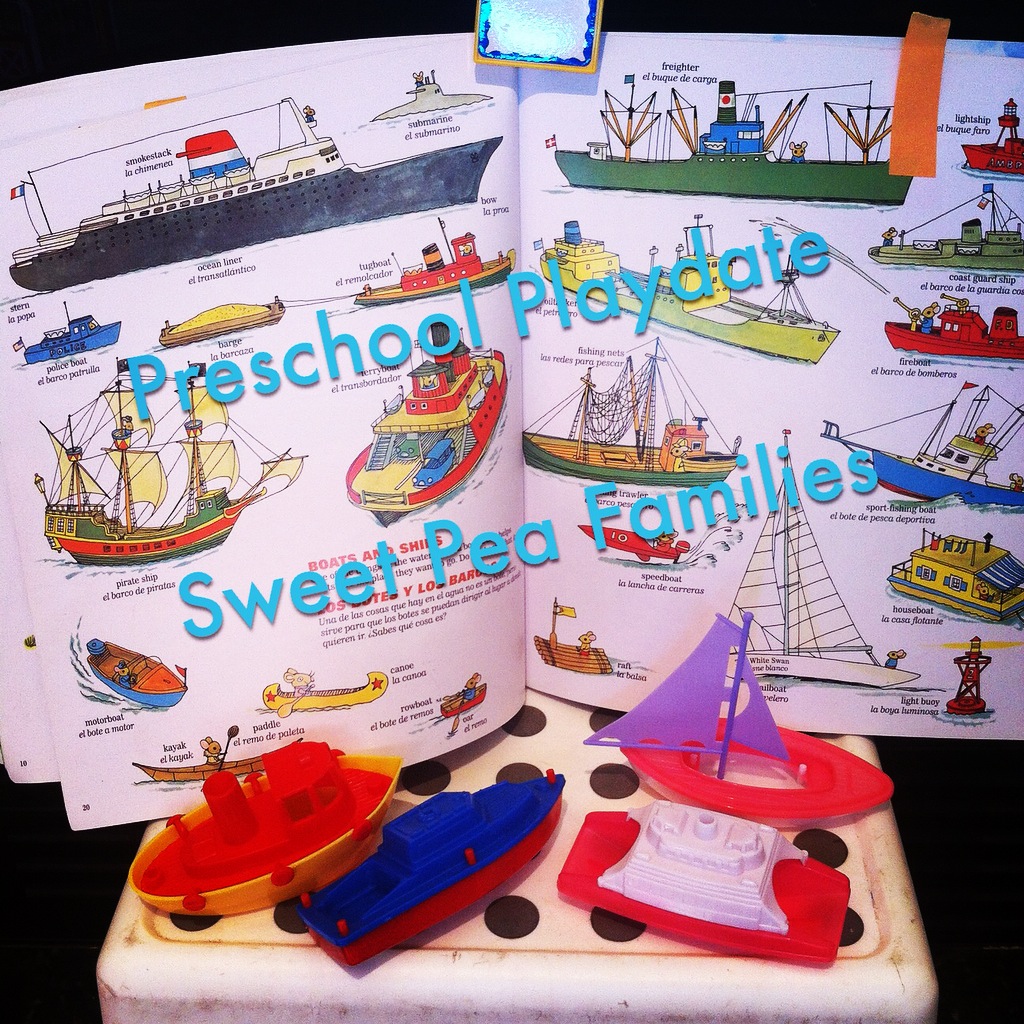 Instead of a traditional story, I marked the pages in our "Encyclopedia of Animals" by DK Readers, that corresponded with the plastic animals in the toy tube.  I started by asking the children to name the animal in English, then I told them the Spanish name, and we read out a fact about each animal.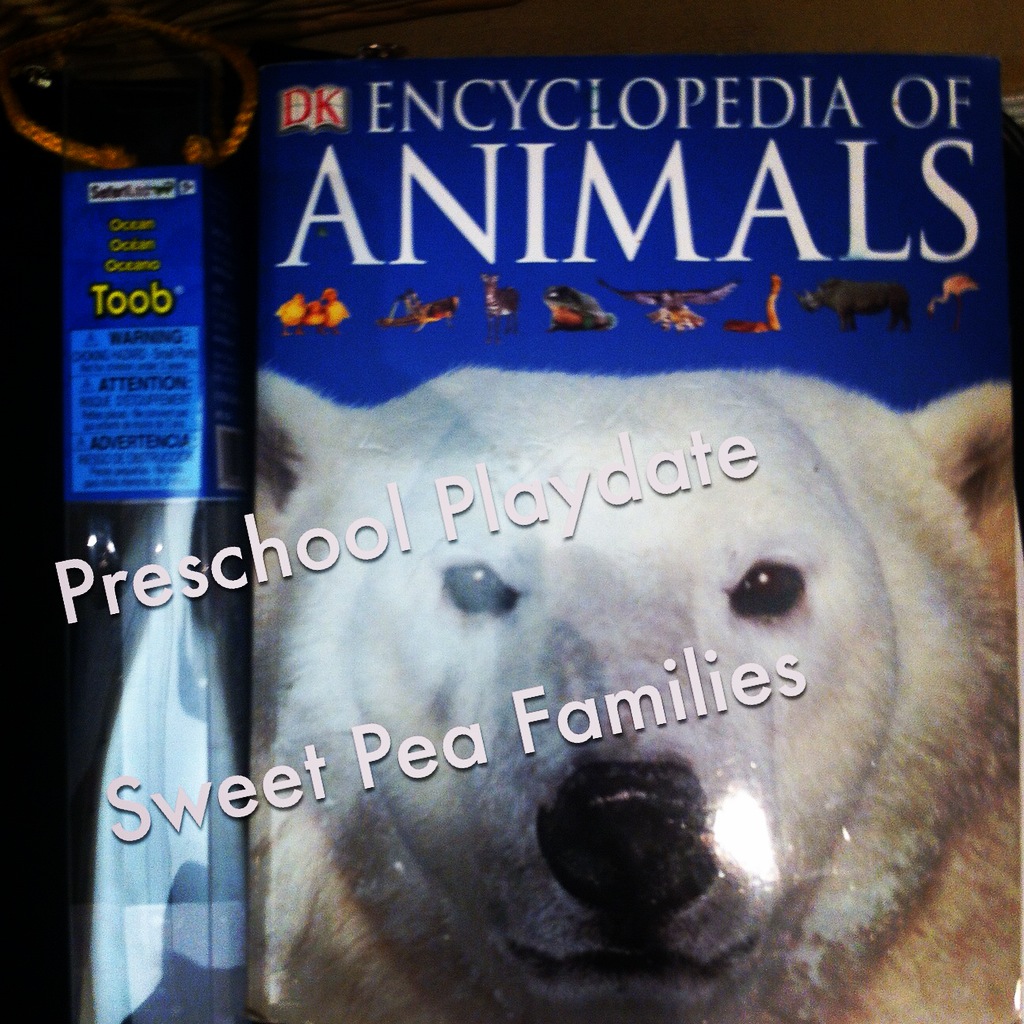 LITERACY CENTER
Play dough is always a big hit.  THIS is the recipe I use from Imagination Tree.  The children had to find their "fish" hanging on the "fishing line" attached to the activity table.  Then they could work on writing their names using playdough.  There are lots of options here: shape the letter, roll out thin "strings" of dough to "write" the letters, or they could roll out a "clay tablet" and scratch their names into the dough.  That activity in particular led to a discussion about how the earliest writing was similarly recorded in Sumer.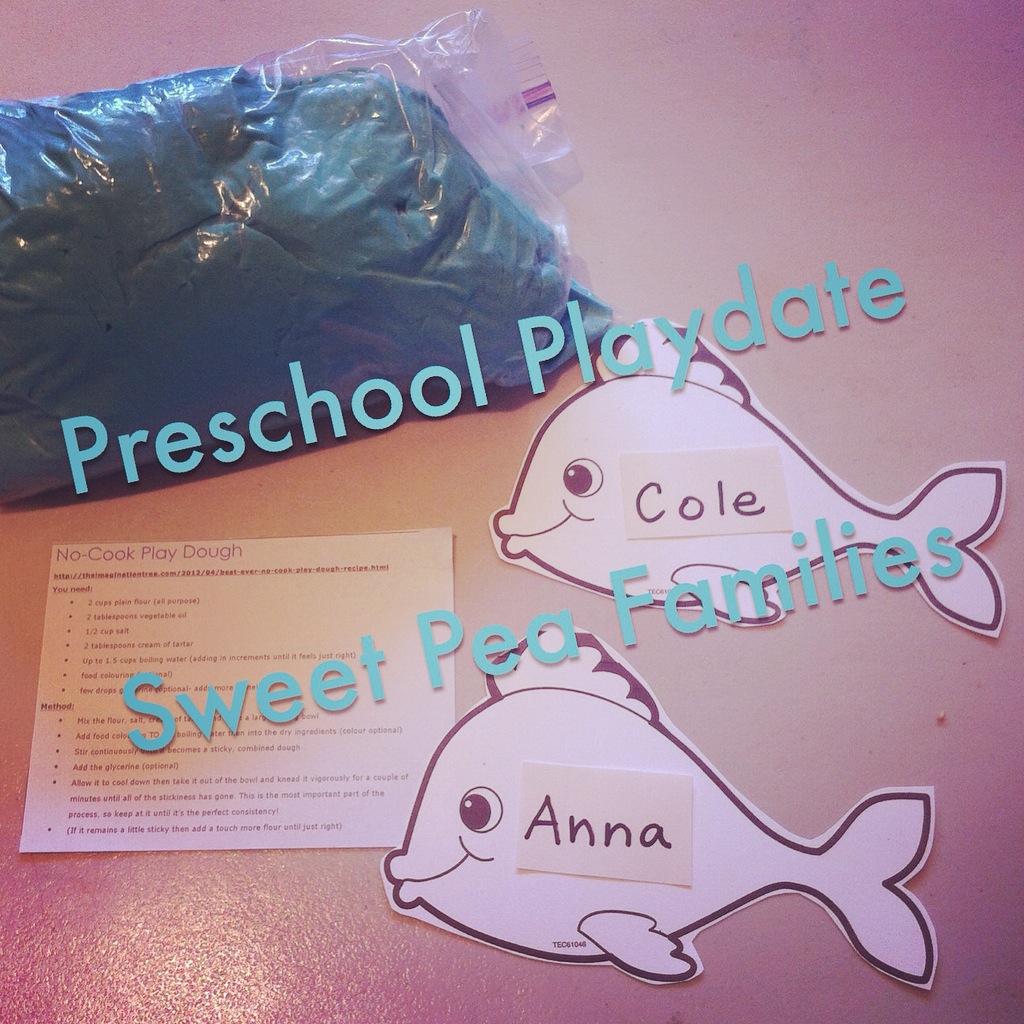 MATH CENTER
Fishing for numbers!! The fish all have a magnet on them.  We are using a Discovery Toys game base, and wooden fish from assorted sets we have collected through the years.  Each of the fish was programmed with a number from 1-5. Sweet Peas would "fish" out a number, and then place it on the corresponding number on their game card.  Most of the cards are also programmed with the correct number of bubbles above the written number.  I thought of that *after* I made the first one.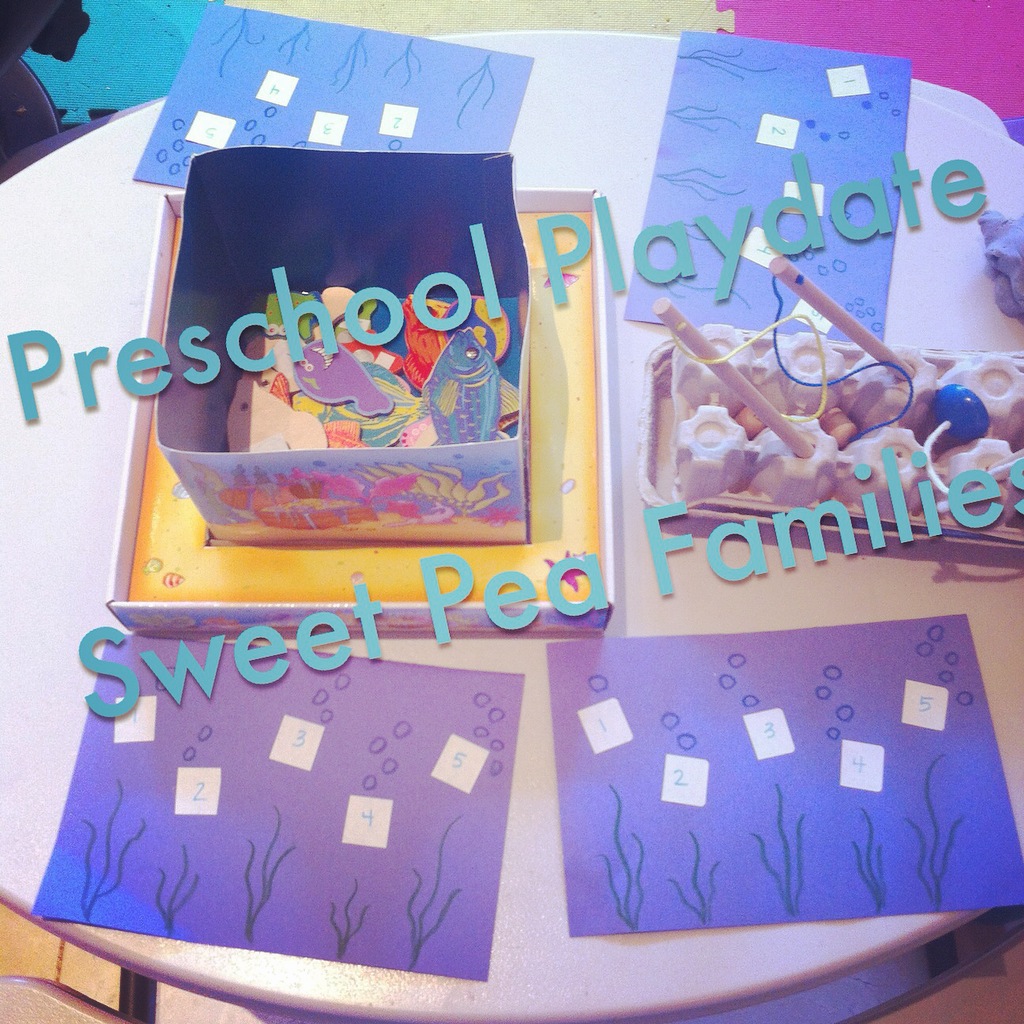 DISCOVERY TABLE
Water, water, everywhere.  This activity reinforced identifying the animals we read about as they pulled them out of the water.  We also worked on motor skills as they used the tongs or slotted spoons to pull them out.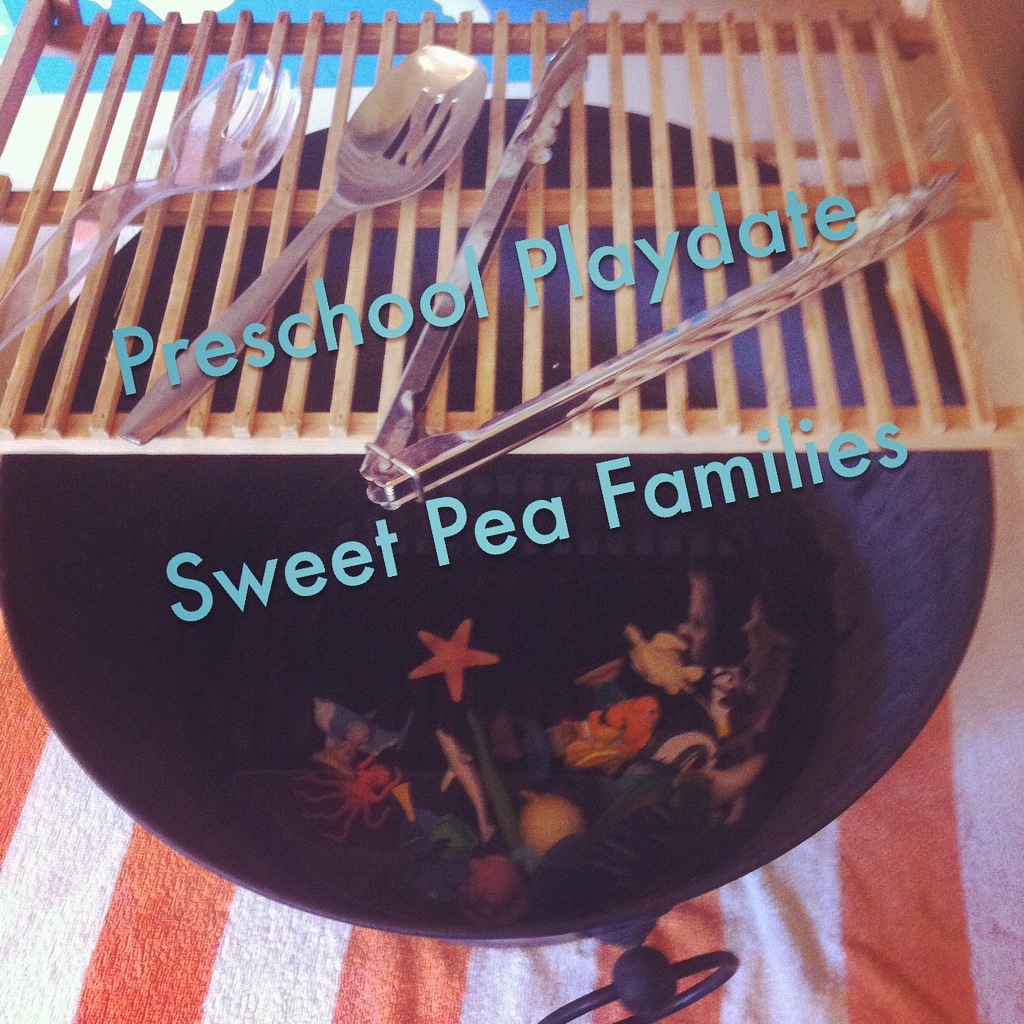 ARTS & CRAFTS ~ Make & Take
I used a printable from The Mailbox Superbook for today's craft.  This allowed for a little "painting" as they spread a thin coat of glue on their outling, then fine motor skills as they placed the tissue, and then cutting after the glue dired to make a neat "stained glass" decoration – our Sweet Peas enjoyed seeing the light come through their creations.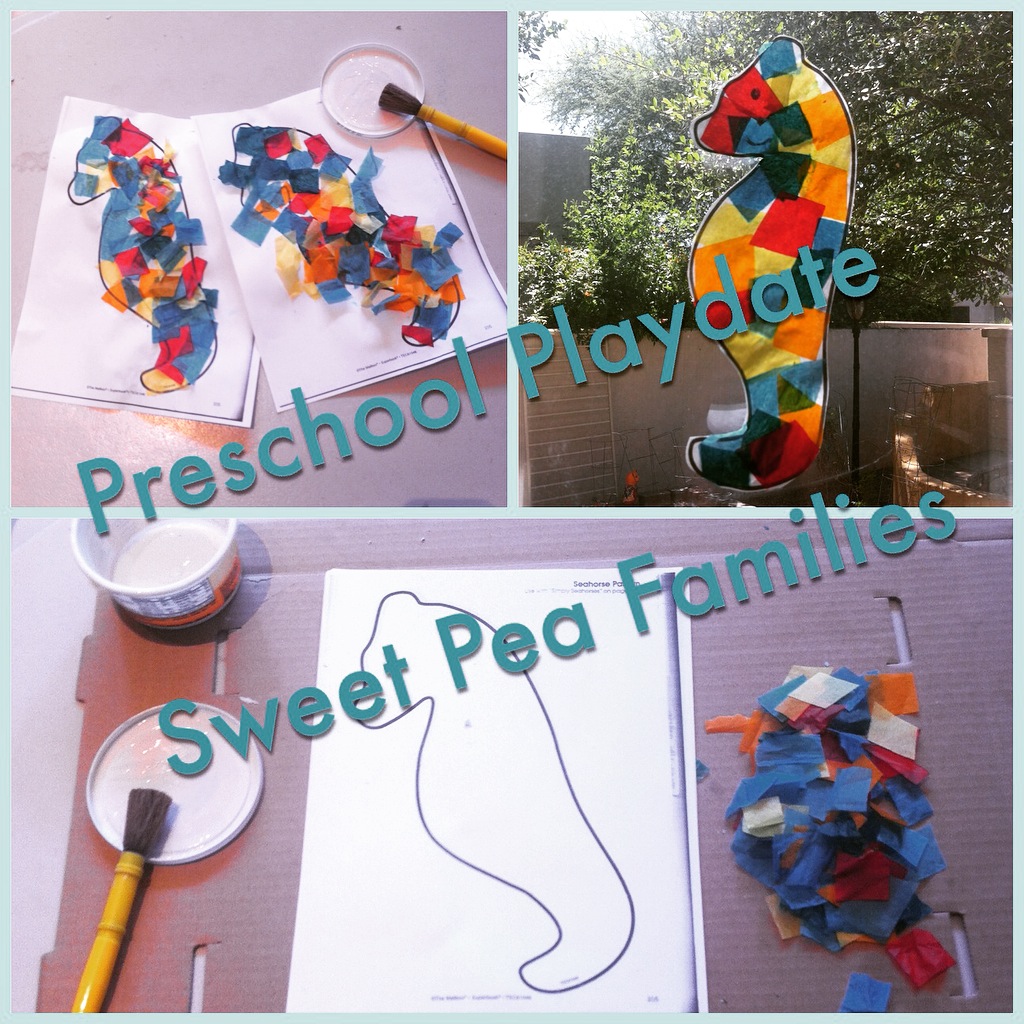 We finish our Preschool Playdate with a sharing time: each child that wants to share gets to say what (s)he enjoyed the most about the morning.  We close with a good-bye song where children are welcome to give hugs.  It helps to set a formal end to the time together so that parents have a clear reason to insist that it's time to go if they have somewhere to be afterwards.  Otherwise, the kiddos and parents that don't have to leave right away will stay and play until the music teacher for our older Sweet Peas arrives at noon.