Every March since World War II, the president of the USA declares March, "Red Cross Month".  We focused on the Health and Safety aspect of the Red Cross mission:
From their website:
"The Red Cross is the nation's leading provider of health and safety courses, such as CPR, First Aid and Lifeguard training. Each year, more than 9 million Americans participate in our training programs, including first responders, educators, babysitters, and people who want to be prepared to help others in an emergency."
Read more about the Red Cross HERE
How we start our play dates:
— Welcome song in English (emphasizes printed name recognition as Sweet Peas find their card in a line-up and place it on our Name Ledge)
— Welcome song in Spanish (reinforces names as Sweet Peas sing to their peers)
— Discussion of theme
— Storytime
— Unsquiggle activity
— Poem/Song before we break for Centers
STORY TIME
This week, I read a Spanish translation of a story from "The Best Storybook Ever" by Richard Scarry.  It focuses on several safety rules that every Sweet Pea should be familiar with.
Cross the street at the cross walk.
Do not throw objects at others – you could hurt them.
Do not push people around – no one likes bullies.
Do not ever play around deep water – there might not be anyone around to rescue you.
Do not stick your head out of the window of a moving vehicle.
Do not chase a ball into the street.
Play on your sidewalk or your yard – never in the street.
Do not ever go anywhere with someone you do not know.
Be on your best behavior when you are a passenger in a car.
Above all, do not ever take a crocodile home – they might bite you!
Spanish story: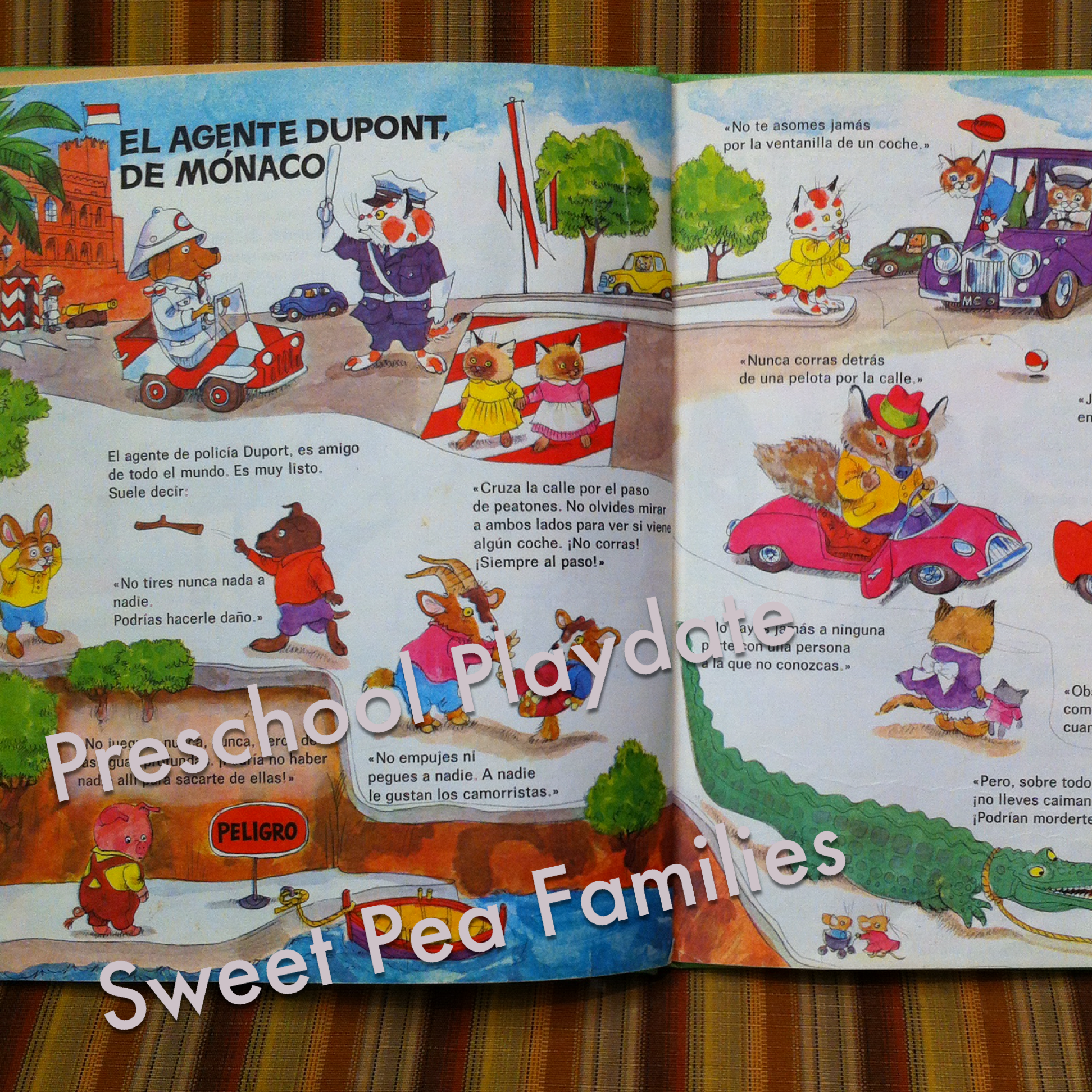 English book:
I believe it's called "Officer Montey of Monaco" in the English edition.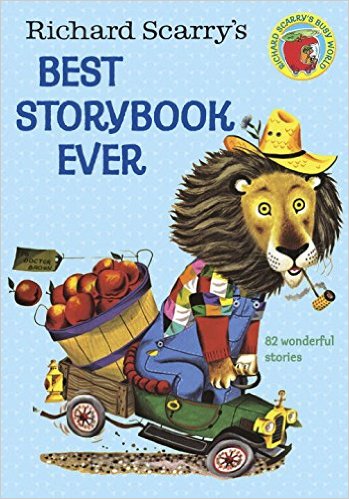 LITERACY CENTER
The starting point for this activity came out of The Mailbox Superbook.  I printed out their "Alphabet Soup" page on cardstock, and then I put it inside a page protector so that we could reuse the pages.
Option 1:
Trace the letters with a dry erase marker, then erase them with our home-made erasers.  I worked in the cotton balls that we had at the Discovery Table and the Arts&Crafts station in our literacy station, too!
Option 2:
Match the "soup" letters to the letters on the page.  These are alphabet soup pasta letters from Trader Joe's.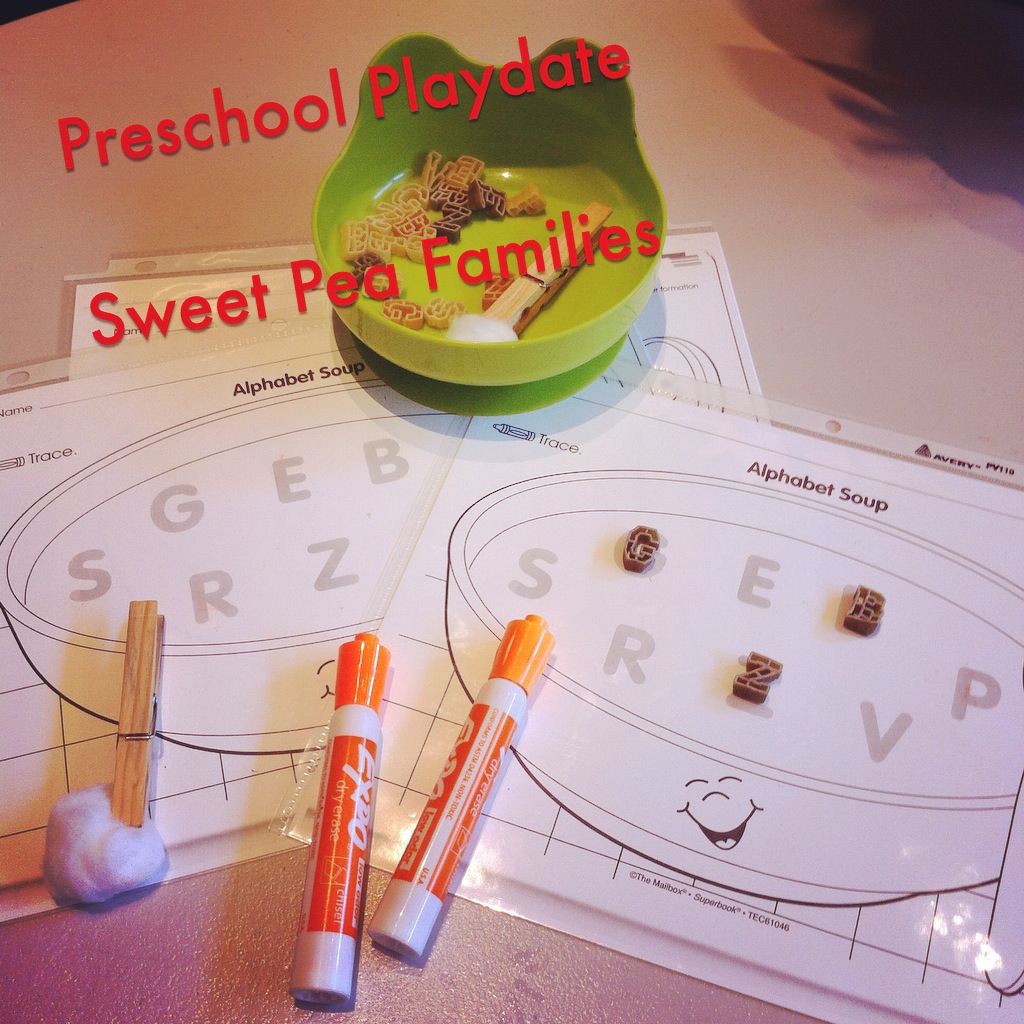 MATH CENTER
For this center, I adjusted the commonly known use of dice to teach counting to fit our theme.  Instead of plastic counters, we used cotton ear swabs into this activity.  This served to reinforce the vocabulary of the items they would see at the Discovery Table and the Arts&Crafts station.
Level 1:
Roll 1 die, count out cotton swabs to match the dots on the die.
Level 2:
Roll 2 dice, count out the cotton swabs to match the sum.  Parents reinforce addition by saying the sums out loud.
DISCOVERY TABLE
We put out all manner of play animals and medical supplies to let the children explore, learn and use vocabulary, and be doctors and/or veterinarians – which ever role they identified with.
Antiseptic cream
Bandage
Bulb
Cotton balls
Cotton swabs
Gauze
Gloves
Patient
Prescription
Otoscope (to look in ears)
Stethoscope
Syringe
Thermometer
Vial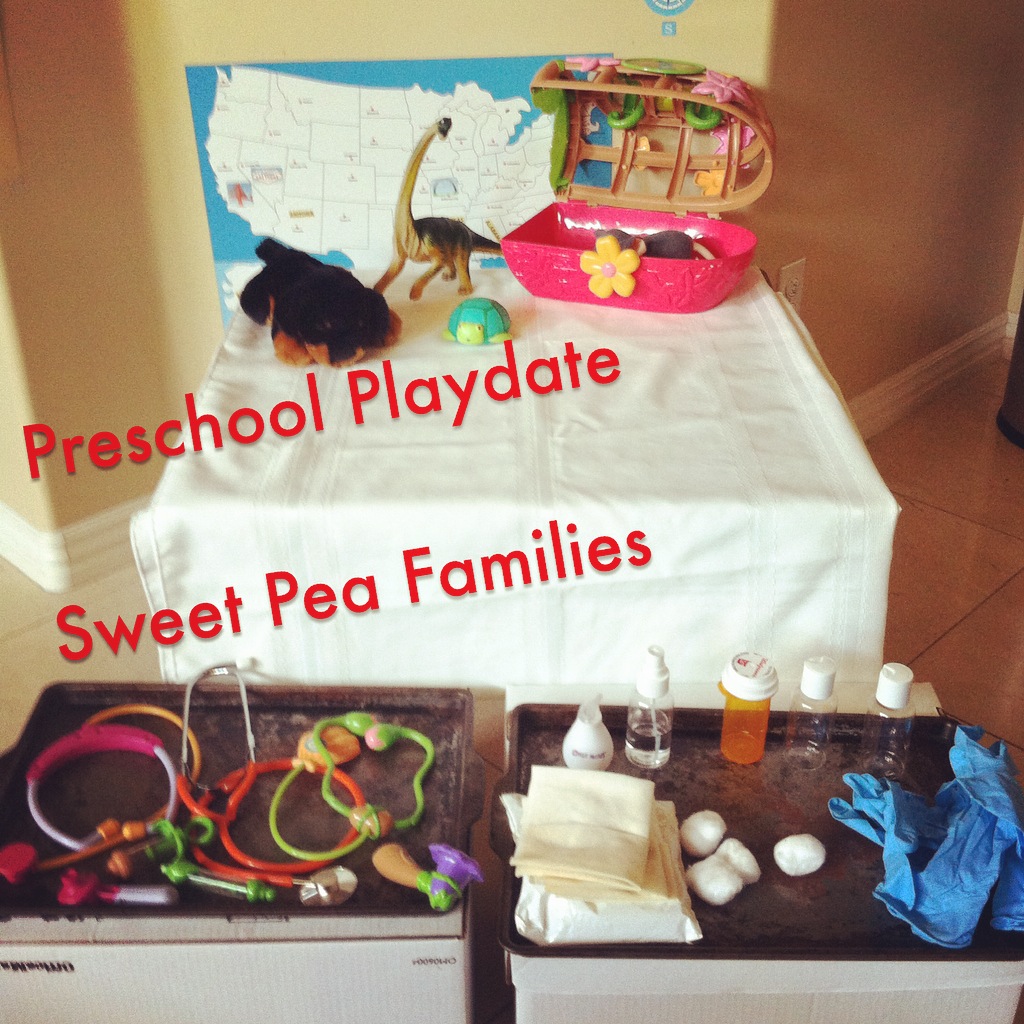 ARTS & CRAFTS ~ Make & Take
The Sweet Peas got to make a First Aid Kit to take home and continue the play after our play date.  This idea came from The Toddler Calendar.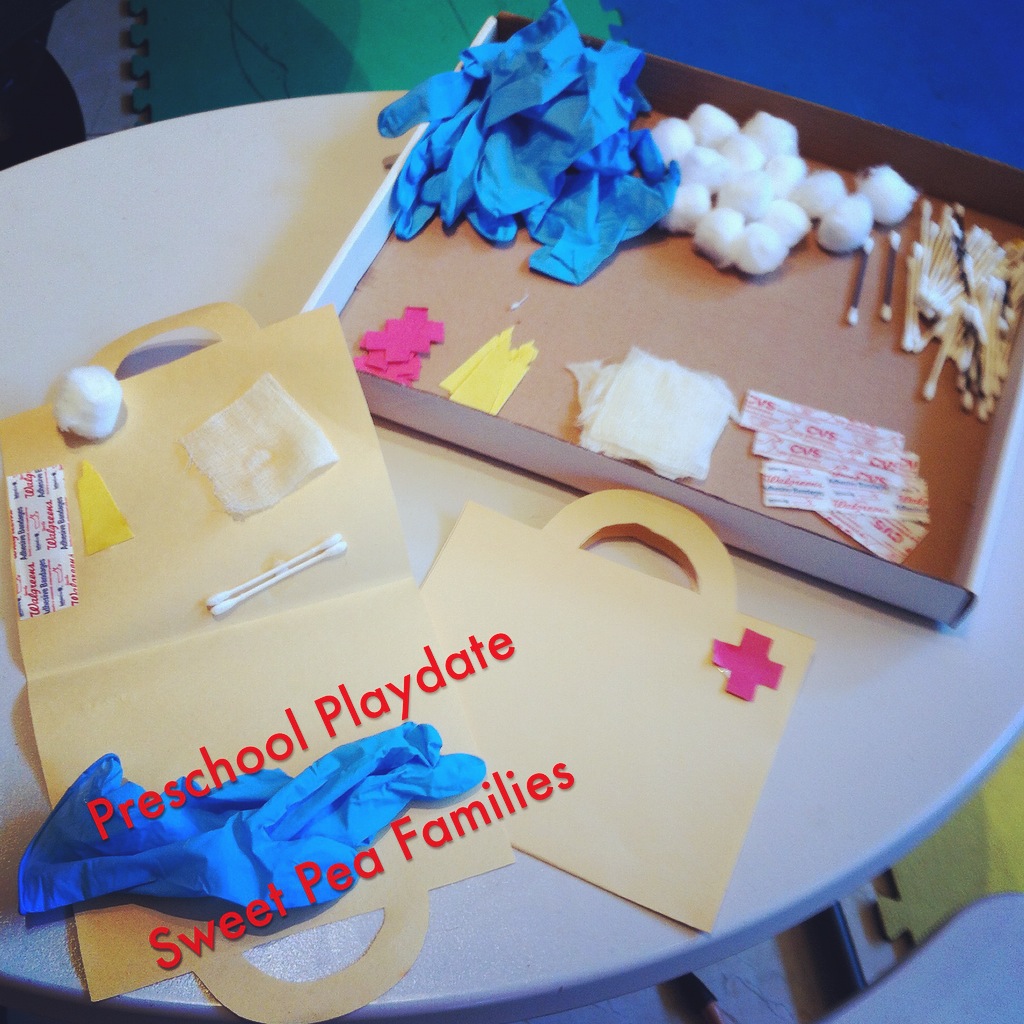 We finish our Preschool Playdate with a sharing time: each child that wants to share gets to say what (s)he enjoyed the most about the morning.  We close with a good-bye song where children are welcome to give hugs.  It helps to set a formal end to the time together so that parents have a clear reason to insist that it's time to go if they have somewhere to be afterwards.  Otherwise, the kiddos and parents that don't have to leave stay and play until the music teacher for our older Sweet Peas arrives.
I hope you enjoyed the tour through our Red Cross Day.  The biggest hit, if you can believe it, was erasing with the clothespin-cotton ball eraser!