We have several little boys that attend our playdates.  I thought it would be fun to incorporate a theme that really spoke to them.  It was equal opportunity play: the little girls enjoyed this playdate as much as the boys!
Our day started as usual:
— Welcome song in English (emphasizes printed name recognition as Sweet Peas find their card in a line-up and place it on our Name Ledge)
— Welcome song in Spanish (reinforces names as Sweet Peas sing to their peers)
— Discussion of theme
— Storytime
— Unsquiggle activity
— Poem/Song before we break for Centers
STORYTIME
TRUCKS by .The fact we have been collecting toys for ten years proved helpful in bringing this book to life.  For every vehicle pictured in the book, we had an example for the Sweet Peas to experience with their eyes and their hands.  Otter and Charger enjoyed taking turns passing them around to our guests.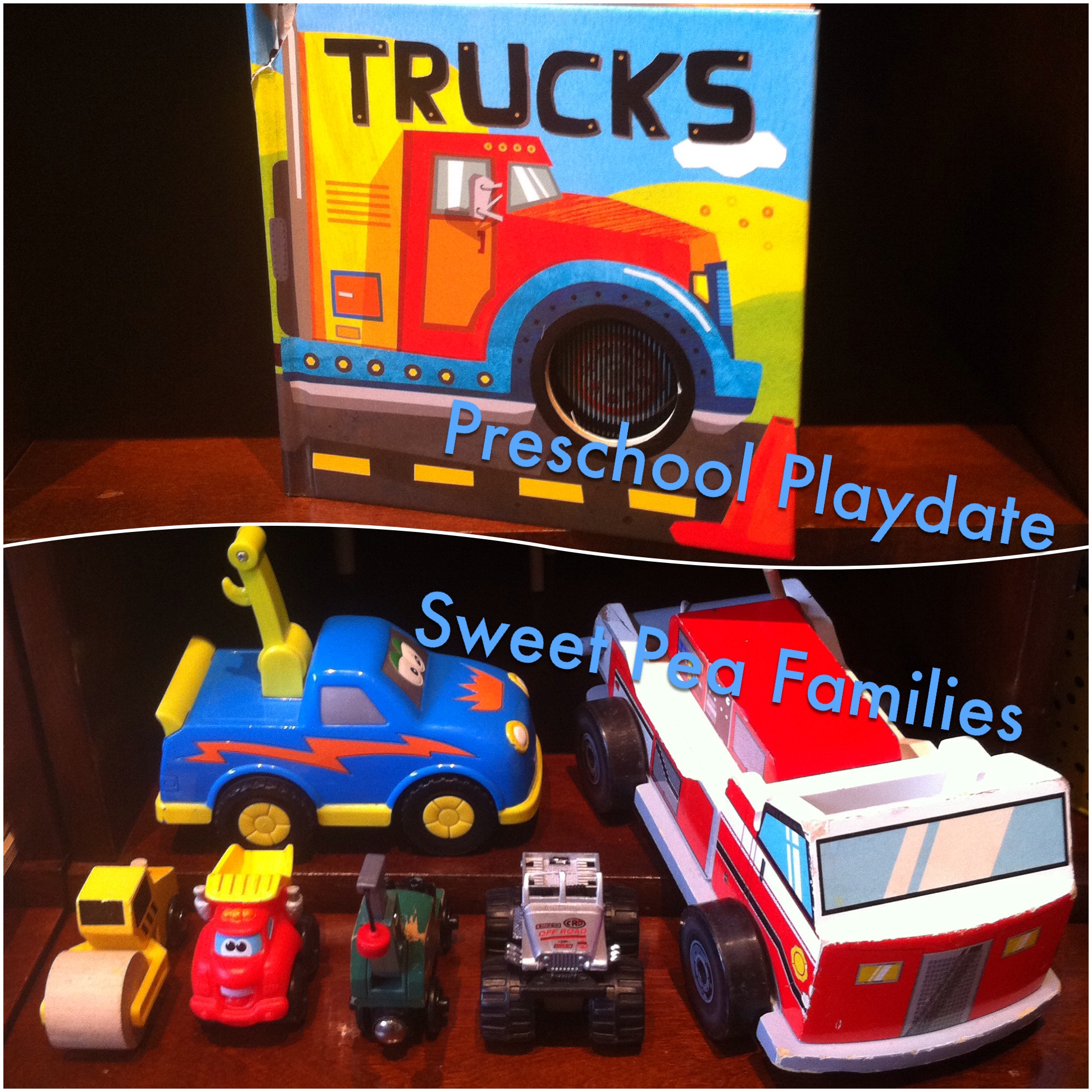 LITERACY
Inspired by an idea in The Mailbox SuperBook to use a plane and a cloud to talk about position words, I worked with an idea to make that activity fit Truck Day.  I found line drawings of a dump truck and boulders online, added eyes to the truck to animate it a little, and printed out a list of direction and position words for parents to use with their Sweet Peas as they did this activity.  You can read the instructions in the photo.  I added the section about switching roles with your Sweet Pea because I find that our own kiddos have so much fun being in the teacher role.  Added bonus: on top of their enjoyment, it reinforces the concept they just learned!
MATH
This was an activity of my own creation.  I wanted to incorporate play with the trucks, so I came up with a shape sorting station.  I used Microsoft Word to create pages of shapes; then we laminated them and cut them out.
The Sweet Peas would take a handful of shapes out of the bucket, sort them with their parents, and then put them in the truck and deliver them to the right station.  Puma and I taped up extra shapes onto the front of our Name Ledge with the idea of making them look like buildings along a city skyline.  I don't know if the Sweet Peas made that connection; whether they did or not, we had fun creating this math activity to fit our theme.
DISCOVERY
A variation on the always popular Sink/Float activity.  This time, we used plastic boats and all manner of wheeled vehicles to see which ones would sink or float.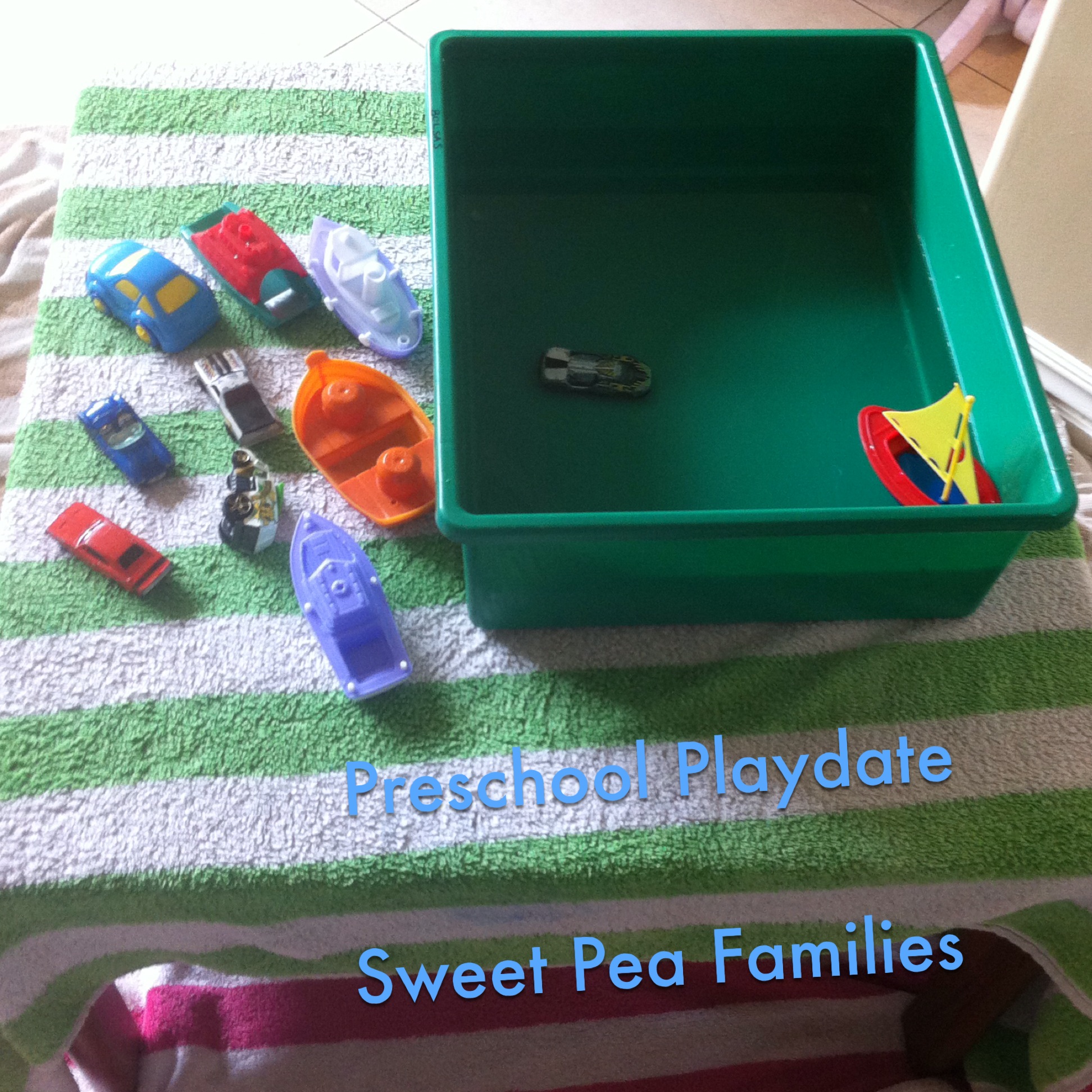 ARTS&CRAFTS ~ Make & Take
This was an activity out of The Mailbox SuperBook that I have been wanting to do since Puma was a preschooler.  For whatever reason (mostly because I couldn't justify the mess!) it took designating a Truck Day to make it happen.  The kiddos used different color paints and textures on the wheels to "drive" an artwork onto their paper.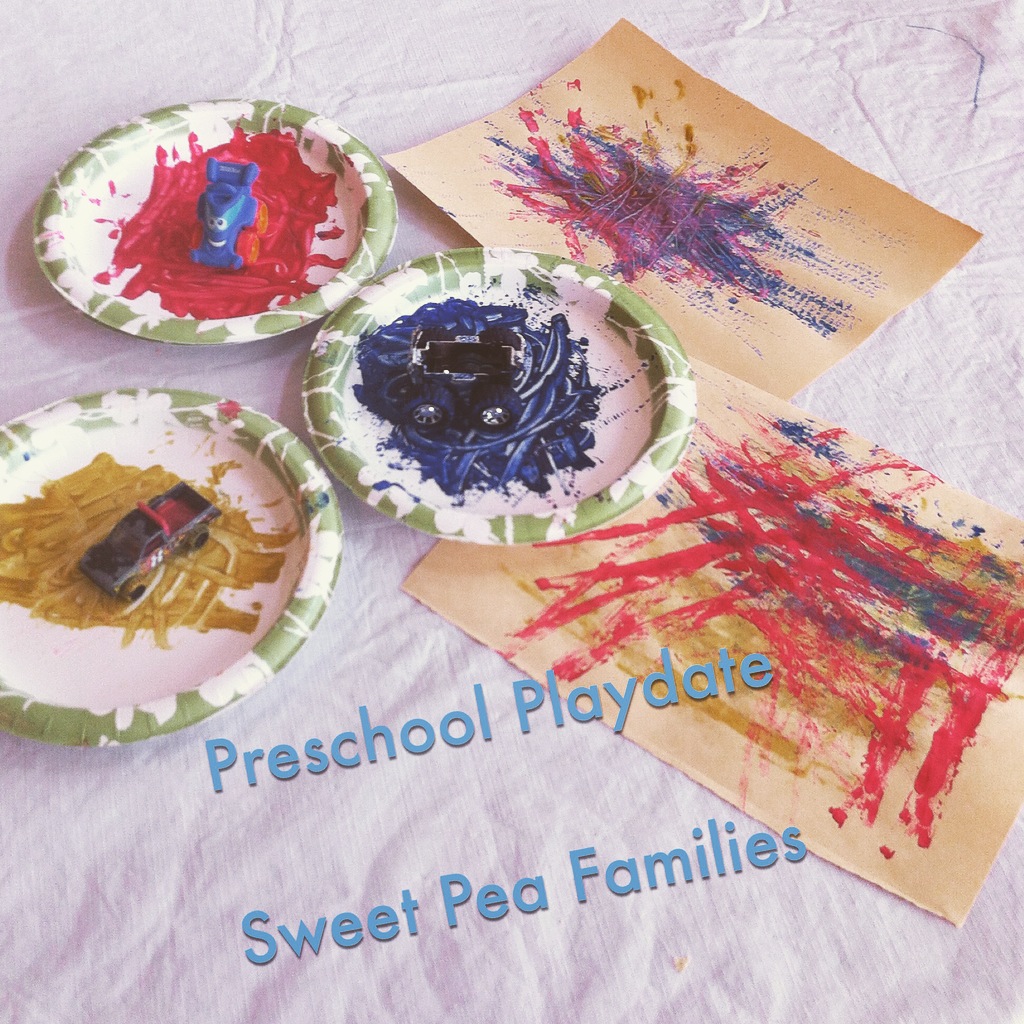 IMAGINATIVE PLAY
This play station incorporated lots of different ideas: literacy in sign identification, math in counting and sorting, and lots of play and imagination as the Sweet Peas laid out the road way, used the "car wash" and learned how to cooperate with their peers so that they could all play with the city scene together.  It was such a big hit that we kept bringing out the "City Box" in subsequent play dates.