We used to host a great group called "Peas & Pods" that met every other week.  It was for parents (mostly moms) and Sweet Peas to get together, meet other families, and support each other on the parenting journey.  Then one of our alums started hosting a breastfeeding group at her home, and another alum started offering parenting classes…so our group seemed redundant.
After seeing Dr. Harvey Karp speak about the importance of toddlers being socially stimulated on a regular basis, I decided to offer an opportunity for our alums with toddlers to get together.  This was a need that wasn't being met by the other groups, and after teaching childbirth classes for almost four years, there were toddlers amongst us (including our own!).
Thus, the weekly Preschool Play-date was born!  We started doing these in September 2014, but I didn't think to start documenting with pictures until February 2015.  I am looking forward to sharing some of the themes we did last Spring with you.  My hope is that they will inspire you to get creative with your own Sweet Peas.
We started with Circle Time:
— Welcome Song where every child found their name and placed it on the Name Table
— Spanish Welcome Song that reinforced each child's name so that the Sweet Peas could get to know each other.
— Story Time
— Squiggle Activity – something to get the wiggles out!
Every week, I planned at least four different centers:
— Letter/Writing/Literacy
— Math
— Arts & Crafts
— Discovery
Some weeks, we would have other activities as well – it would depend on how much I could find around the house to fit the theme.  I purchased very little outside of craft supplies and paper.  You can definitely do these themes on a shoe-string budget!
Story: "The Ivory Wand" from Stories From Around the World – Usborne Children's Books
Circle Time: Talked about the Chinese Zodiac and shared that 2015 was the Year of the Sheep according to the Chinese calendar
Now for the center activities:
LETTER/LITERACY/WRITING ~ Make+Take:
One thing I remember from living in Taiwan is that people exchanged red envelopes on Chinese New Year.  I wanted to incoporate that idea with an activity that would allow children to recognize their name letters and organize them in order, because when you get an envelope, it ususally has your name on it!
So I used red card stock, and printed a good wish that I found HERE.  Then I programmed an index card with each child's name, used punch out letters I picked up from the Tuesday Morning craft section, and put them in an envelope with the name clipped to the outside.
When the Sweet Pea participated in the center, first they had to find the right card with their name.  Then they pulled the letters out of the envelope, organized them in order, and glued them to their sentiment card.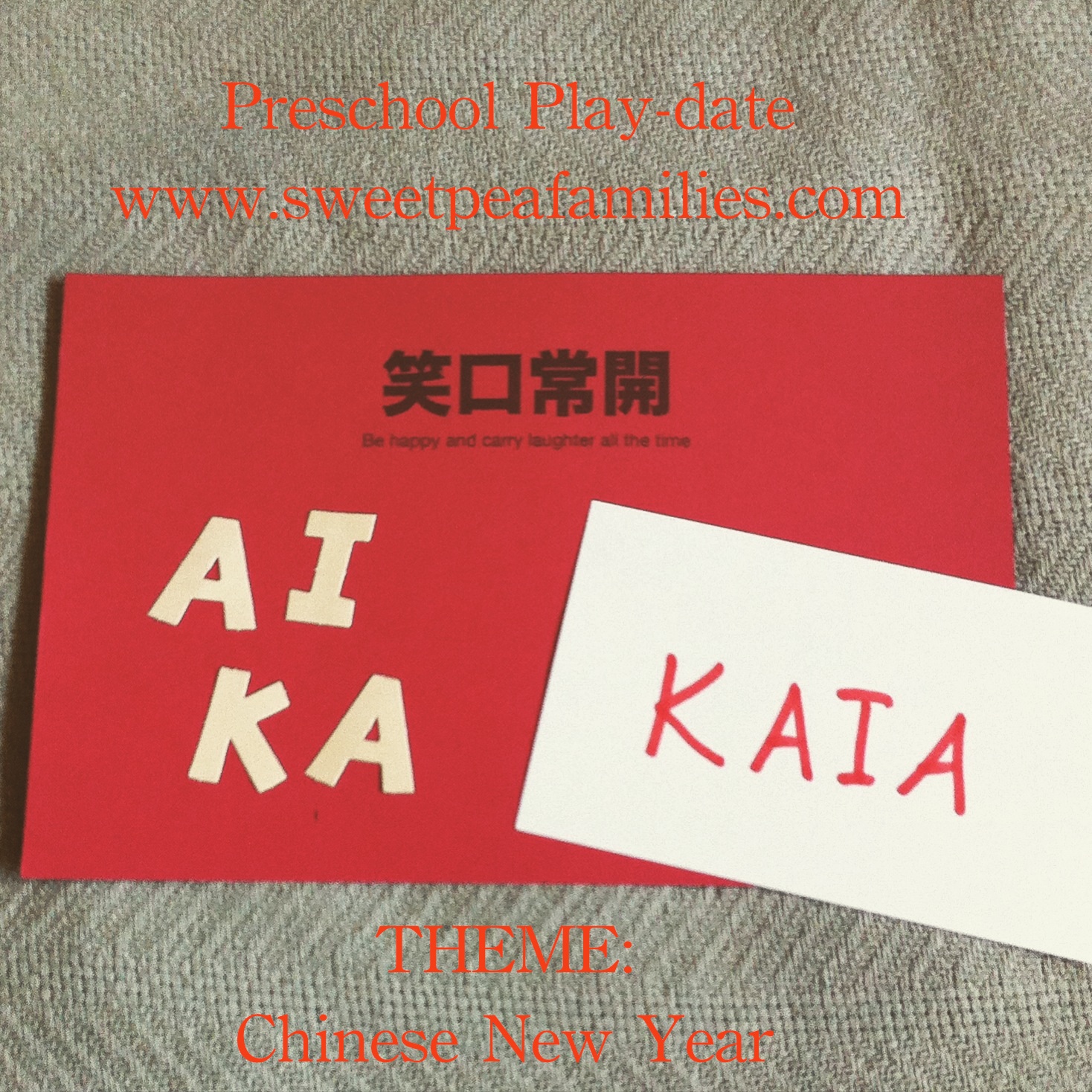 MATH CENTER:
This math center is one of my favorites.  The Sweet Peas get to use their motor skills as well as their ordering.  Each tee-shirt was programmed with a number and correspodinging dots.  The child could either hang them on a "laundry line" that we tied up between two chairs, or simply clip the clothepins to match the number on the shirt.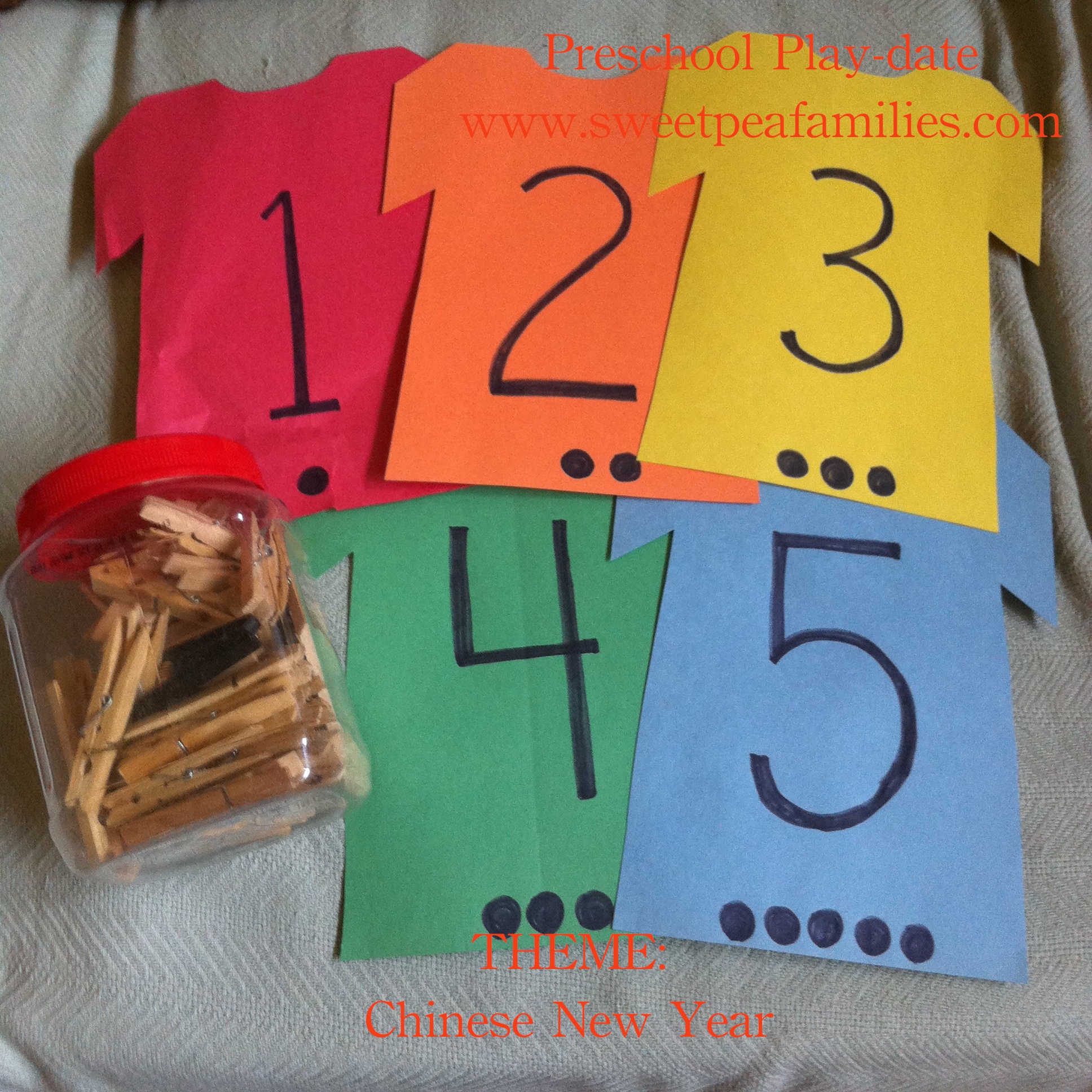 ARTS & CRAFTS ~ Make+Take:
This craft idea came from Enchanted Learning.  I used the red paper I had on hand, plus craft sticks and a print out of a dragon's head and tail on card stock.  I took a line drawing found in the Internet, cut off the tail and head that I wanted, and then enlarged it so it would look somewhat balanced.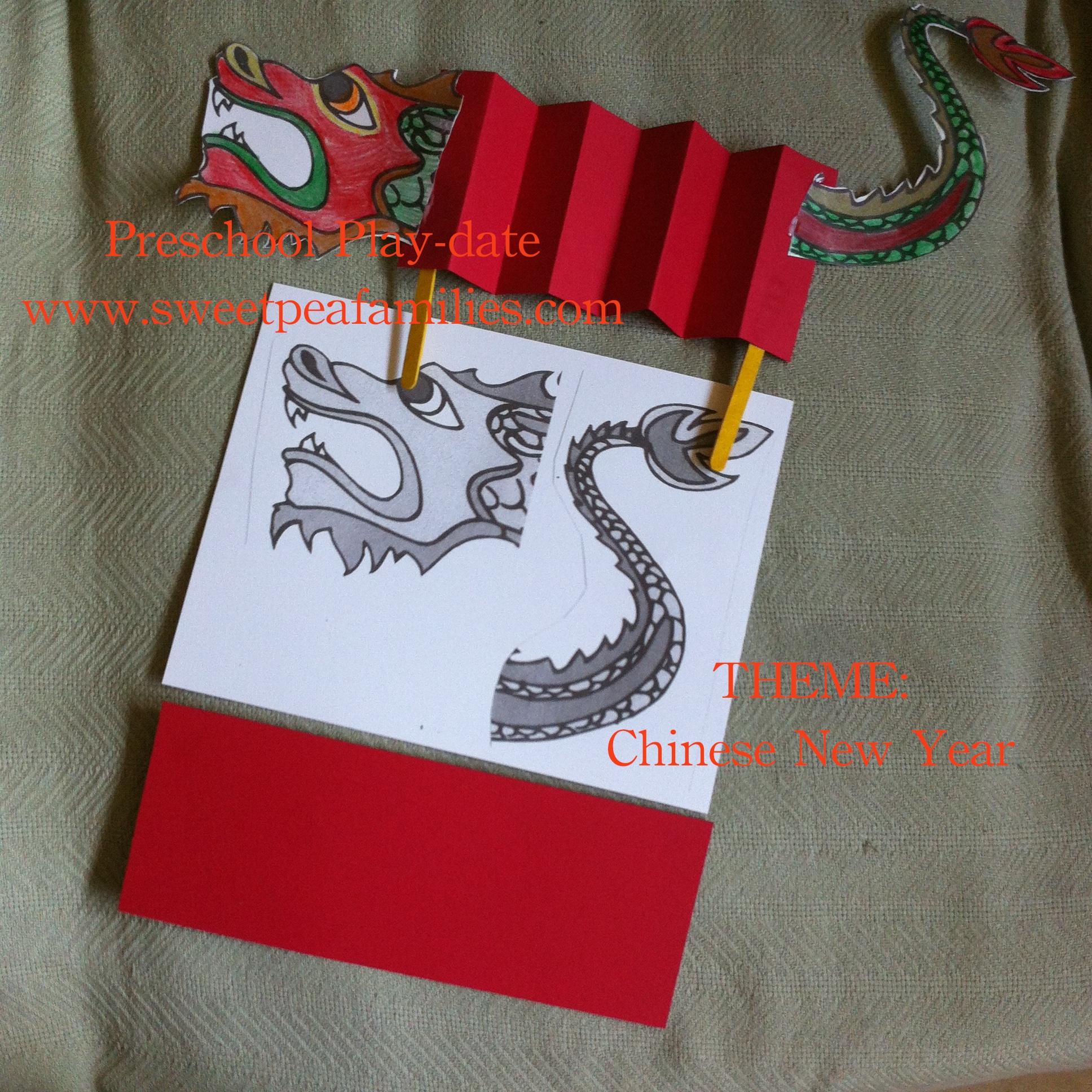 DISCOVERY TABLE: Sounds
We filled old prescription bottles with five different fillers that made distinct sounds: dry rice, dry beans, seeds, bells, and beads  We covered them with contact paper, and also made them self-correcting so that a Mother-Toddler pair could move ahead without waiting for me to check their matching.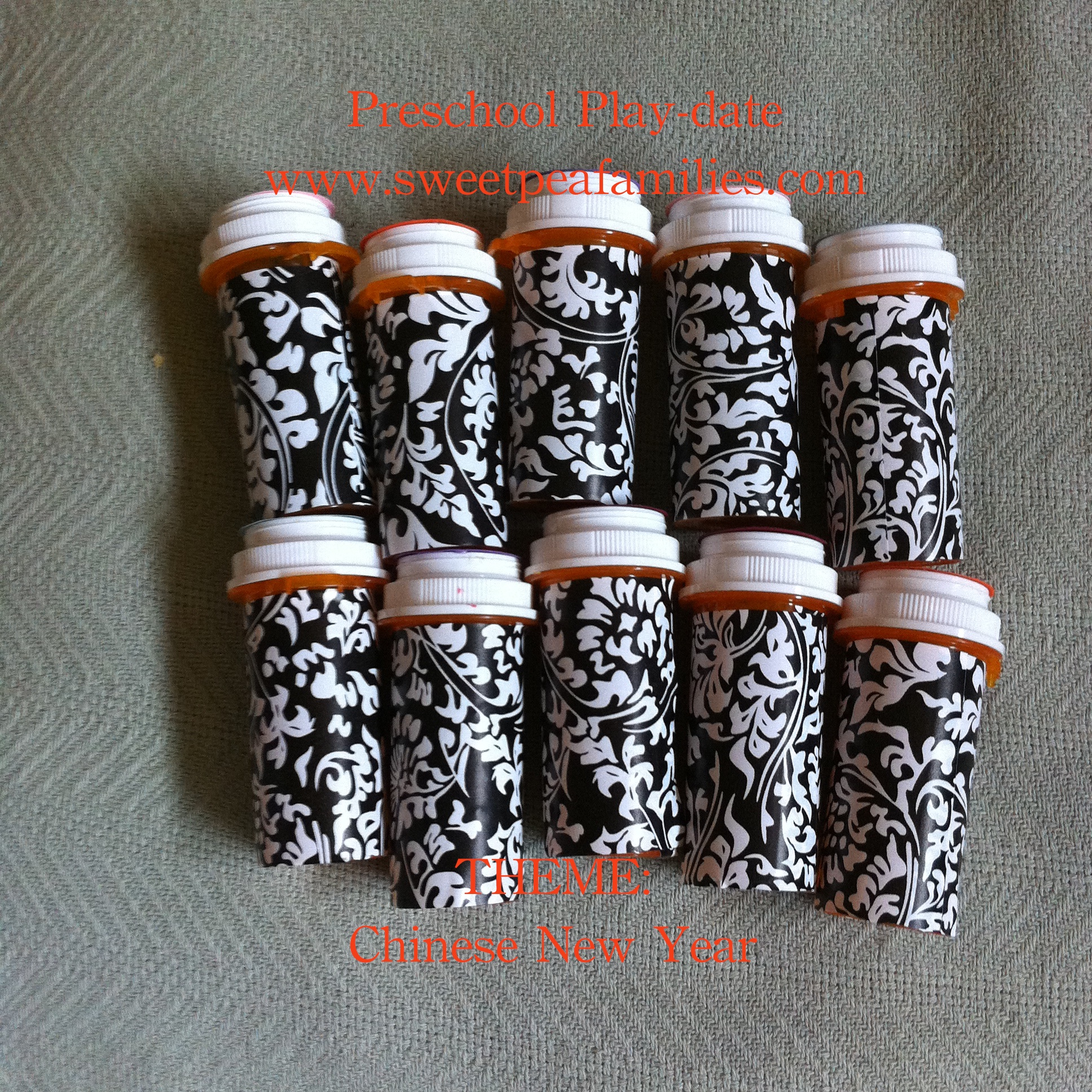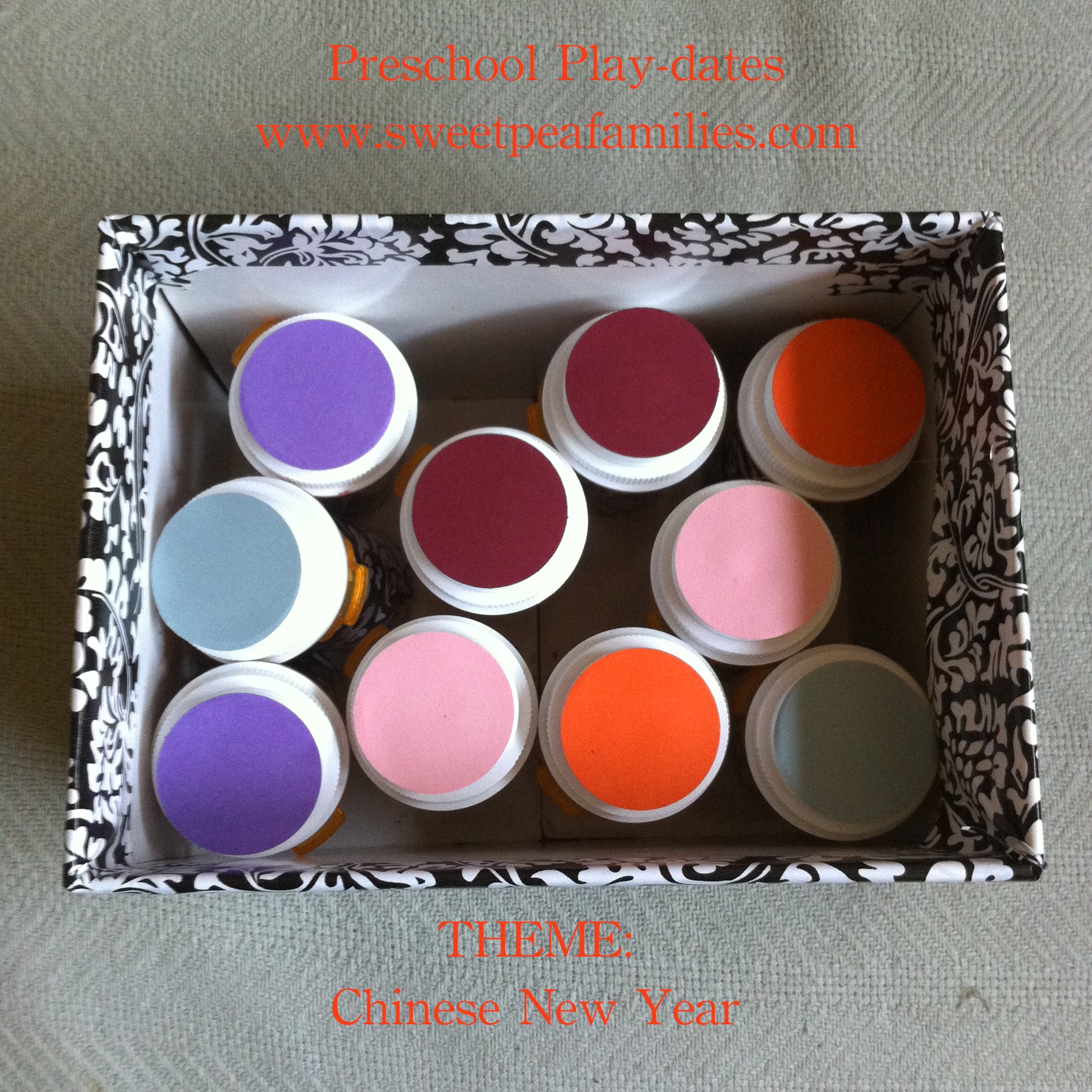 Thanks for taking a peek into our "Chinese New Uear" theme! Until next week when we share what we did to celebrate Black History Month.