This is part two of my (Cassandra's) sibling preparation journey, what we did after the birth of our daughter in January to help my son (2.5 yo) with the transition. You can read what we did during pregnancy in part one here.
It has only been four months since we welcomed sweet baby P into the world (see photos of her birth here) and although we still have moments here and there we have established a pretty good routine as a family of four, our son is honestly thrilled to have a baby sister 99% of the time… Our son, T, is definitely a rise-to-the-occassion kind of guy. He really never does anything until he absolutely *has* to, case in point, he slept through the entire night without waking for the FIRST TIME EVER the night after his sister was born, he was almost three. He has also since decided he would start talking. That being said, he really took to his role as big brother and embraced our changing family, it could have absolutely nothing to do with what we did before or after. BUT these things did help everyone feel more at ease and help us get into a nice, new rhythm that now included a baby.
1. Help for our son
We asked my mom in advance to visit after the baby was born for additional help, mostly for our son. Her trip coincidentally was planned for the very evening our baby P was born, we had a great day resting as a family of four post birth and the next day my son was SO excited to see his Granny. She stayed for more than a week and I think it was one of the best things we could have done immediately for our son. He was so busy having fun with her, out and about all day he didn't even notice that I was at all restricted. Another lap, another set of hands and undivided attention for him.
2. Mama Milk Access
My son hadn't nursed in many long months but was still used to his share of milk cuddles, I knew shutting him out when baby was nursing would trigger him emotionally, causing him to act out. I always welcomed him to snuggle me while simultaneously nursing the baby, we talked about how the baby didn't eat food and needed lots of milk to grow bigger and stronger so she could play with him and he got into a routine of coming to "kiss baby P milk" each time we nursed, he would give a quick kiss to her head or my breast and then usually run off. It's not always easy when he climbs all over us or I am feeling touched out or the baby was fussy at the breast but over the long haul I think it was really important to welcome him into our nursing time in order to combat jealousy.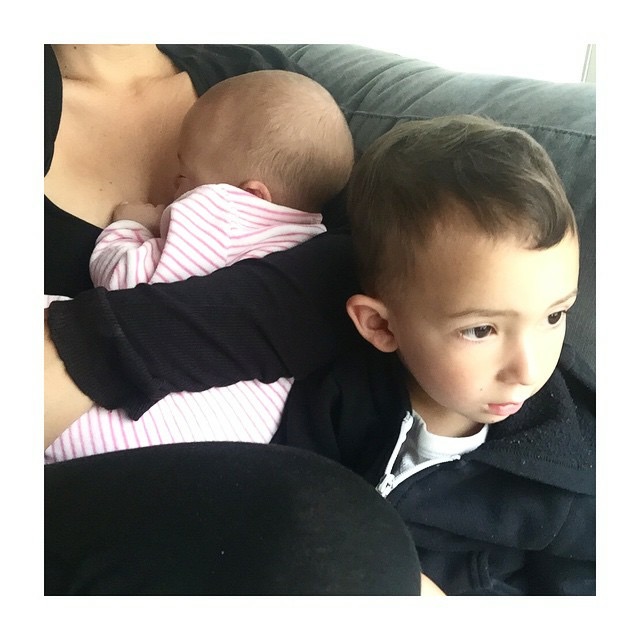 3. Only Positive Reinforcement 
This was actually a tip from one of my midwives, to only focus on and model the positive aspects of his interactions with the baby and not the negative. So very basically, instead of "don't be rough with the baby" say and show him "we are very gentle with the baby, we touch her gently and kiss her gently" We did this with EVERYTHING and we also refrained from making things "because of the baby." If the baby was sleeping and we needed to be quiet we didn't say we need to be quiet because the baby is sleeping we would say we need to be quiet because we are having quiet, restful time and we can be loud and crazy as soon as we get outside or something a long those lines. I tried to ONLY mention ANYTHING about the baby in a positive manner to him. I felt like it was really important at the very beginning, that although fantastical, he did not feel the baby was affecting him. Obviously everything was going to change but if the change was gradual and organic for him rather than abrupt I knew we would all fair better.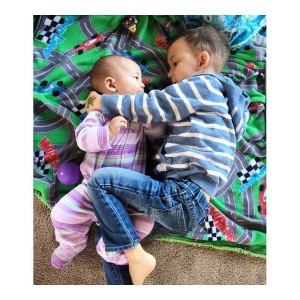 5. Keeping it Low Key 
I was on my own with both kids for the first time when my daughter was two days away from turning 3 weeks old. I was feeling fantastic so that was a MAJOR plus, but things were obviously still very new and scary and taking a tiny almost three week old baby out of the house is not comfortable for me. My son and I rarely ever stayed home the entire day though and I knew keeping things similar to his normal routine would have the best results. For the first couple of weeks I did some of our same activities, just toned down a bit. I invited one of his friends over to play, instead of the usual 3 we have play dates with. I walked to the closest coffee shop (instead of our usual spot that is farther from home) and then the park across the street. I went to a nearby science class as our outing for the day, instead of planning anything before or after as we usually would. This helped me from feeling entirely overwhelmed and it was really nice for all of us to gradually transition back into "normal" life.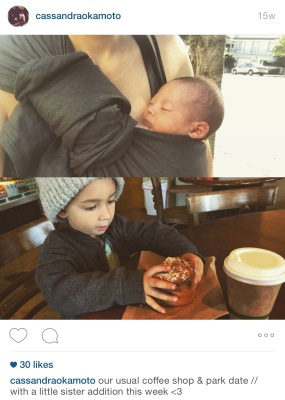 6. "Pretend Me Baby" & Snuggles
Pretty soon after the baby was born my son started asking to "tend (pretend) me baby" and would want to fake cry while I rocked him or make sucking sounds over my shirt or pretend we were driving and he was crying in his car seat. I embraced this and it gave us a good time afterwards to talk about him being a "big guy" and how he differs from the baby, etc. At four months postpartum he still likes to play this game and we always get lots of laughs out of it. Whenever he would start getting frustrated about diaper changes or wanting mama I would ask if he wanted to PRETEND he was a baby and have a pretend diaper for a moment or have a good cry, etc. it almost always works! I also try to give him as many extra snuggles and physical contact as possible, even if it doesn't seem like he needs it. As soon as baby is sleeping in her swing I check in with him for snuggle time or cuddle and read books and we play lots of tackle and wrestling games when possible. I know that once he is depleted it is much harder to fill his cup back up so I try to be mindful of frequent mood lifting activities.
At four months postpartum there are already new challenges on our journey as a larger family (toy possession, baby's increased need to being "put" to sleep and quiet, etc.)  but these above were all extremely helpful for surviving the fourth trimester and setting the stage for our new normal. What else have you done before or after the birth of a sibling that have helped the transition, emotionally and physically?