Krystyna has wrote various pieces on preparing siblings for the arrival of a newborn brother or sister and even specifically preparing them for a home birth of that sibling over on Sweet Pea Births blog, but today I am going to share what exactly we did with our 2.5 year old son during pregnancy and birth in anticipation of his sister's arrival.
We talked about the pregnancy, baby, breastfeeding, what he could expect, etc. every day in all different contexts and situations, it was a regular topic of conversation and everything was always positive. In addition to that ongoing dialouge the following was all extremely helpful in easing the transition.
1.  Big Brother Books.
We picked up all sorts of different books: I'm Going to be a Big Brother , Daniel Tiger's The Baby is Here and Big Brother, Babies Can't Eat Kimchee and were gifted Berenstains Bears' New Baby and The New Baby. We read them throughout the pregnancy and he still likes reading them today (3 months post birth).
2. Watching Birth Videos.
We were planning a home birth so towards the end of the pregnancy we watched home birth videos online quite often. I searched for ones with siblings present and we talked about how this is what it would be like when baby sister arrived. We talked specifically about what labor was like and how she would come out and join us.
3. Breastfeeding: Remind, Remind & Remind Again.
We were in the process of weaning when I found out I was pregnant. My son was completely weaned very early in the pregnancy but still was interested in and asked about "milk" ALOT. I knew that breastfeeding might be a point of frustration / anger / sadness for him when the baby arrived so we talked about it early and often. We talked about how babies have mama's milk when they arrive (and watched newborns nurse in the above mentioned birth videos), we watched animals nursing online, we talked about how little babies need mamas milk but he is big and has things like yogurt and ice cream that babies can't have. I asked him over and over again what the baby was going to do when she got here so he could respond with "mama milk!" and over and over and over just kept the conversation going and always kept it very upbeat.
4. Big Brother, Little Sister Gift.
We talked a lot about how when little sister got here she would bring a gift for him (my parents and grandparents so generously purchased him an iPad mini! We wanted it to be something notable) and we took him around my due date to a local children's store and let him pick out a gift for her. He picked out a little plush giraffe and a couple hours after the birth he started asking about his gift and was extremely excited to give baby her gift too! This really worked like a charm for us and definitely promoted his interest in her when she arrived I believe.
5. Recognizing & Pointing out Siblings.
As soon as we started talking about a baby joining our family we started emphasizing siblings wherever we went. We talked ALOT about his friends that had babies and what it was like for them and how exciting it was that *he* was going to get a baby too, just like them. When we would see babies at the park I would always point them out and say "a baby like your baby sister that is coming", etc.
These are all extremely simple and were not hard to implement but for our family they really did make an impact. Our son knew exactly what to expect during and after the birth and I could not have been more pleased with the immediate transition. I feel like a large portion of the work actually came *after* she was born in order to preemptively mitigate tension and maintain peace within our day to day though. Stay tuned for those in part two, Sibling Preparation: Post Birth, coming on Thursday!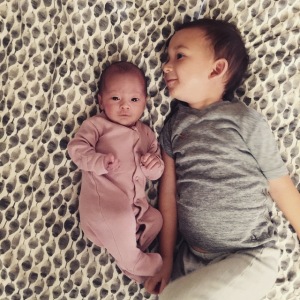 What else did you do to prepare your older children during pregnancy? We would love to hear in the comments, cheers to siblings without rivalry!