So sorry we have been MIA since school started for us in September!!
We are a homeschool family, and for the first time, I am homeschooling all four of our children this year! Otter is now old enough to do preschool, and Charger is officially in kindergarten, so most of my day is spent educating the Sweet Pea Kids.
I had three doula clients in the last two months, and there is one more baby due in November.
We are getting ready to host the Bradley Day Family Festival on November 9, 2014.
In order to be Peaceful Mama for the Sweet Pea Kids, I have to get some sleep, so something had to give.  As soon as the baby arrives and Bradley Day 2014 is in the books, I will be back to more regular posting.  I do post to Twitter and Instagram as time allows – feel free to follow us there in the meantime.
A quick shout out:
We are pleased to be able to support a fundraising effort for Dignity Health Foundation – East Valley with a donation to their Silent Auction at their Laughter Is The Best Medicine event this weekend.  More details on that over on the SPB blog – click over to see a full list of what is inside this basket: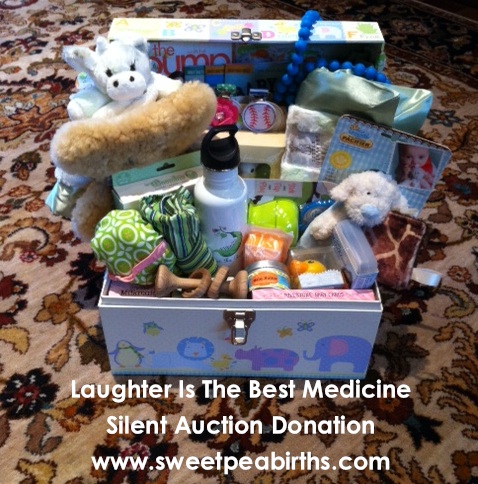 So this morning we are off to dance class and then to do some volunteer hours at the Dignity Foundation offices.  The Sweet Pea Kids and I will be stuffing goody bags for the event and doing whatever else we can do before they run out of steam.
Have a great day!