Now that I am approaching past the halfway mark of my second pregnancy we I have started thinking about the "things" we will need.
I tried to keep the stuff to a minimum with our first, even with our attempt people still bring things, certain things seemed appealing to us when our son reached x,y,z milestones and eventually I ended up giving away a TON of "baby" things when we moved (my son was 10 months old). This time around the attempt to keep things to a minimum is even greater as we know what lasts and what doesn't and considering that home birth costs roughly 3x more here in central California as ours in Arizona did, we are on a strict budget to save up for birth and newborn care. I also feel that money is better spent during pregnancy on prenatal herbs and supplements, chiropractic adjustments, massages, a birth tub, birth and postpartum supplies/luxuries and the like to give our babe the best start at life even if it means having to sacrifice a few conveniences for ourselves during the first year.
This is what I have narrowed my personal list down to, it isn't as bare as diapers, wipes, clothes and boobs but it was as darn close as I could come while still considering my sanity of having to take care of two children on my own most days past two weeks postpartum.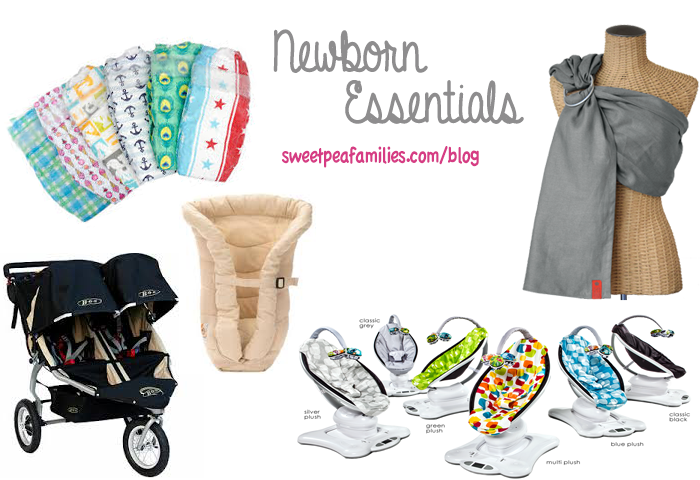 Sling
I used a ring sling with my son and I loved the ease of use and versatility it provided. I especially loved the cradle carry position during infancy, the option to forward face once the baby gained head control and the ease of breastfeeding while in the sling. I will definitely be getting a Sakura Bloom Pure Linen Sling as everyone I know raves about them and they are made locally in the US in Massachusetts.  I do have an Ergo Organic that I used from about 10 days until now still with my son that I am sure I will use quite a bit too but having the sling for different situations and especially the younger months is a must in my book!
Clothes
Much more of a must this time around in our cooler weather and considering that baby should arrive sometime in January. I am going to keep it very simple and pick up a few organic pieces, onesies, tees, leggings and sweaters. I love American Apparel Baby and Kate Quinn Organics, both organic cotton and made in USA. We will be reusing all of our Aden + Anais organic swaddle blankets we still have from when my son was born.
Diapers
I cloth diapered with my son and absolutely loved it, until we moved to the central coast. We live less than a mile from the ocean in a town notorious for its fog and lack of sunny days. It is always damp here and line drying is completely out of the question. After a few months of drying the diapers in a dryer and coming up with no options for a diaper service I called it quits 🙁 We have been using Seventh Generation pull-ups which I love, but considering the transition from a one child to two child family as well as the trip that is required to frequently purchase these I am excited to try out The Honest Company for diapers + wipes with this little babe (knock on wood, all fingers crossed that in January our then 2 year 10 month old will be completely potty learned!!) The delivery aspect is something I am extremely excited about, I have heard nothing but good reviews regarding the quality of product and delivery service and think we will give it a go for a bit and see how we like it.
Double Jogging Stroller
A jogging stroller is a must for our family as I walk numerous places in a 2-3 mile vicinity of our home, which includes tons of uneven surfaces and hills. I don't plan on using any type of infant seat attachment with a stroller as we are putting baby straight into a convertible car seat that we already own, so this won't be entirely necessary until I am comfortable placing baby directly in the seat. I see me using my single stroller for my toddler and wearing the baby for the first couple/few months, which gives us plenty of time to save up for the stroller I want, the BOB Revolution SE Duallie. I use my stroller every single day without fail and have been making due with a decade old completely bare jogger we picked up on Craig's List for ~$40 for the past 2.5 years. This is a splurge I have been looking forward to for some time! That being said, I will definitely not be buying this guy new and have already seen quite a few in great condition on Craig's List in my area!
Portable Swing
We borrowed a full size swing from a friend with my son and he used it non stop for months. He liked the motion, had a hard time sleeping, had reflux and liked to be upright and it was a lifesaver. I know all babies are different, but I would like to be prepared. It is also nice to have a safe place to set baby down away from a crazy toddler or if I need to attend to the toddler for whatever reason. I am pretty set that the swing is going to be a must. I have my eye on a 4moms, their products are all breathtaking to me! I haven't decided between a rockaRoo or mamaRoo yet but love the compact, portable nature of both – a definite necessity for our small living space.
Ergo Infant Insert
I mentioned we used the Ergo from about Day 10 with my son but we never actually had an infant insert. He was born in March in AZ and it just seemed to hot and sweaty and I had quite a few moms show me how they used swaddle blankets to secure baby instead. This time around because of the time of year and weather the snuggly coziness of the infant insert seems very appealing, especially because I am much more "on the go" chasing a toddler these days. I will probably try to borrow or buy one off of a friend!
I haven't quite decided if I absolutely need a nursing pillow or baby lounger pillow or if they are something we can do without this round. I already have a breast pump and I am not really sure if we will even bother with bottles, so that is about it! Baby will sleep in bed with us or next to our bed on a crib mattress on the floor, I mentioned we already have a convertible car seat for him/her, we have tons of flat cloth diapers to use as burp rags, etc. and although I would love a new diaper bag, I am sure my old one will do just fine 🙂
Anything bare bones, absolutely necessary that I am missing? What newborn "essentials" did you have on your list??