UPDATE 7.7.15  RECALL NOTICE
It is advised that consumers immediately stop using the recalled inflatable baby floats and contact the firm to receive a free replacement.
READ MORE ABOUT THE RECALL HERE
http://www.cpsc.gov/en/Recalls/Recall-Alerts/2015/Otteroo-Corp-Recalls-Inflatable-Baby-Floats/
I was fortunate enough to attend the Club MomMe Spring Family Fest in Orange County at the beginning of June.  There were so many amazing vendors there – here is one that fits best on our family blog since it is a great tool after the Birth-Day.
Otteroo is a float designed to be used with infants 8 weeks and up through the time when a child is acclimated to the water and able to support their own weight without tipping over – that is different for every Sweet Pea.  At first, I wondered how comfortable I would be with allowing one of our Sweet Peas to have something attached around their neck.  After seeing it in person and reading about all the research and effort that was taken to make sure it was safe, I felt like this is definitely a product I wanted to share with you.
See Otteroo in action HERE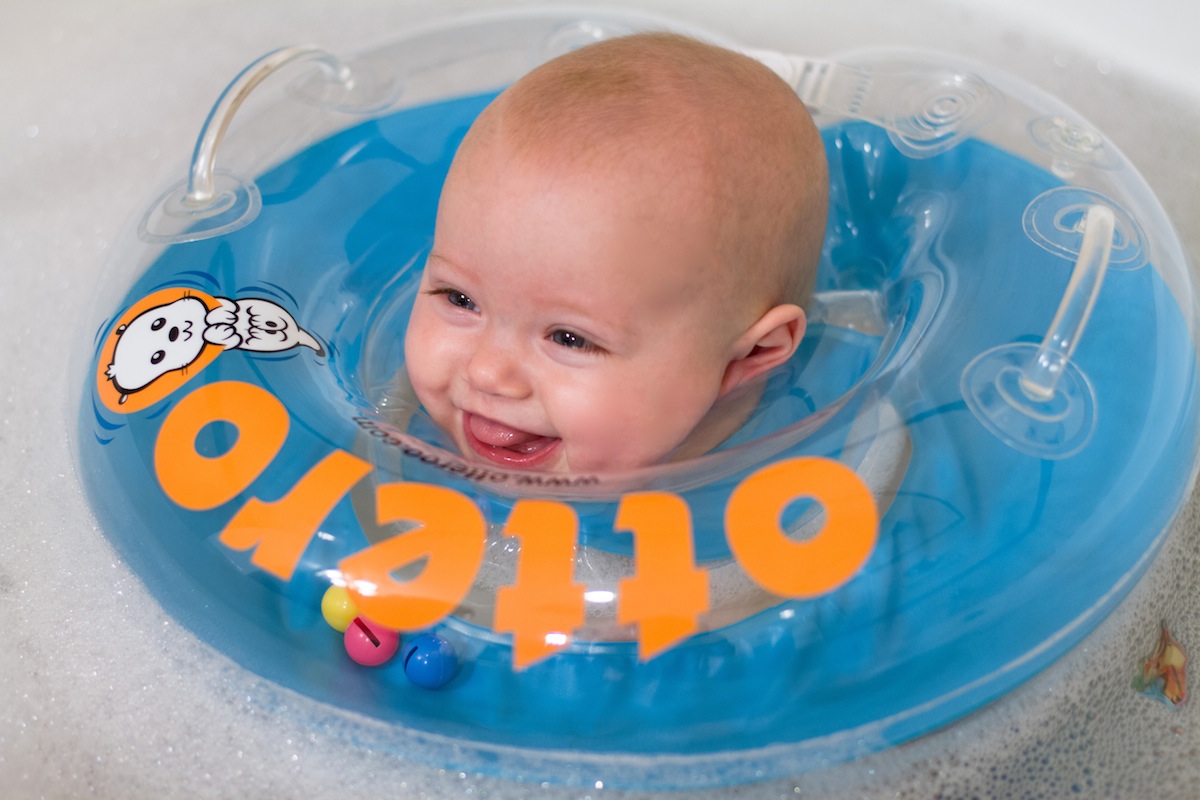 Creator and Founder of Otteroo, Tiffany Chiu, provided us with this information to share with you.  She sent me the Q&A that they have developed for media.  She has been kind enough to provide our readers with a coupon code – thank you, Tiffany!
How important is it that very young children are comfortable around water? How does your product help with that?
Infants start to "pick & choose" activities and objects that they like and do not like, at around 6 months old by familiarity and how they feel with it. With otteroo, infants and babies find that water play is fun, they become familiar with how to move their arms and legs in water, and also navigate their way around the tub on their own. We believe that this will eventually promote a sense of confidence and independence in water for the infant. The transition to mommy-and-me swim classes that usually start around six months, or swim classes later on, should be much less dramatic when the baby already loves moving around in the water.
Is the bath and beach market growing as baby swimming lessons become more popular?
We have seen a lot of energy and focus being directed toward children's bath, beach and pool markets, which is great, but we saw a gap in the array of swim lessons and water familiarity building tools for infants under six months of age in the USA.  We came to the conclusion that parents who wanted their babies to love and enjoy the water and interact with it in a positive, fun way, didn't have much help from the marketplace aside from bath toys and various infant bath tub options.  We wanted to answer to this demand by encouraging babies' natural love for being buoyant and freely moving their arms and legs in the water as it allows them the gravity-free like sensation that they can not get on dry land.

What is the most common water-related concern that parents face? (safety? kids hating bathtime?)
For all parents, the greatest fear related to water is what could happen in the split second that they are not watching the child by, or in the water.  And we could not agree more.  Like with all child bath and pool floating devices, we make sure that parents know that they must watch the infant within an arm's length the entire time the infant is in the tub.  Our customer service is very personal and hands on so that we can ensure that parents have inflated the dual chambers, and are also using the floatie properly.
Not so much a concern as it is a tiring hassle for parents is when the child hates taking a bath and puts up a fight; or if you have twins.  To this, we feel that otteroo is a revolutionary bath time essential as it makes bath time fun, something to look forward to, for the baby, and it allows the parent's arms to be free to wash the infant.  You will be able to bathe the twins simultaneously while they have fun with being in the water together.
DESIGN FEATURES

Otteroo features a cushioned chin rest and rounded smooth edges at every touch point to ensure the baby's comfort.
Our patented design allows the floatie to stretch out horizontally rather than vertically, making it easy for parents to place on and off the baby.
The two circular openings also allow the floatie to comfortably expand as the infant grows and naturally drains any splashed up water.
The new click-in strap design makes it a snap to secure.
Softest, highest grade, toxin-free and latex-free plastic for a lick-safe, smell- and rash-free experience for the infant. No ink is used on any exposed surfaces.

Tiffany has been kind enough to provide SPF readers a 20% off coupon code that expires 9/30: Enter 20KB2014 at check out to receive 20% off of your order
For more information on the Otteroo story, please check out
http://otteroo.com/pages/about-us