Posted by Krystyna Bowman
This was originally posted last July, but as many of you are probably finding yourself at the end of your patience with these high temps & lack of indoor activities we thought it would be helpful to revisit a few ideas!
July August is here, and the heat of Arizona is officially upon us!! Even if you are not living in AZ, you may also be in need of indoor play ideas in your part of the world. Since the temperature is only going up, I want to share some ideas to enjoy the summer with your family and not get overheated.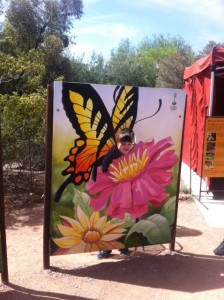 Do you like to be outdoors?  The Phoenix Zoo and the Desert Botanical Gardens offer earlier open times – maybe the one in your area does, too.  We have always enjoyed going early in the day when the mornings are under the 100F mark.  The city parks are opening their splash pads – check out your city's website and find out locations and hours.
If you have a little room in your budget, you can sign up for classes in your child's age group.  Here are some ideas: music, gymnastics, swimming lessons, summer camps held at churches or dance schools.
Are there any museums in your area?  You can see if they offer special programming for children, and ask if they offer group discounts.  Maybe you can get some friends together for a discount while having a museum playdate!!  In addition, check your local museums for Family Free Days over the summer months.  We have found that arriving right at opening time, or going a couple of hours before closing helps to avoid the crowds.   Museums let us enjoy some time out of the house and out of the sun while allowing our little explorers all kinds of growth opportunities.
If you are on a tight budget, pick some different places to go out every day.  You can still find plenty of ways to learn and grow – you just have to get a little more creative!  Here is a money-saving idea:  Let your destination pay for air conditioning!  Make it a point to leave the house while your kiddo and you are fresh and rested.  Here are some free places that you can go for a walkabout:
Shopping malls

 – be brave and drive a little farther. Go to one that isn't in your neighborhood and you get A/C time coming and going as well!  While you are there, explore the children's stores that have toys out for the kiddos to sample.  Our favorite place is Pottery Barn Kids.  I don't like having the big playsets in our home, however, it's great to have the kids go there and enjoy them, and then get to leave them behind!  Many shopping centers open early for mall walkers – it's a great time to go to the children's play areas before the stores open and the mall gets more crowded.  The story times/ mall activities listed in this month's newsletters (activities in the Chandler, AZ area) all start between 10:00 am and 10:30 pm – depending on how your child naps, you might be able to do both, and then head home and get some chores done while your tired baby sleeps.

Big super-stores

 like PetSmart, Walmart and Target.  I like PetSmart and Walmart because they have lots of fish tanks+ with live fish to explore.  Here are the kiddos and Bruss playing with the fishing poles at Walmart – all the fun, none of the clutter 🙂

Bass Pro Shop

 – they have a fish pond where the kiddos can learn to fish, plus lots of other things to see and explore.  Kiddos can enjoy some of the displays – Bruss says some of them are climbable!

Bookstore

 – Barnes & Noble has a great kids area with a reading area plus a different selection of books than you might find at the library.  You can look over on the "meetings and groups" list to find the monthly listing for their story times.

Grocery Store

 – instead of making a mad dash through the place with your list, go with the time and the intention of walking up and down all the aisles.  There are lots of foods to explore in the produce section, you can take your time and look in all the display cases, you can touch the doors in the frozen food section, and take in all the colors as you talk about how things are sorted, grouped and why your family makes the food choices that they make.  There are lots of smells to identify, with the added bonus of sensory items to touch in the pet aisle.

Office Buildings 

– does coach, or another family member or friend work in a high rise?  How about going to visit them?  While you are there, ride the elevator and look at some of the artwork along the different floors of the building.  You can get off at the different floors and observe the different views that you see at different heights.  You can check your local listings to see if there is a top deck restaurant that offers a 360 degree view of your city while you are dining.
You can also take advantage of the public libraries.  Pack yourself plenty of water, a couple of portable snacks, and head over to the stacks to hang out for a while before and/or after library activities.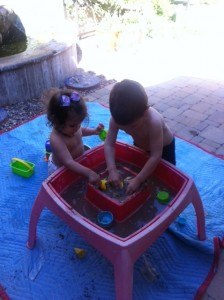 Need a day at home?  How about doing some sensory play?  One of our best investments was a sand and water table we bought when our oldest was a toddler.  We lost the lid a long time ago, however the base is still sturdy and usable.  You can do all water, or a mix of sand and water, or all sand.  Get out the stackable cups and measuring spoons you already have around the house and let your kids measure and pour to their hearts content!  You can hide toys in the sand.
We have also set up a water station in the kitchen.  We lay out a few towels first, and then fill different size pots with varying amounts of water.  If you are so inclined, you can set out some rice, beans, or pastas for the kiddos to "cook" with.  Let them spoon, measure and pour and get nice and wet.  As an added bonus, you can get a chore done by breaking out your mop when it's time to clean up!
Do you have a "safe" place for your kiddos to play in the kitchen?  Maybe you can set up a drawer, a cabinet and a pantry shelf that are "safe" for them.  Ask them to look in the different places for different things – maybe a mini-scavenger hunt for all the items they will use at their water station!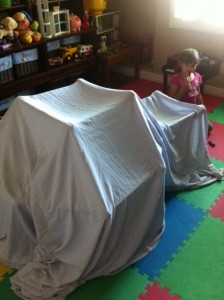 How about a fort?  Here is a fort we made using a kit the kiddos got for Christmas.  However, there is nothing wrong with taking a sheet and hanging it over a table, or taking some chairs into the middle of a room and hanging a sheet over those.  It's great fun to play peek-a-boo, or create a temporary reading nook with a new twist.
HERE is a list of other sensory ideas that you can easily set up at home when your kiddos are tired of playing with their regular toys and walking through the house has become an exercise in futility.  My favorite on this list is freezing toys into a block of ice and then letting the kiddos carve them out with spoons.  That would feel really great when it's 117F outside!
Send us your pictures of indoor fun!  What is your family's favorite indoor, beat the heat idea?
Disclaimer:
The material included on this site is for informational purposes only.
It is not intended nor implied to be a substitute for professional medical advice. The reader should always consult her or his healthcare provider to determine the appropriateness of the information for their own situation.  Krystyna and Bruss Bowman and Bowman House, LLC accept no liability for the content of this site, or for the consequences of any actions taken on the basis of the information provided.