Essential Oils are a huge part of how we keep ourselves and our home happy, healthy and clean. I have dreams of one day having an entire medicine cabinet completely stocked and organized with tons of essential oils and oil blends for every specific complaint and ailment but the reality is that quality oils are pricey and only a handful really will cover almost all of the bases.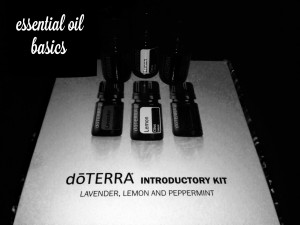 Now that my family has been routinely been using essential oils for over two years and has gotten into a groove of using a specific number of oils for almost all of our needs I thought I would share what that looks like.
There are numerous producers of essential oils on the market, and many high quality companies. I personally use and love doTERRA, although I have heard good things about Mountain Rose Herb's oils & Young Living Essential Oils.
We currently purchase: Tea Tree, Lavender, Peppermint, Lemon, Clove, On Guard Blend, Citrus Bliss Blend, and occasionally Eucalyptus. Below are all of the ways I use these 8 essential oils in our daily life for health and wellness.
Hand Sanitizer: 2 oz amber glass bottle with spray top filled 3/4 way with witchhazel, squirt of aloe vera gel, 5-10 drops tea tree oil, 5 drops On Guard oil
All Purpose Cleaning Solution: 1 large glass spray bottle filled 3/4 with warm water, 1/4 vinegar, 20 drops Citrus Bliss Blend & 10 drops Tea Tree Oil (optional, sometimes we add sometimes not). We use this to clean counters, clean carpet, clean floors, spills on the mattress, just about any/all surfaces. I have used many different applicable essential oils for our cleaner (tea tree + lavender, on guard, on guard + tea tree) and we enjoy the way Citrus Bliss smells the most. I do not mind the vinegar smell but some of the essential oils mixed with vinegar can smell like ketchup or just funky,, especially when used on the carpet, fabrics, etc.
Home Diffusing: We have an Aroma Ace Diffuser and for overall immune boosting I like to diffuse On Guard Blend in various rooms of our house or Lemon during the spring/summer so the whole house smells fresh & clean! Citrus Bliss is also yummy smelling to diffuse, especially when having guests over, etc.
Drinking Water: I add 2-3 drops of Lemon Oil to my water in my glass Life Factory water bottle to drink throughout the day, yum.
Stainless Steel Cleaner: When we used to have stainless steel appliances I would clean them with water & lemon oil – worked like a charm! You can also use a cotton ball with a little water and 1 drop of lemon oil to clean an IPhone or computer screen.
Facial Toner/Pimples: We use Tea Tree Oil as a facial toner after washing sometimes and to spot treat pimples anywhere on the body
Eczema: My son had a really bad patch of eczema on the crease and beyond of his hand, I mixed some organic, unrefined olive oil with 3 drops of tea tree oil and applied with a Q-tip 2x a day, it completely cleared up over the course of a couple weeks, you could never even tell where it was now.
Teething Oil: In another 2 oz glass bottle I combined 2 tablespoons melted coconut oil, 2 drops peppermint oil, 2 drops clove oil, and 10 drops grapefruit seed extract (optional).
Headaches: Rub peppermint oil and lavender oil on temples & back of neck
Fever: Mix a little coconut oil with a couple drops of peppermint oil and lavender oil and apply to bottom of feet and back of neck.
Baths: Add lavender oil to baths to relax, for mama and baby!
Sunburn (or any burn): Mix 1/2 vinegar & 1/2 water in 2 oz spray bottle with 5 drops lavender oil and 5 drops tea tree oil and spray all over burned area.
Toothache: Add 2-3 drops clove oil to melted coconut oil and swish/spit. Apply a small amount directly to tooth afterwards, reapply throughout the day.
Toothpaste: We make our own toothpaste using melted coconut oil, baking soda, and 3 drops of peppermint oil
Stuffy Nose: Boil a pot of water on the stove with 5-10 drops tea tree oil, stand over pot breathing in the steam. We usually do not have Eucalyptus oil on hand but during some recurring colds I had while pregnant I purchased some and did this with a blend of tea tree & eucalyptus oils.
Chest Rub during cold/flu: Coconut oil with Tea Tree and/or Eucalyptus oils. We use on the bottom of our feet as well.
Laundry: I like to add 2 drops of peppermint oil or 2 drops of lemon oil to our wash load. My husband will also spray shirts or pants that need "fluffing" with a combo of water & peppermint or water & lavender and then throw into the dryer.
Immunity Boost: Whenever we need an overall immunity boost (upcoming travel, one of us or people around us are sick, etc.) I spray door handles, countertops, tables, the car with On Guard as well as apply to our feet and backs of our necks.
Colds/Sore Throat: Hot water, Apple Cider Vinegar, Lemon oil & honey
There are so many different oils and so many ways to use them but the above is what I find us doing on a regular and often daily basis. When we first became interested in using them we purchased this book to have on hand as a fast reference, it has been very helpful in many different situations! I am also thinking of purchasing this one next to have for my little one as he grows.
We purchase all of our doTerra oils through our lovely friend, Kelly, at Haute Boheme Essential Oils . She is very active online and via their Facebook Page for questions, concerns, just to chat, anything 🙂
There is nothing like the relaxed feeling I have knowing there are no chemicals in our house for cleaning, fragrance, laundry, body care, especially now that there is a very curious, active toddler among us. We are very grateful to have discovered essential oils and their endless uses that have seriously enriched our lives!
Do you mamas use essential oils for your little ones? What about for your family or home?