As you may have gathered if you have been following the blog for a while, our AZ Sweet Pea Family consists of four children.  Our holiday calendar is as full as yours probably is.  How do we make time to connect with each child individually through this busy season?
There is only one way:  take the time.  There is no such thing as "extra time" when it's a regular time of year, even less so during the holiday season.
The first suggestion is a freebie: share a hug with your children every day.  Not just a little pat on the back.  I mean the kind of hug you have to be grounded for so you are not knocked down.  Then look them in the eye, tell them that you love some, and maybe even something you appreciate about them or noticed that they are doing well today.  It is not a lot, however, that moment of connection every day can be enough to keep everyone connected when you are all pulled in many directions.
I would go far as to suggest that it would be a great idea to do the same with your partner.  One of the hallmarks of giving is spending.  The kind of spending that goes on around these particular holidays can be very stressful on a couple with the best of relationships.  So, also take time every day to connect with your best friend, and keep the lines of communication open.
The next five suggestions can take as much or as little out of your wallet as you deem appropriate.
Shopping date – One of the ways we make time to connect with each Sweet Pea individually is to take them out to shop for their siblings.  We get to talk about the family, evaluate what a good gift is for that particular person, encourage giving, and talk about a budget all while enjoying time with one kiddo.
Craft date – Another way to carve out individual time or family time is to craft together.  You can take a trip to the craft store to pick their craft, and then take time to make it together – even a few minutes a day.  You could pick a craft to decorate the house, to use as gifts, or just something fun to use as a stress relief through the season.  Some toddler friendly crafts if you are going for a family craft night are projects that involve glue with pom poms or buttons, stickers, or markers (think the wood crafts that come with the pens).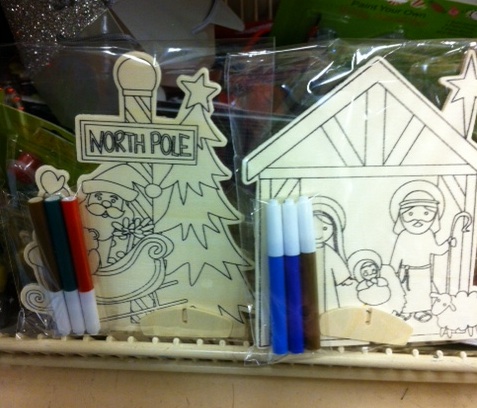 Holiday Cards – These are a fun project – add in some popcorn and hot chocolate to enjoy after the project is complete for holiday bliss!!  Taking an evening to sit around the table together to sign cards (with actual names or their drawings if they aren't writing yet), decorate the envelopes with stickers, affix the address labels (if you use them) stick the stamps on the corner over the "x marks the spot" – there are lots of ways to make an assembly line and involve all the Sweet Peas.  They may not be the prettiest cards you have ever sent, however, they will definitely stand out from all the "perfect" cards, and be an awesome memory for your children that they will look forward to next year.
Holiday Event Date – We are so lucky in the Phoenix area that we have lots of Nutcracker productions to choose from.  This year, I took the older Sweet Peas to the Ballet Arizona production (because I *love* the ballet), and it was a treat for them to get out for their own "Big Kid" night.  Conversely, we take the littles out for a Mommy/Daddy date during the day when the nanny is there to watch over the older Sweet Peas.  It is a so easy to go out with two kiddos at a time – overall time spent getting in the car/traveling is less and we get a lot more face time with the set we are with.  We also do "girl trips" and "boy trips" – lots of ways to combine them for a 1-to-2 outing 🙂
Party Date – Another way to take pressure off the season is to only attend parties with the non-nappers.  That way you don't have to wait for nap times, you don't have to worry (as much) about meltdowns, and again, you get one-on-one or less-on-one time to talk in the car and listen to them as you drive.
I would love to hear what you do to carve out time to spend with your little Sweet Peas throughout the busy holiday season.