Another month has passed and Munchkin Meals from A Healthy Slice of Life are back! Nothing remarkable has really changed with T's meals and/or eats so I thought I would switch it up with some things he has been enjoying on the go.
Snacks are always a little hard for me — nothing *too* messy since it will end up all over him/me/the stroller/the car, needs to be something I can grab fairly quickly while trying to get us out of the house, I don't like to default to bunnies, O's or the like and variety is important to me since he is more of a snacker/grazer than a three meal a day kind of kid.
So what have we been taking with us these days?
Fresh Fruit 
I know, this is easy and obvious, but… it is easy and obvious! (And nutritious). Berries are still in season here on the coast but will probably be slowing down right about now. Super fast to throw raspberries, blackberries or strawberries into a snack cup & go.
Grapes are another awesome farmer's market find these days and again, just throw into the cup & head out.
Apples, plums, and asian pears are abundant right now from one of our local favorites, Inzana Ranch. I chop the plums and pears but these little Fuji apples are such a perfect toddler snack with minimal preperation. I just peel the skin and he eats them whole.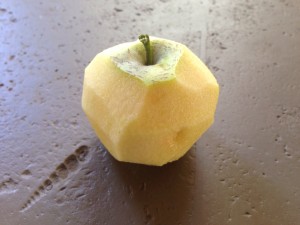 It is a great car/stroller activity too and I have recently read across the internet that apples have enzymes or acids in them that are supposedly supposed to help with teething pain which is another major plus since T is currently cutting all four incisors at once (:
As I mentioned last month I have a love affair with bananas despite their long distance travels and nothing has changed this month. They are just so darn easy!
Dried Fruit
T is LOVING on raisins lately — lucky for us in addition to great fresh fruit Izana Ranch also stocks various types of yummy raisins!
These dried blueberries from Trader Joe's are also great, nothing added — just freeze dried blueberries.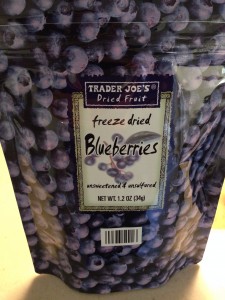 Baked Sweet Potato Rounds
I make up a big batch of these at once and they are perfect for on the go. Cutting them in rounds makes them less squish-able then chunks and therefore less messy for us. T loves them.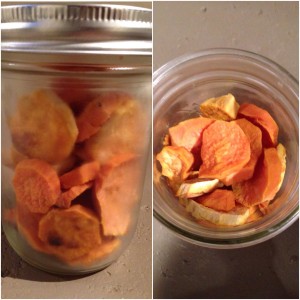 Gluten Free Grahams 
We are lucky enough to live very close to a Whole Foods & T has really been happy about these gluten free cinnamon graham crackers lately. Again, trying not to make a habit of it, but they are super easy to just throw into a snack cup and be done with it.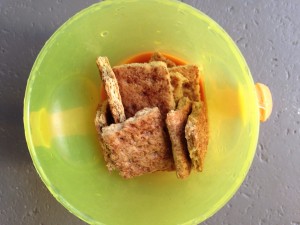 Chickpeas
I forgot to snap a picture but recently I have discovered what a great snack whole garbanzo beans are! I buy the Eden Organics because their cans are BPA Free or else I make our own using dried beans. Beware, they will get stinky QUICKLY if left in a car, diaper bag, etc. but they are a nice switch up from fruit and crackers and a great source of fiber plus some protein. They are the perfect size for little toddler fingers, too.
What foods do you take for your toddlers or children when you leave the house? Do you have any go to or easy snack options? T & I both thank you in advance for any ideas (: